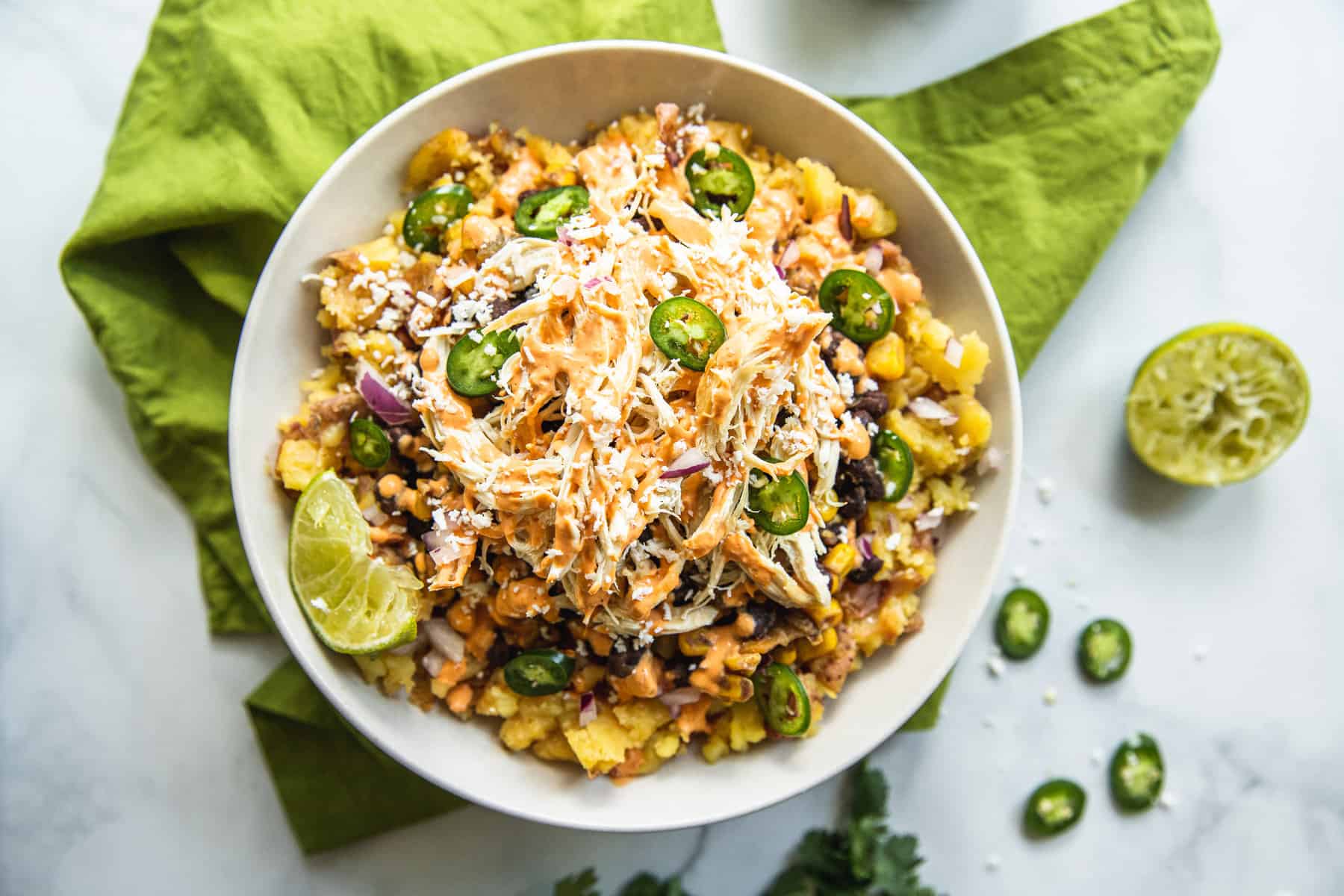 Spend more time with your family and less time in the kitchen thanks to Minute Mashers™ Mashed Potatoes from Green Giant™ Fresh. Everyone love mashed potatoes, but making them can be such a hassle. Thanks to Minute Mashers, you can make mashed potatoes a part of weeknight dinners again with this new Minute Mashers™ Mashed Potato Bowl recipe.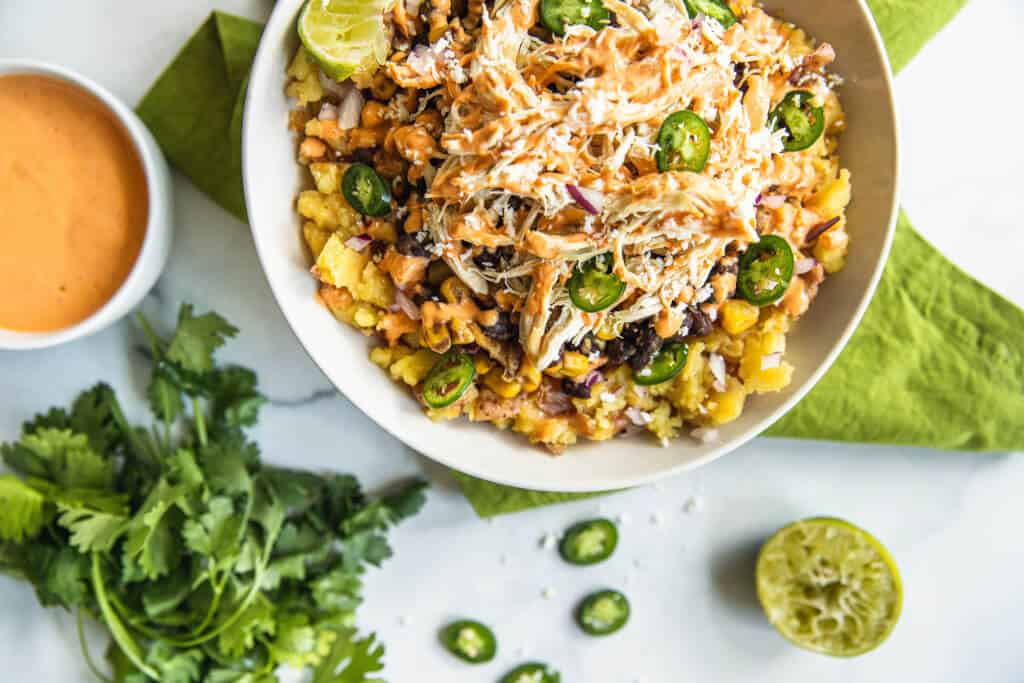 Weeknight meals call for easy recipes that can be ready to eat in thirty minutes or less, which is why we love using Minute Mashers™ – especially when craving something warm and comforting during these colder nights. With Minute Mashers, there's no need to boil water, gather ingredients, or peel potatoes – just put the whole package in the microwave and cook for seven minutes. That's it! Then, using oven mitts, smash and mash to your desired potato texture. Try these recipes using Minute Mashers: Savory Breakfast Waffles with Ham & Cheese, Chicken Piccata with Minute Mashers™, Mashed Potato Muffins, or Mashed Potato Flautas.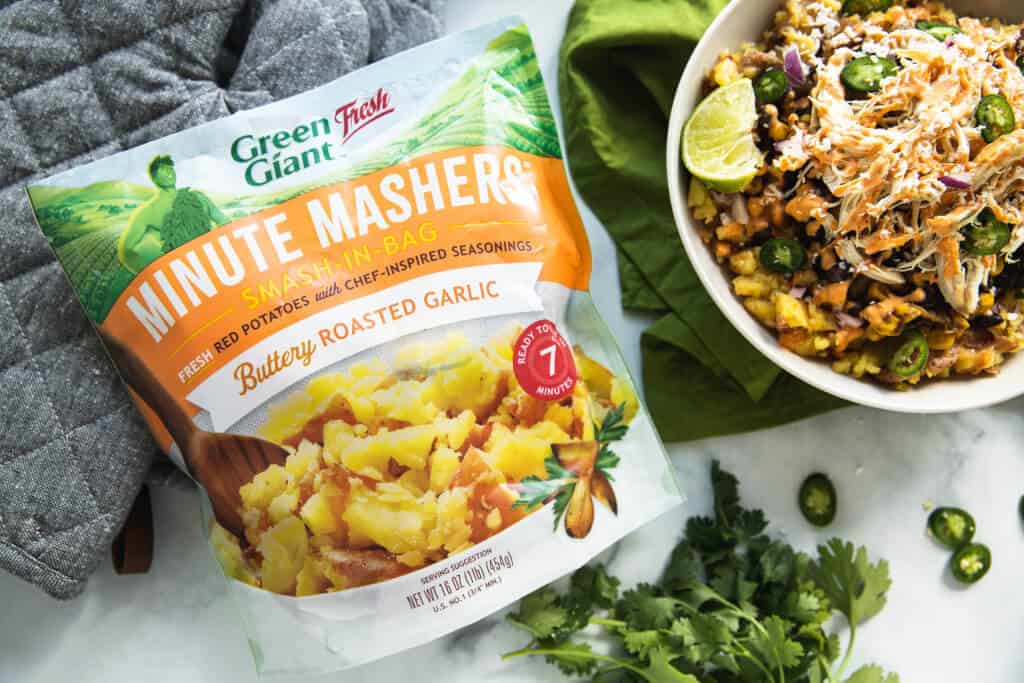 For this recipe, we use Buttery Roasted Garlic Minute Mashers™ as the base of our chipotle-spiced mashed potato bowl. The combination of shredded chicken, corn, black beans, and mashed potatoes is a flavorful, hearty, and healthy combo you'll love making again and again. As always, this recipe is totally customizable to try these different substitutions for more mashed potato bowl options:
Protein: For a quick and easy option, we went with shredded rotisserie chicken in this recipe. But you can substitute any protein you like or have on-hand like pork, beef, or fish. You can keep it plant-based by using tofu, tempeh, or a soy chorizo would be good here as well.
Cheese: We went for Cotija cheese here but give cheddar, mozzarella, or pepper jack a try.
Vegetables: Corn and beans were our choice of veg here but you can really add any vegetables you like in this recipe. Just make sure you season them well to kick up the flavor of this dish.
Garnish: Go wild! We chose cilantro for freshness and serrano peppers for a spicy kick but depending on the sauce you use here, customize with herbs that you love.
Sauce: Chipotle sauce is our choice here but if you don't have time to make a sauce, then make it easy on yourself with something store-bought. Salsa, queso. or guacamole would work well here, too.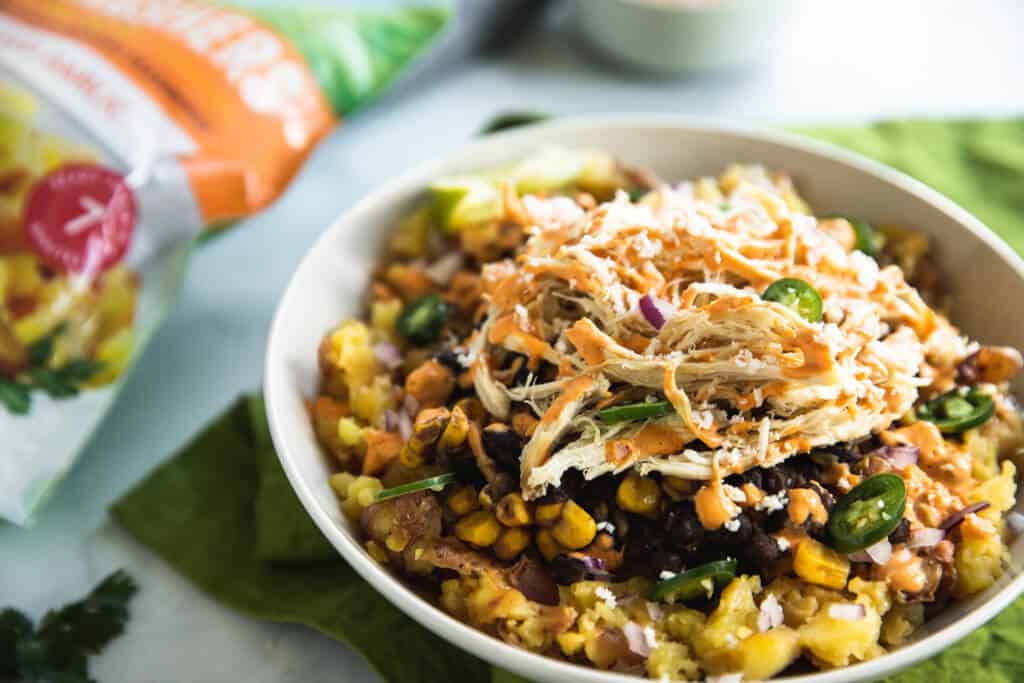 If you make this recipe, let us know what you think in the comments below! Please share on social media so we can see you creation and be sure to tag us and Klondike Brands. Happy mashing!

Minute Mashers™ Mashed Potato Bowl:
Ingredients:
1 package Garlic Minute Mashers™
2 cups shredded Rotisserie Chicken
15 oz can black beans, drained and rinsed
15 oz Can corn, drained
4 oz can Green Chiles
1 tbsp olive oil
1 tsp Cumin
Optional Toppings:
Cilantro
Serrano
Red Onion
Cotija cheese
Sour cream
Easy Chipotle Sauce:
7 oz can chipotle peppers in adobo sauce
1/2 cup Greek Yogurt
1 tbsp fresh lime juice
Salt and pepper to taste
Directions:
In a small pot, heat olive oil over medium heat then add cumin. Cook cumin in oil for thirty seconds. Carefully add rinsed black beans, corn, and green chiles. Mix to combine then cover and cook until warmed through (about 5-8 minutes).
Microwave Minute Mashers™ according to directions on the package.
While Minute Mashers™ cook, remove 1 chipotle pepper from the can and add to a food processor along with 1 tbsp of the adobo sauce from the can. To the food processor add Greek Yogurt and lime juice. Blend until smooth and season with salt and pepper to taste.
Carefully remove Minute Mashers™ from the microwave using oven mitts and mash to your desired consistency. Split into two bowls.Layer other ingredients on top of Minute Mashers™ with:Corn and bean mixture.Shredded chicken.Chipotle Sauce.Add optional Toppings.
---