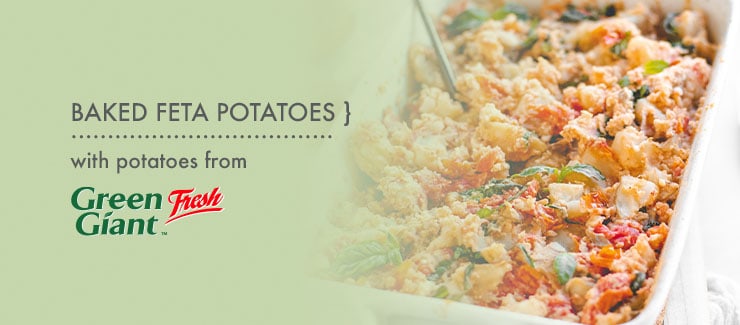 Ah, social media...where trends come to quickly live their fifteen minutes of fame then slowly fade out into the internet abyss. Speaking of social media trends, you may have heard of the trending "TIK TOK PASTA" / "BAKED FETA PASTA;" and while we tend to follow our hearts rather than what's trending, we admit that we found ourselves inspired by this popular recipe, too! We couldn't get it out of our heads (or out of our news feed), so we decided to look at it from our own unique perspective.
The recipe seems easy enough, but it wasn't quite checking all the boxes in the "healthy" department (not even close!). So, we turned to our favorite, delicious Green Giant™ Fresh potatoes for the boost of health that this recipe needed! Thus, the Baked Feta Potato recipe was born! After trying our Baked Feta Potatoes, we assure you that it'll live on in your recipe repertoire way after the fifteen minutes of the pasta version has long been forgotten.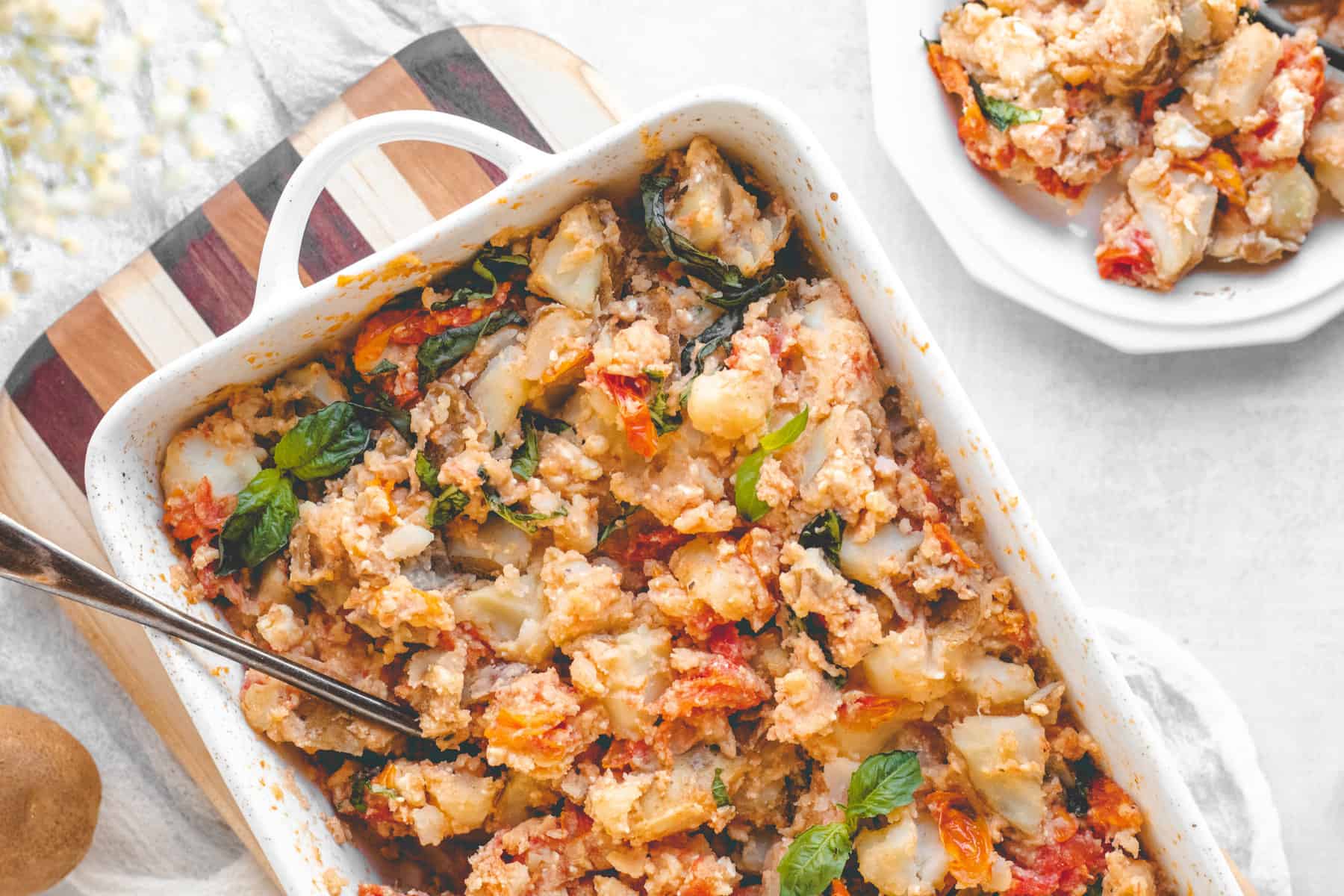 So you might be wondering, "Potatoes? Why not just use pasta?" Well, we don't want to label any food as "bad" because that's limiting, and life and food is all about balance, right? Not to mention work and relationships, for that matter, right? And Right! So, we think that you can still have your pasta, and eat it, too – if you want. However, if we can avoid processed foods, like pasta, and substitute with healthier farm-fresh vegetables, like potatoes, then why not make the healthier option?! Are you with us? Yeah!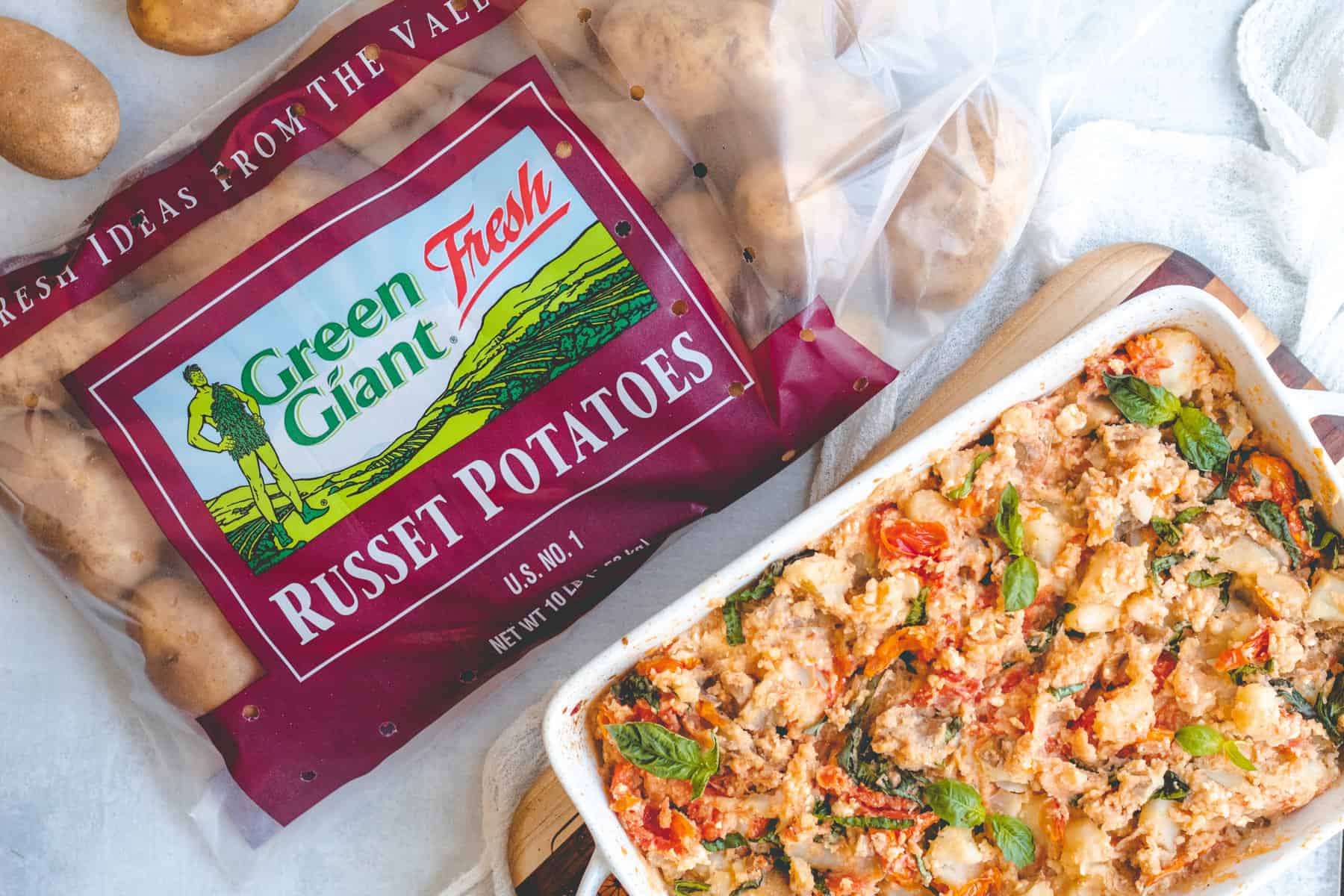 Yes, potatoes are healthy. In fact, potatoes are a super food, supplementing your body with many beneficial nutrients! Here's how white potatoes, AKA russet potatoes, stack up against sweet potatoes: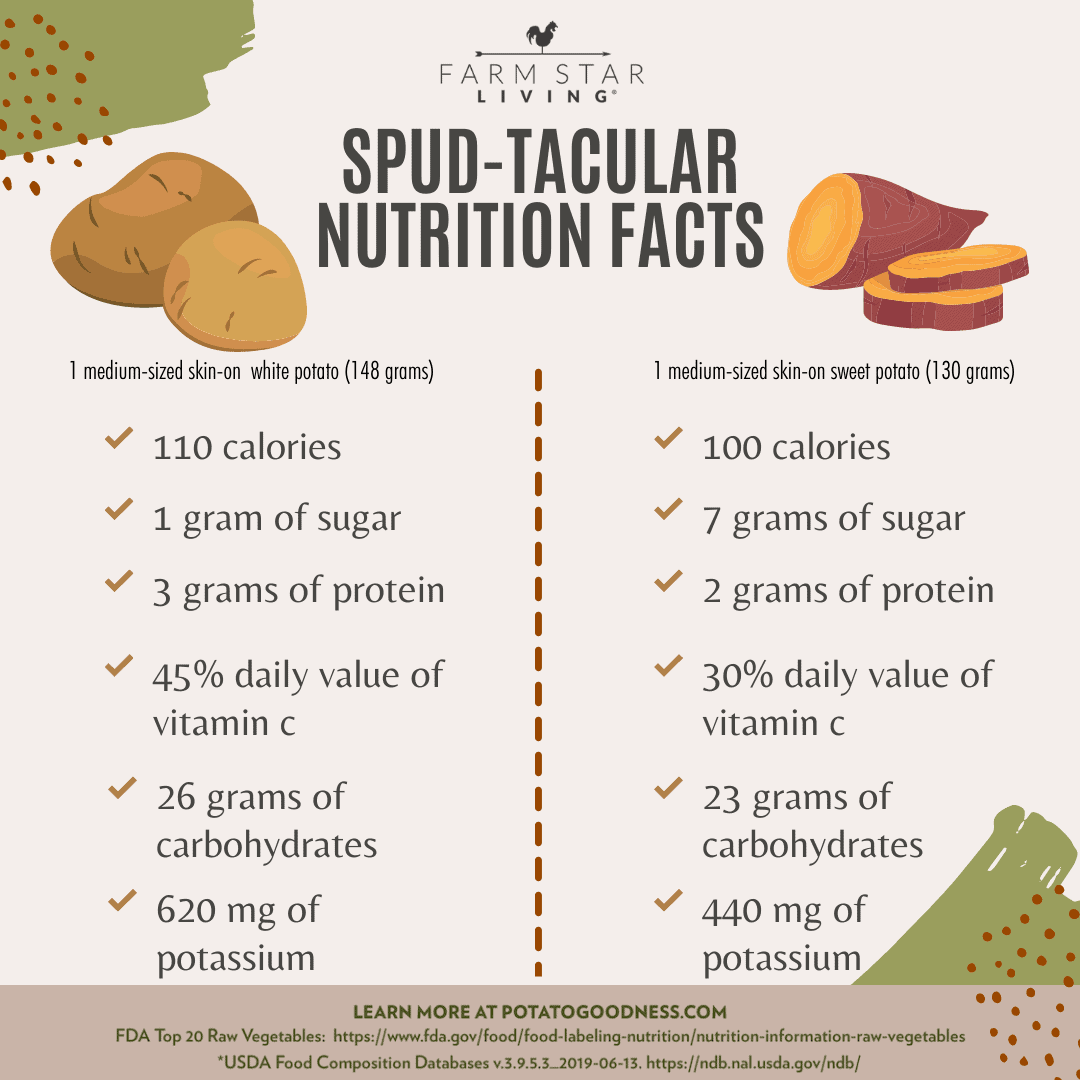 Unlike pasta, a simple carbohydrate, potatoes are a gluten-free, un-processed, complex carbohydrate. Simply put, complex carbs are more nutritious than simple carbs – higher in fiber thus digested slower, all of which makes them more filling! So making the switch is a no-brainer!
In addition to their many health benefits, russet potatoes are one of the most versatile veggies out there. There are many healthy ways to enjoy russet potatoes: baked, mashed, steamed, boiled, microwaved, roasted, and grilled – none of which require frying!
Now, back to the recipe at hand! You're going to love how easy it is to prepare this one-pan recipe. Here are a few tips and tricks to making the best Baked Feta Potato recipe:
SIZE MATTERS – This recipe works best if you use a small baking dish so the tomatoes are touching. We use a 9x13 inch casserole dish.
TOO DRY? – If you find that your recipe is too dry, simply add 1/4 cup of starchy leftover potato water. If it's still too dry, then add another 1/4 cup and stir.
USE THE RIGHT CHEESE – Greek Feta Cheese, which is made from at least 70 percent sheep's milk, has a creamier texture than feta-style cheese made from cow's milk — and mixing in some of the potato water at the end to help bind it all together.
CAN YOU USE CRUMBLED FETA? – Yes, it'll still work! Just try your best to keep the feta crumbled piled up in the middle of the casserole dish.
GARLIC – Don't feel like mincing garlic? Just crush some cloves with the flat end of a knife so they sort of burst. They will become soft while baking so they'll fall apart while you stir the sauce together.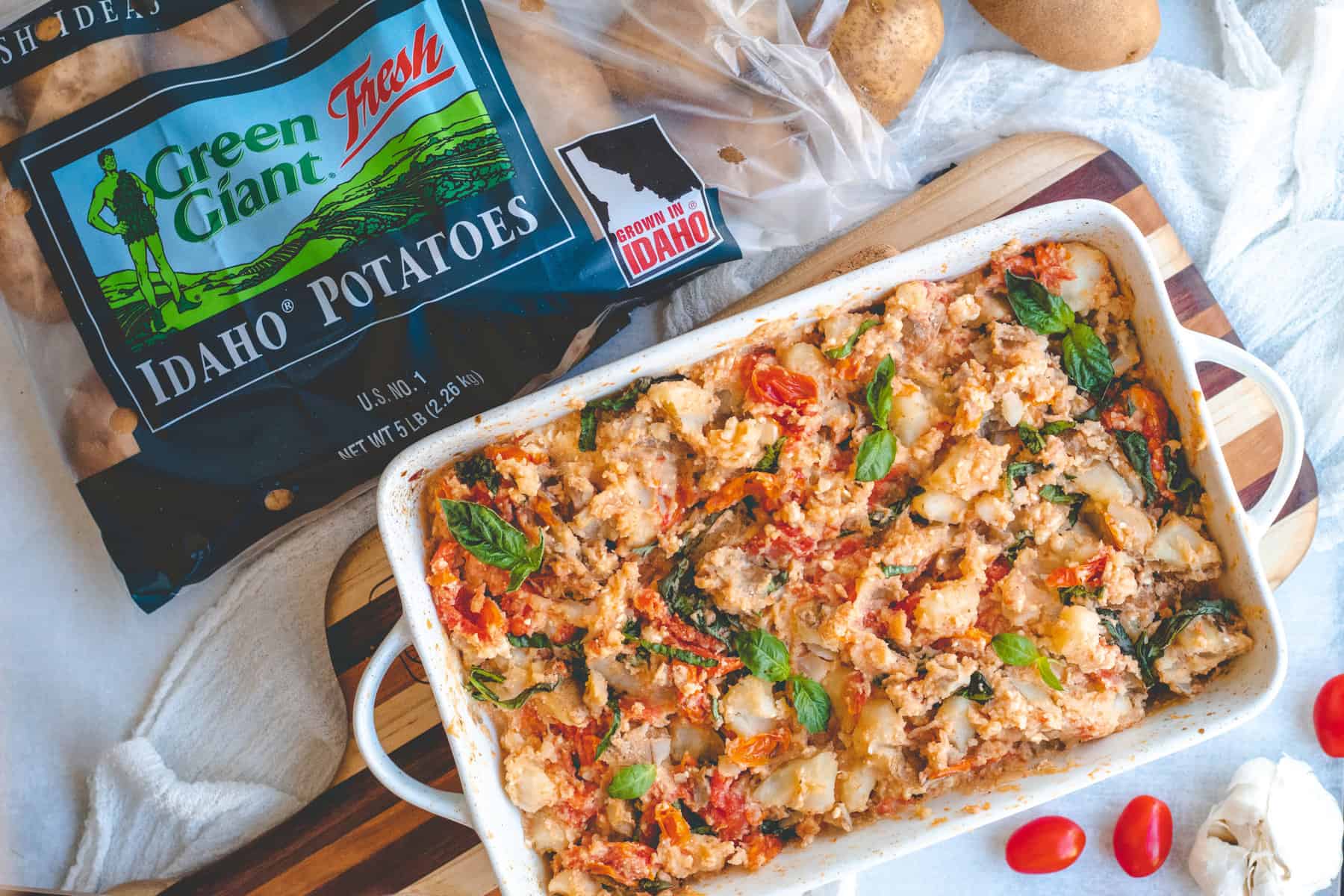 See how we made it below! Enjoy!

Ingredients:
4 Green Giant™ Fresh Russet Potatoes (about 6 cups of cubed potatoes)

2 tbsp Olive oil, divided

1 8 oz. block Greek Feta Cheese

2 pints (20 grams) Cherry Tomatoes

Salt & Pepper to taste

1 tbsp Minced Garlic OR 3-4 crushed cloves garlic

1/2 tsp red pepper flakes

1/2 tsp oregano

2 tbsp Fresh Basil plus more for garnish
Directions:
Preheat the oven to 400F. Place cherry tomatoes in an oven-safe dish and drizzle with 1 tbsp olive oil, add salt and pepper. Toss to coat.

Add block of feta to the middle of the baking dish and flip a couple of times to coat with olive oil. Add red pepper flakes, oregano, garlic, and more salt & pepper.

Bake in the oven for 35 minutes or until tomatoes burst and feta is heated through – it will be slightly golden.

While the feta and tomatoes bake, scrub 4 Green Giant™ Fresh Russet Potatoes (or about 6 cups of cubed potatoes) and cube into 1 inch pieces with the skin on.

Add a steaming basket to a medium pot with enough water to cover the bottom of the pot (at least 1 inch deep). Cover and steam potatoes over medium/high heat for 10-15 minutes or until fork tender. TIP: make sure the potatoes are just fork-tender. You still want a slight 'bite' to the potatoes – similar to al dente pasta.

Remove baked feta and tomatoes from the oven. Using a spatula or fork, break up the feta and stir well with tomatoes to create a sauce.

TIP: add a 1/4 cup of the water from the pot of potatoes to thin the sauce.

Add steamed potatoes to the casserole dish and mix well to fully coat potatoes in the tomato-feta sauce.

Add fresh basil and toss again to combine all ingredients.

Garnish with more salt, pepper, and fresh basil.

Servings 8.0 | calories 171 | Total Fat 10g | Saturated Fat 4g | Monounsaturated Fat 2g | Cholesterol 20 mg | Sodium 344 mg | Potassium 524 mg | Total Carbohydrate 17g | Dietary Fiber 2g | Protein 8g | Vitamin A 36% | Vitamin C 33% | Calcium 15% | Iron 3%

---