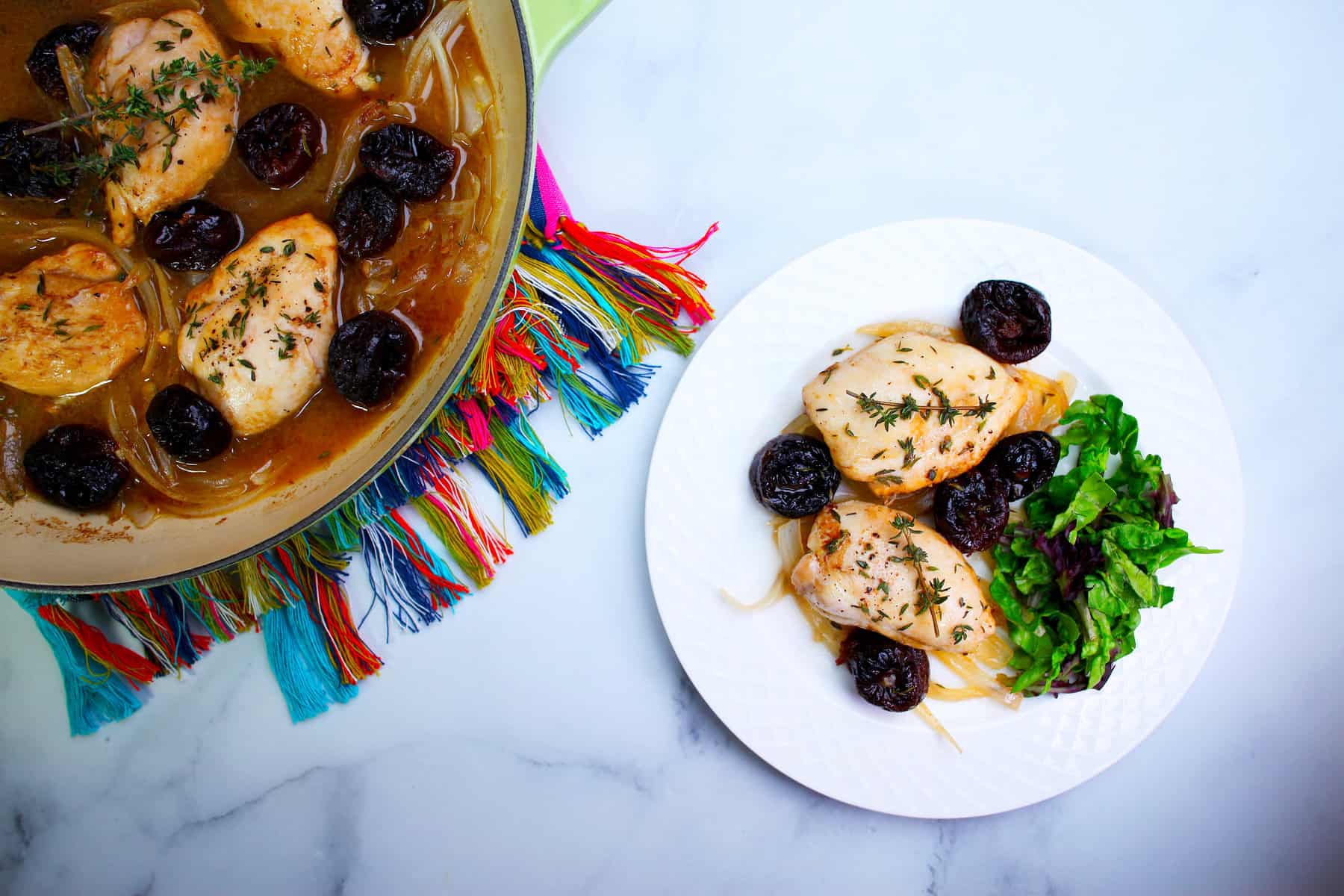 Tastiness and sweetness shouldn't just be reserved for desert. At Farm Star Living, we like to have fun with all our meals - including dinner! Deepen the flavor of braised chicken with some nutritious prunes. Prunes, or dried plums, are bursting with sweet flavor and copper, fiber, and vitamins C and K! They also help you absorb iron while helping to make healthy tissue and maintain a strong immune system. Scientific studies have found this helps reduce heart disease, stroke, and even cancer.
When choosing your prunes, one of the most important aspects to look for is "preservative-free." For that, we strongly recommend Sunsweet® D'Noir Prunes. They're elegant and complex, a perfect complement to your dinner. Moist, tender, and pure, D'Noir Prunes deliver a convenient and delicious way to boost your health and your recipes. Sunsweet® has accomplished such a great product by devoting over 100 years to quality ingredients.
This unexpectedly luxurious recipe is ready in about twenty minutes, and it combines the comfort of braised chicken with the sticky sweetness of D'Noir prunes, honey, and a bit of zest from lemon juice. The seasonings and balsamic vinegar finish it off with the perfect zing.
See how we made Braised Chicken with Onions & D'Noir Prunes: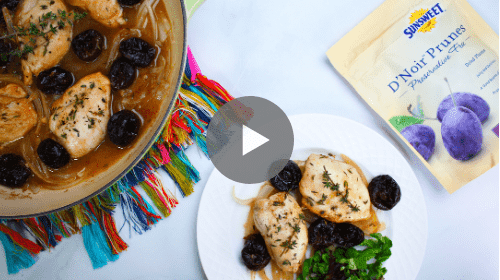 Ingredients:
2 tablespoons extra-virgin olive oil
8 skinless boneless chicken thighs
1/2 teaspoon kosher salt
fresh ground black pepper
1 large onion; sliced
2 cloves garlic; chopped
1 cup low sodium chicken stock
1 cup pitted prunes
2 tablespoons lemon juice
1 tablespoon honey
1 tablespoon fresh thyme; chopped
1 tablespoon aged balsamic vinegar
Directions:
Sprinkle chicken with salt and pepper.
Heat oil in heavy large skillet over medium-high heat.
Sear chicken thighs on medium-high heat until just cooked through, about 3-4 minutes per side. Transfer chicken to plate!
In the same hot skillet, add onion and garlic and saute until soft.
Whisk in chicken stock. Then, return chicken to pan and baste with sauce. Add prunes, lemon juice, honey, fresh thyme and balsamic vinegar.
Cover and simmer on low 15 minutes.
Remove chicken and transfer to serving dish. Season with salt and pepper to taste.
Spoon sauce and prunes over chicken and garnish with fresh herbs!

Servings 8.0 | Calories 232 | Total Fat 10g | Saturated Fat 2g | Monounsaturated Fat 5g | Polyunsaturated Fat 2g | Cholesterol 99 mg | Sodium 153 mg | Potassium 397 mg | Total Carbohydrate 18g | Dietary Fiber 2g | Protein 21g | Vitamin A 3% | Vitamin C 5% | Calcium 4% | Iron 6%
---