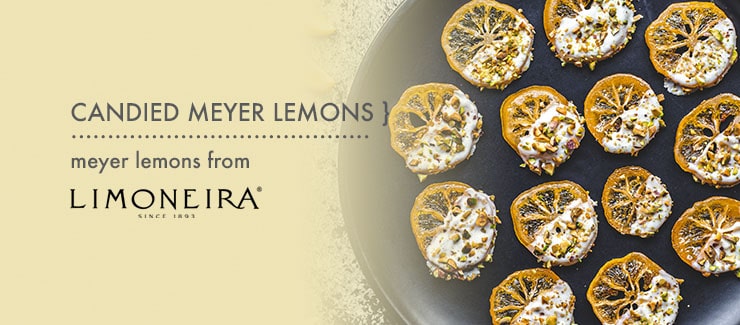 Does anyone else get a flood of creative energy during the colder months? It's like there's a certain magic in the air and everything just feels a little more special – a warm cup of coffee on a chilly morning, the frost glistening and slowly melting in the sunlight, the leaves crunching below your feet on a calming walk, and the touch of sweetness from a homemade treat just tastes a little sweeter. There's just something about this time of year that feels different. This holiday season, share this special feeling with your loved ones by creating something delicious and these Candied Lemons with White Chocolate and Pistachio are just the recipe to do so.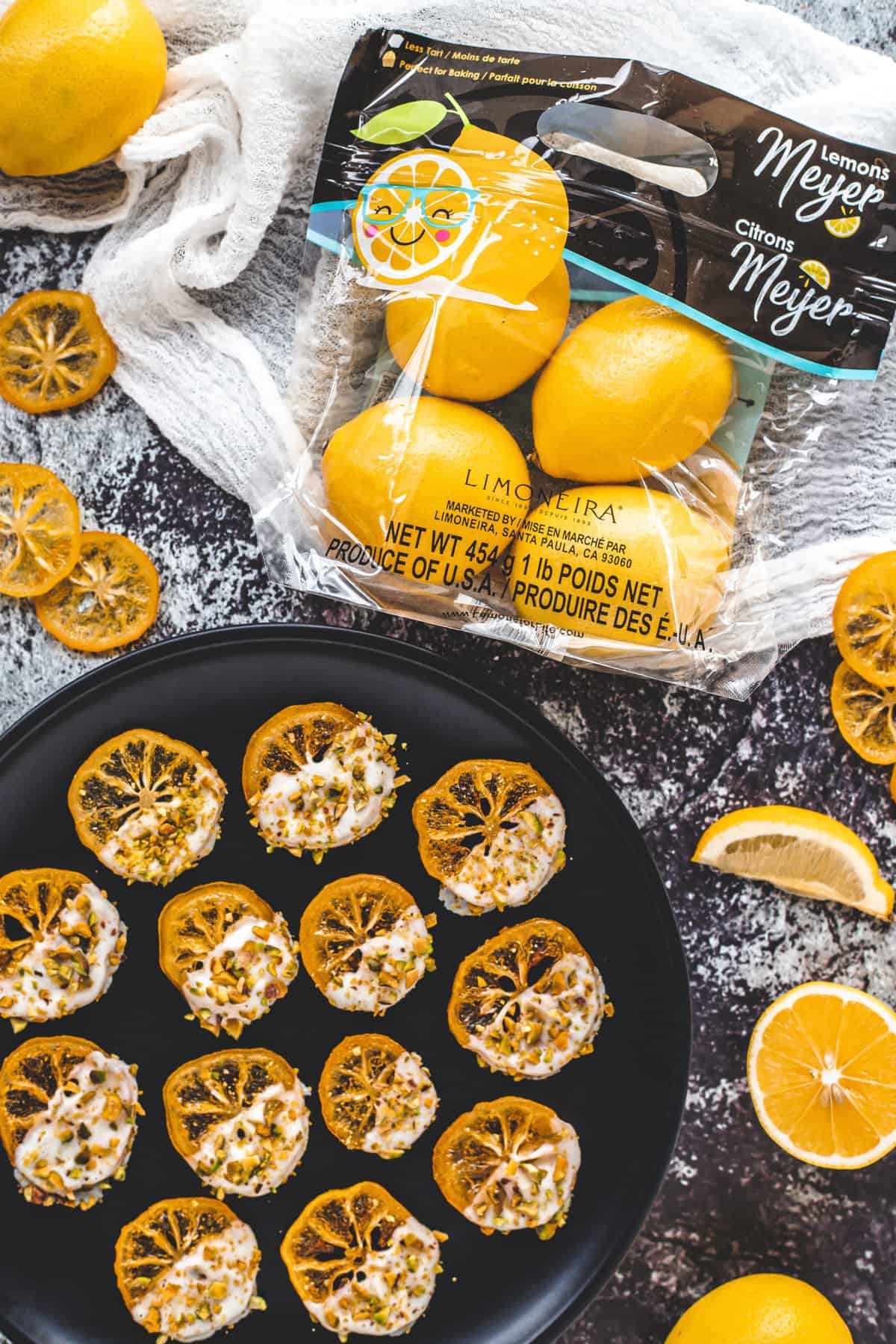 We adore the idea of making homemade gifts, but sometimes they can be a little tricky, pricy, or ultra time consuming. Sometimes trying to impress your friends and family leaves you drained rather than fulfilled. That's why we created this recipe that's as impressive as it is easy and we are so excited to share it with you. It all starts with lemons from Limoneira – the California company that's been growing lemons since 1893!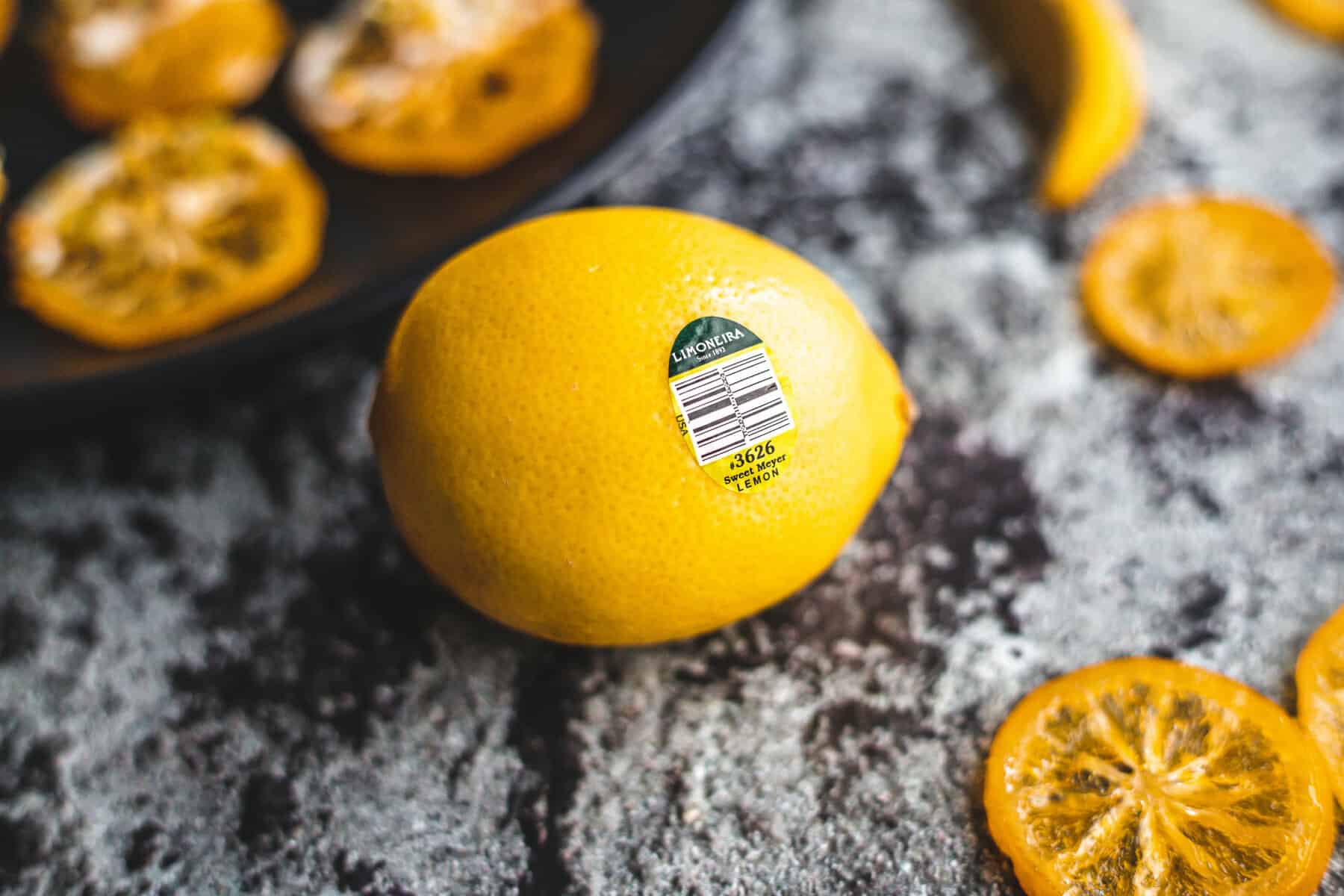 Fun Fact: The word Limoneira means "lemon land" in Portuguese.
We're big fans of the fantastic citrus that Limoneira grows and we love supporting companies that take sustainability seriously. This company is pioneering for a better tomorrow by utilizing solar energy, strict water management, organic recycling, and integrated pest management. Take a deeper dive into the many ways Limoneira is creating a more sustainable farming future in this Farms & Vineyards article.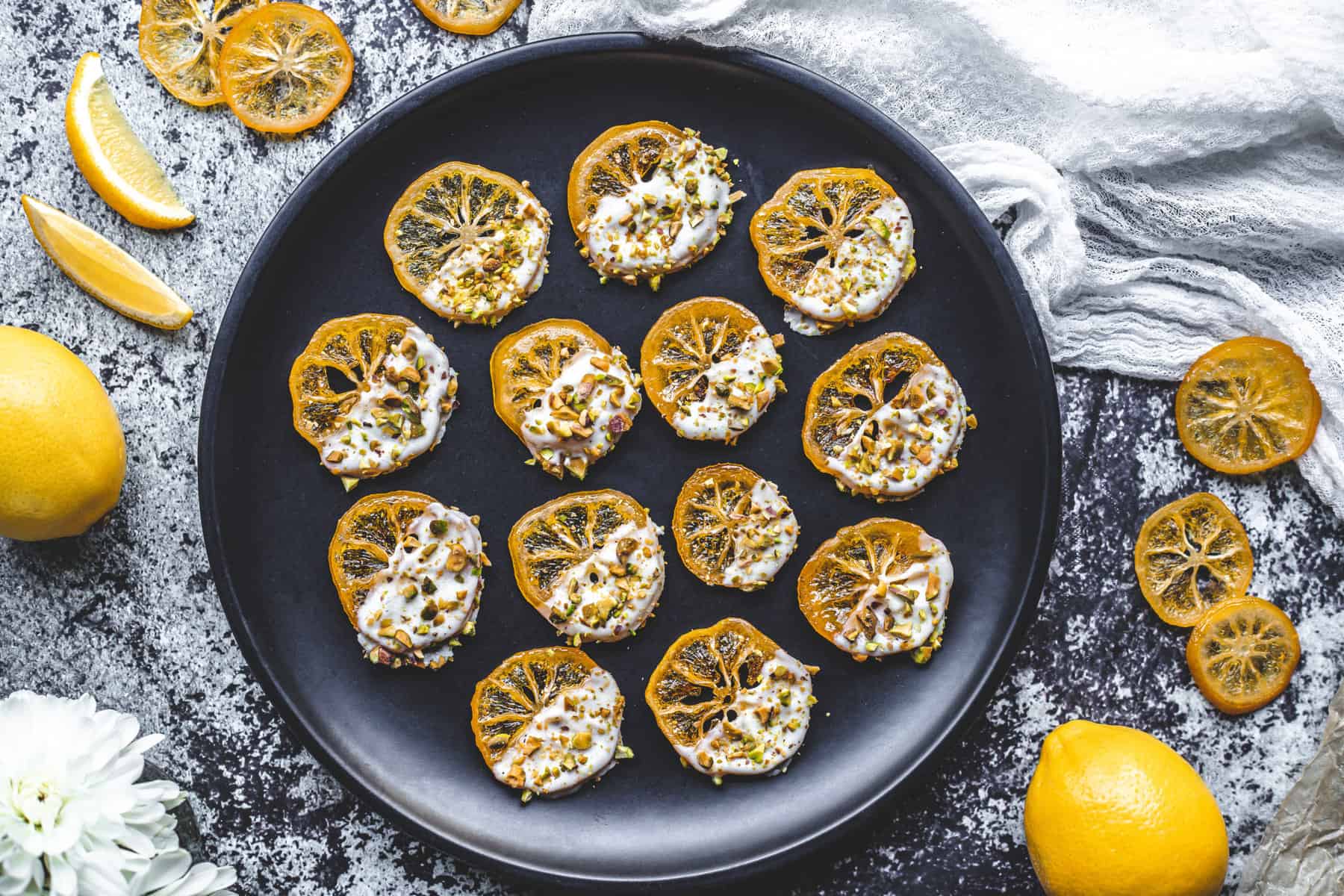 Just take a look at how beautiful these Meyer lemons are from Limoneira! Now you may be wondering, "What's the different between a Meyer lemon and a classic lemon?" It's all about the flavor! Meyer lemons are less acidic, and have a slight floral taste when compared to regular lemons. This makes them the perfect lemon for baking, cocktails, garnishes, and more. But don't fret if you can't find Limoneira lemons near you – you can order right from their website to have farm-fresh Meyer lemons shipped right to your door. How awesome is that?!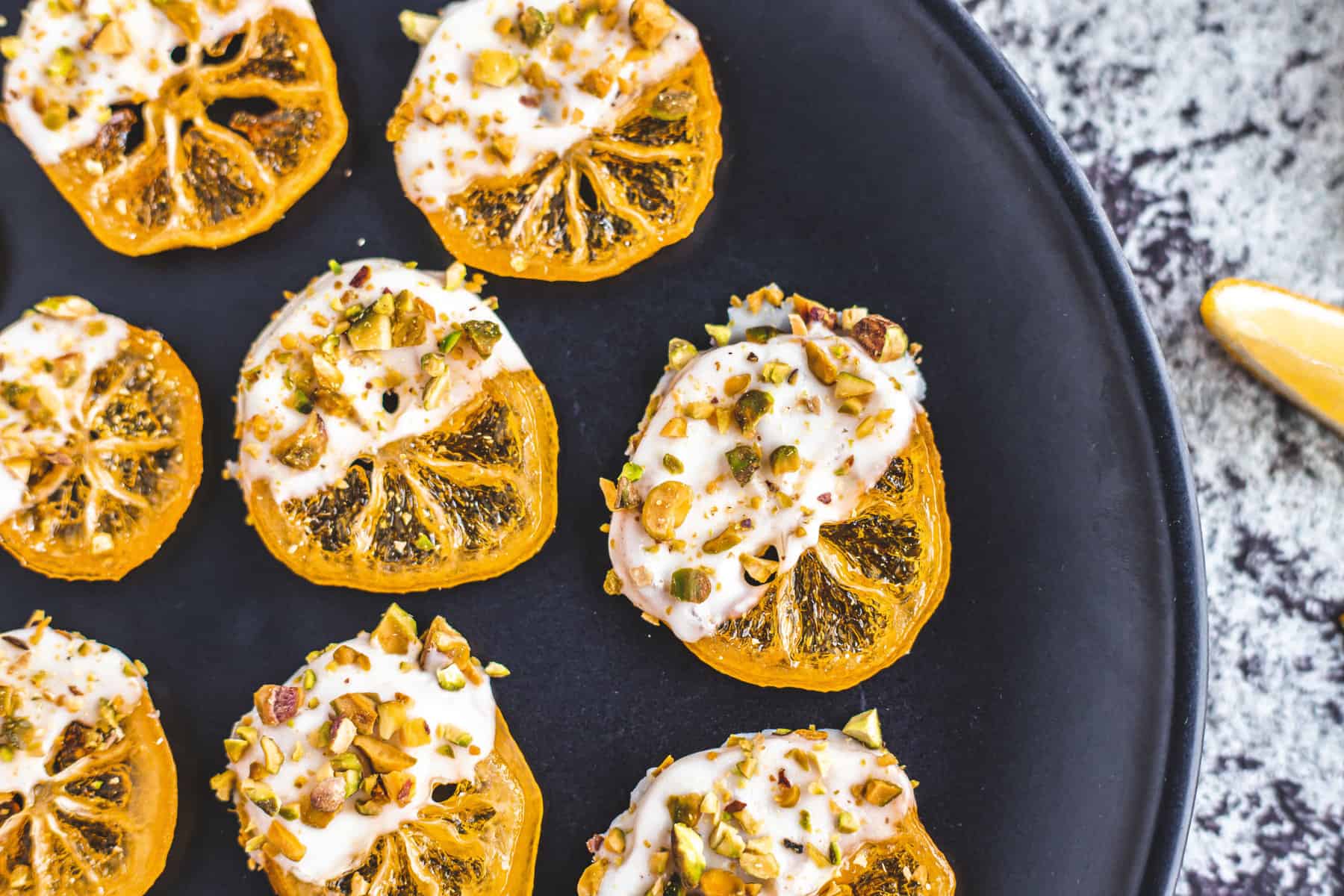 Here's a few tips and tricks to making the best Candied Lemons with White Chocolate and Pistachio:
Don't slice the lemons paper-thin because while cooking in the sugar, the flesh of the lemon will disintegrate.
After baking and cooling, lemons should be quite hard and very slightly tacky. If lemons are sticky or soft, return to to the oven and let them fully cool again. Repeat until lemons have reached the desired consistency.
Keep the oven on a very low temperature. Don't be tempted to crank up the heat because the sugary lemons will burn. Low and slow is the name of the game here.
We suggest giving these as homemade gifts in mason jars, candy bags, or boxes wrapped with ribbon. It's easy and tasty way to show someone some love this holiday season. As always, please tag us and Limoneira in your recipes when posting online. We can't wait to see your creations!

Ingredients:
3 Limoneira Meyer Lemons

1 cup sugar

3/4 cup water

1 tbsp fresh Meyer lemon juice

White Chocolate Melting Chips

1/2 cup shelled pistachio – chopped
Directions:
Carefully slice Meyer Lemons into thin slices (about 1/8 - 1/4 inch thick).

Add sugar, water, and Meyer lemon juice to a large wide-bottomed pot over medium / high heat and mix until sugar is melted. Bring to a boil.

Add lemons slices and lower heat. Simmer lemons for at least 30 minutes and carefully flip every 5-10 minutes.

Remove pot from heat. Use tongs to add lemon slices to a baking sheet lined with parchment paper.

Bake for one hour in a 215F oven, flipping lemons half way through cooking. Remove from the oven and allow lemons to cool completely. NOTE: once cool, lemons should be slightly chewy and tacky rather than soft, soggy, or sticky – this all depends on the thickness of the lemon slices. If lemons are soft or sticky, return to the oven in 10 minute increments and allow to cool completely. Repeat as needed.

Melt white chocolate chips according to package directions and dip one half of each lemon slice into the white chocolate.

Place dipped lemons onto wax paper and sprinkle with pistachios while the chocolate is still warm. Enjoy!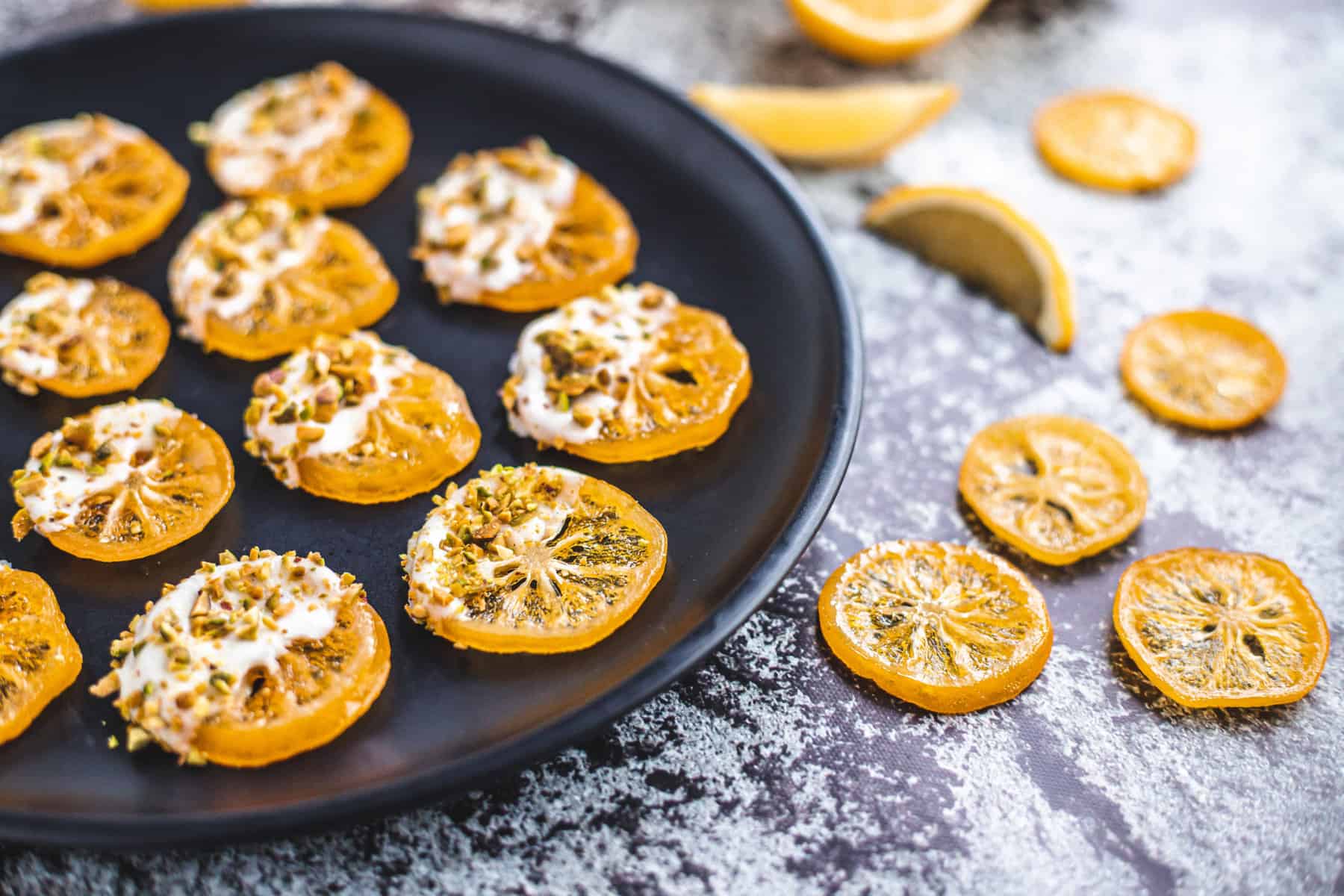 Servings 12.0 | calories 122 | Total Fat 3g | Saturated Fat 1g | Monounsaturated Fat 1g | Polyunsaturated Fat 0g| Sodium 21 mg | Potassium 93 mg 3% | Total Carbohydrate 20g | Dietary Fiber 2g | Protein 1g | Vitamin A 0% | Vitamin C 39% | Calcium 4%n| Iron 2%

---