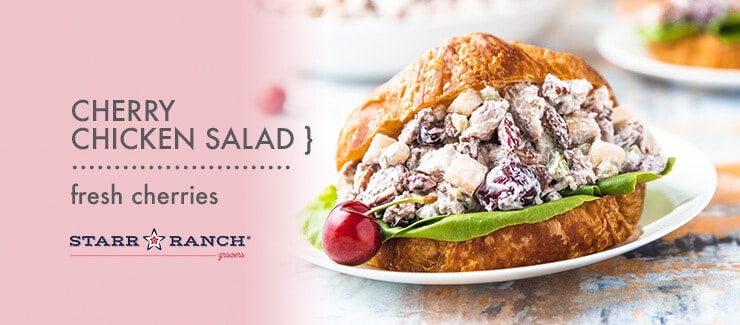 We want to ask you, "What's the cherry on top of your days?" Is it starting the day with a walk or exercise? Is it being productive and knocking out items on your to-do list? Is it spending time doing things you enjoy with yourself or your family? We think the 'cherry on top' of our days can be many things. One thing we enjoy is cooking healthy meals and sharing them with friends and family, so here's a new Cherry Chicken Salad recipe using cherries from Starr Ranch® Growers. It's certain to put the cherry on top of your summer gatherings, without a doubt!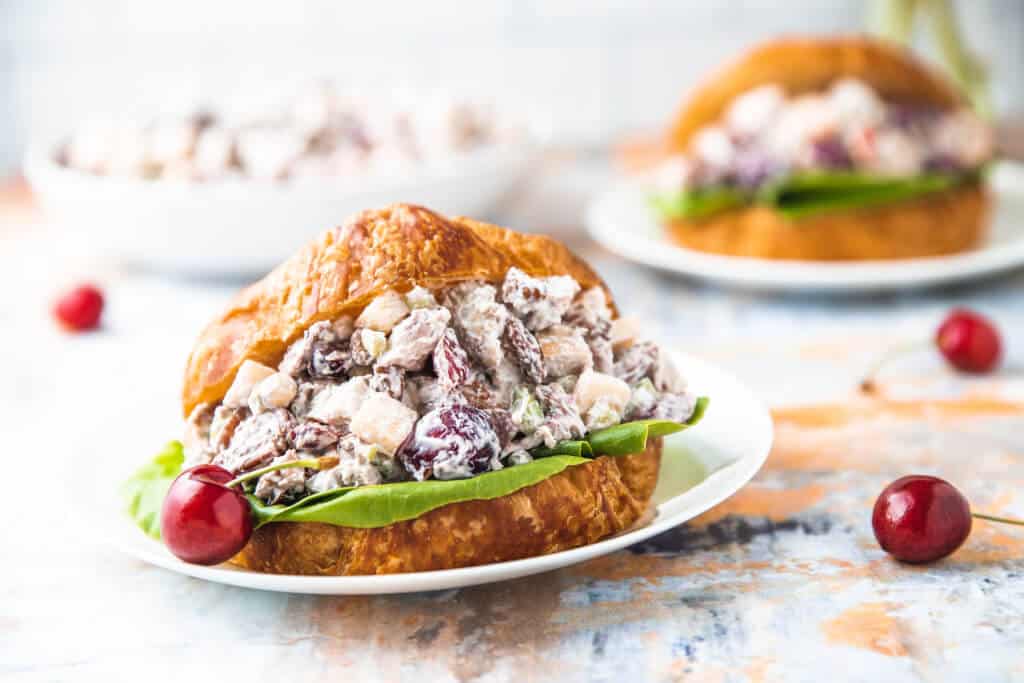 When we see cherries at the grocery store, we know summer has officially arrived in the US. The colorful displays of green stems and dark red plump cherries are always welcome and get us excited for the warm weather ahead. We know and love working with our friends at Starr Ranch® Growers for many reasons – one reason being that they grow incredible varieties of pears, apples, and cherries. This cherry season, the folks at Starr Ranch are breaking the mold with their new 100% recyclable packaging! This new recyclable pouch is made of High-Density Polyethylene (HDPE) plastic. When HDPE recycling is done the right way, you can help keep non-biodegradable plastic waste out of landfills and help the environment. Also, it takes much less energy to create products from recycled plastics like HDPE than from new plastics which helps reduce the use of fossil fuels. How's that for sustainability?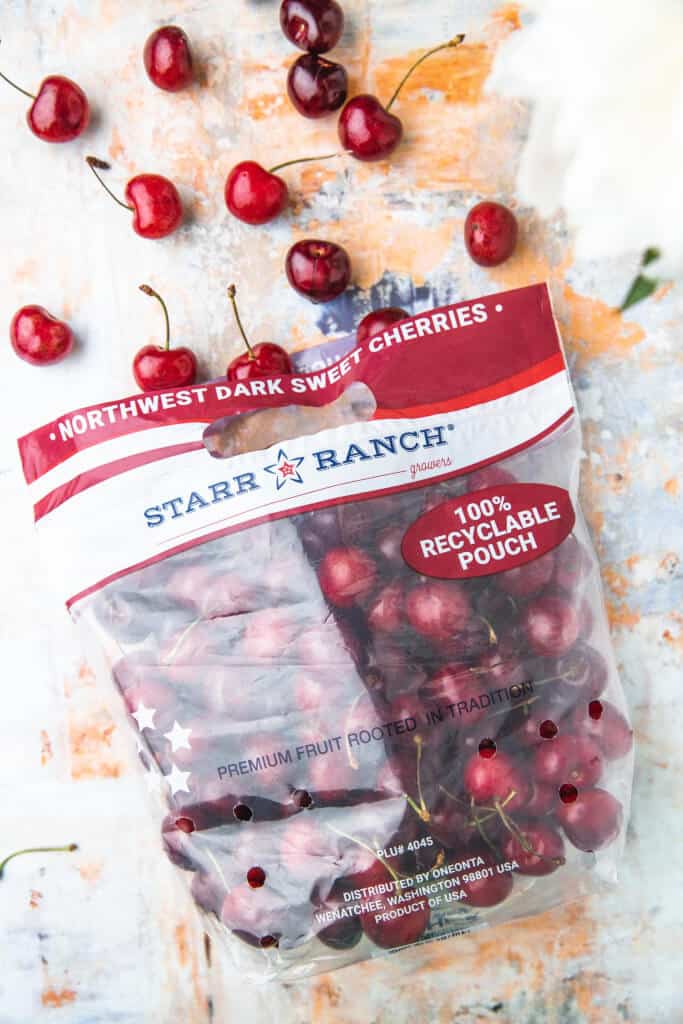 When we came together with Starr Ranch to create a new cherry recipe for the season, we wanted something easy, healthy, and a dish we can see ourselves sharing with friends and family all summer long. That's why we're so excited to share this Cherry Chicken Salad – it all comes together in one bowl and has a ton of healthy ingredients like fresh cherries, celery, greek yogurt, apple cider vinegar, and pecans. Not only will this recipe keep you fueled for busy days by the pool, but it'll help you feel good too.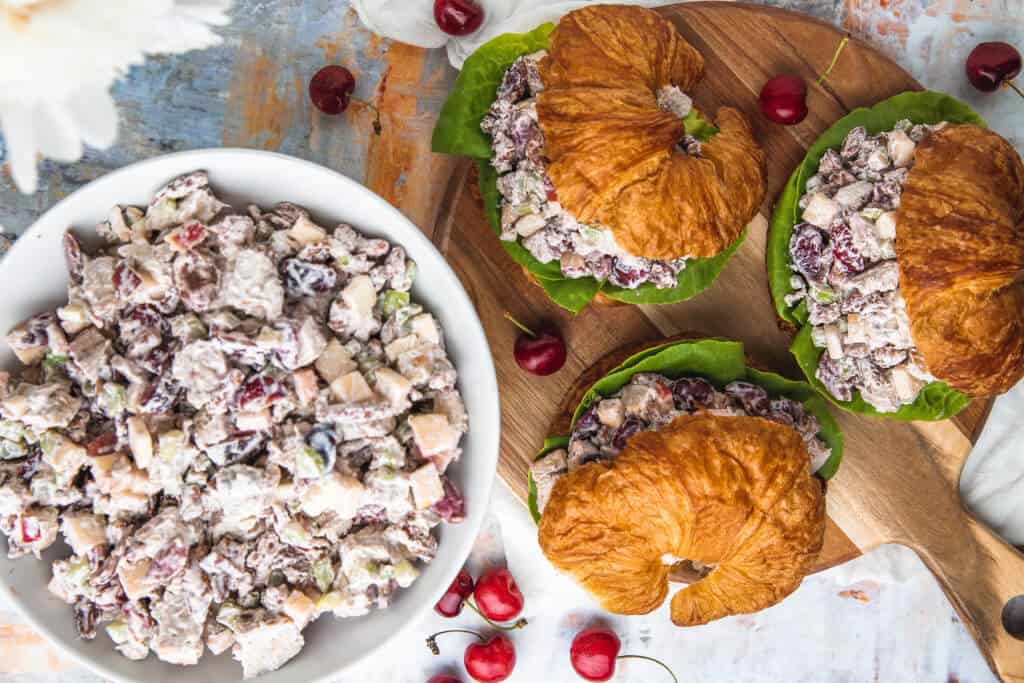 TIP: If you're buying fresh cherries this summer, we suggest buying a good quality cherry pitter (we like this one from OXO). It'll save you time in the kitchen, and it's the easiest way to remove the pit from fresh cherries. Plus, this tool is safe enough for the kids to use so get together with them in the kitchen and create memories and recipes together.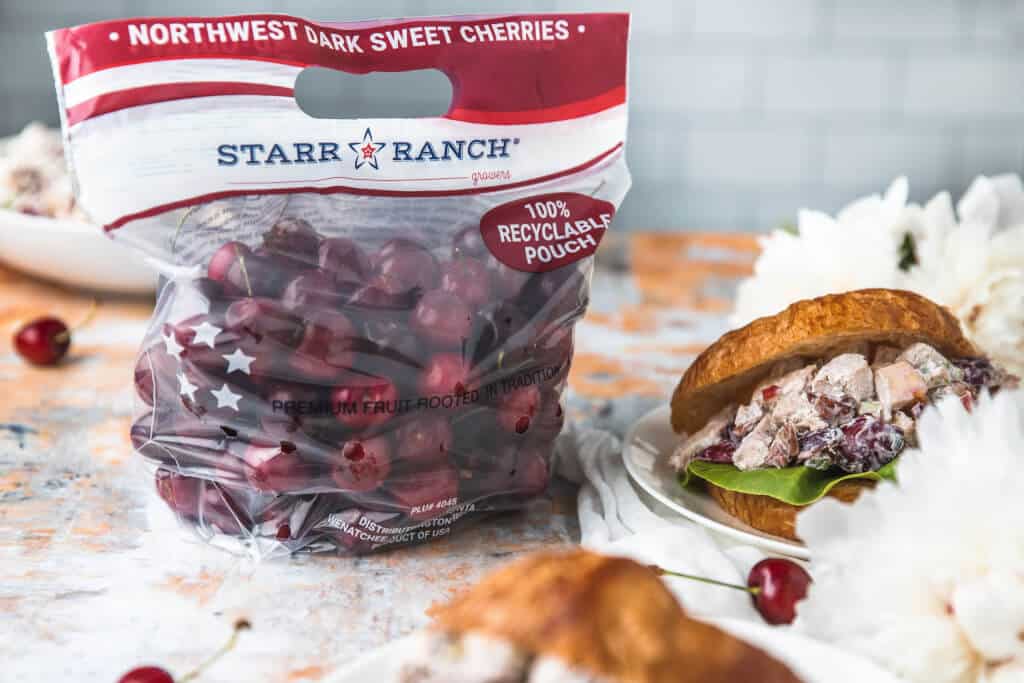 You can serve this recipe as a sandwich like we did on croissant, or serve it on top of lettuce and enjoy as a salad, or serve alongside crackers and celery sticks as a dip. Please let us know if you try this recipe by sharing on social media and tagging us and our friends at Starr Ranch® Growers! We hope this recipe puts a cherry on top of your summer. :)

Cherry Chicken Salad:
3 cups cooked chicken breast, cubed
1 1/4 cups celery, diced
1 1/2 cups Starr Ranch Growers Cherries, pitted and quartered
1 1/4 cup pecans, chopped
1 1/14 cups JUICI apples, cubed
1 1/2 cups Greek Yogurt
2 tbsp Apple Cider Vinegar
Directions:
Combine chicken, celery, cherries, pecans and apples in a large bowl and lightly mix to combine.
In a separate bowl whisk together greek yogurt and apple cider vinegar. Add this to the chicken salad mixture and mix to coat all ingredients. Add salt and pepper to taste.
Serve on a croissant with lettuce, or try it with crackers, celery sticks, or by itself. Enjoy!

Servings 6.0 | calories 421 | Total Fat 20g | Saturated Fat 3g | Monounsaturated Fat 9g | Sodium 104 mg | Potassium 914 mg | Total Carbohydrate 13g | Dietary Fiber 4g | Protein 51g | Vitamin A 8% | Vitamin C 7% |Calcium 5% | Iron 4%

---