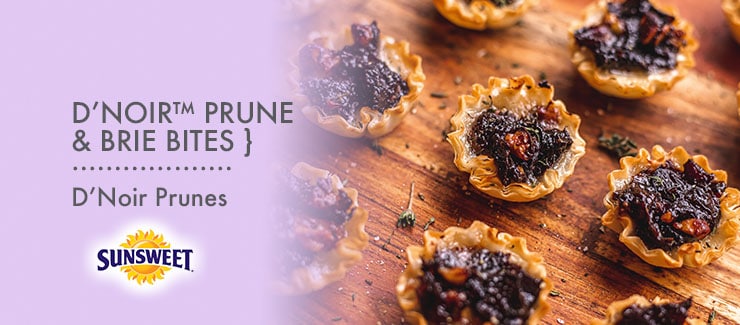 As the holidays roll in, we're so excited to safely gather with friends and family again! We've so missed holiday parties, holiday traditions, and just being around our people during this special time of year. One of the many things we love about the season is the entertaining, the traditions, and the food! We believe that hosting and feeding others is a way to show not only caring for others, but it is an expression of love! Just remember that special does not have to mean difficult, and this recipe proves just that! Introducing our new D'Noir™ Prune & Brie Bites – perfect for holiday entertaining or even "just because."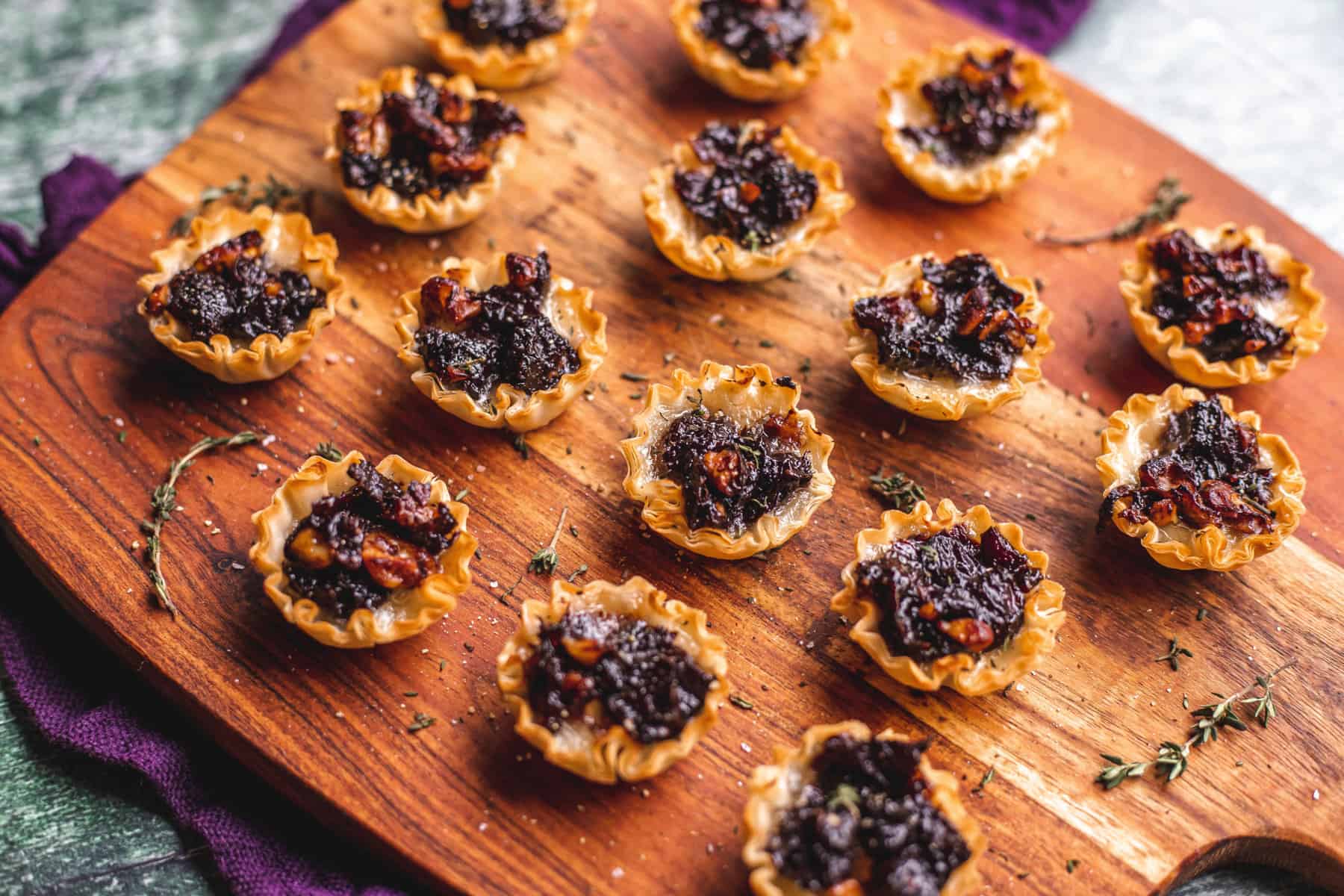 Not only is this recipe a breeze to throw together, but these little bites are bursting with flavor! This is achieved by cooking D'Noir™ prunes, fresh thyme sprigs, and balsamic vinegar in red wine until the prunes are ultra soft and gooey. Then, bake the D'Noir™ prune mixture with creamy Brie cheese inside of a crunchy phyllo dough cup and you've got a bite-size burst of deliciousness.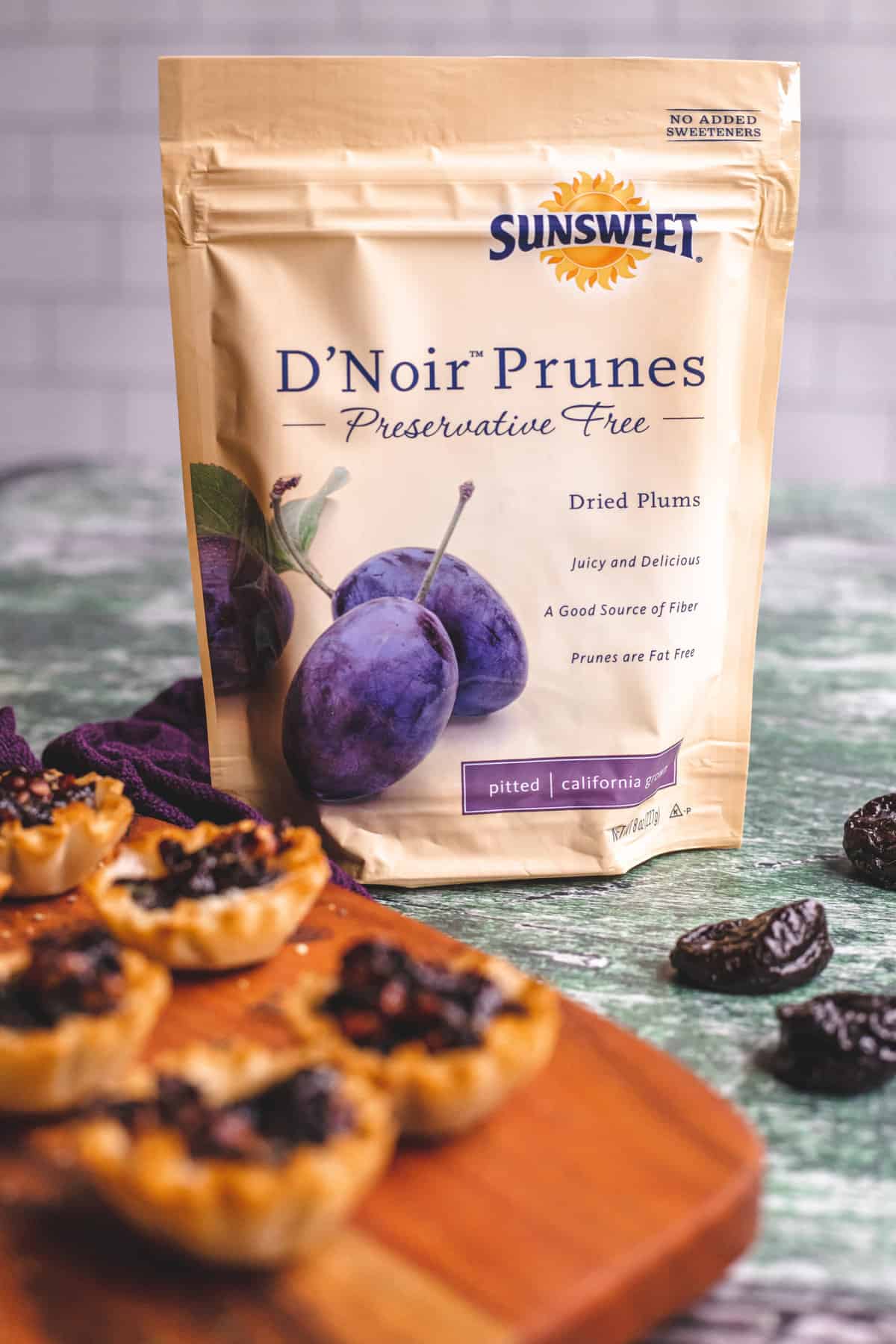 Did you know that prunes are made from a unique variety of plums? So many often forget this, and some of the most tasty and delicious are truly the D'Noir™ Prunes, exclusively from our friends at Sunsweet®. These are from plums grown by the 200 grower members of Sunsweet, and they really know how to grow great plums! Learn more about how Sunsweet grows, harvests, and dries their premium plums in Mary's Blog here.
These D'Noir™ Prunes are California-grown, made with no preservatives and no added sugars, so there's nothing standing in the way of their pure, sweet, juicy flavor. Just take a look at the ingredients list: Pitted California Prunes (Dried Plums).
Now, here are a few tips and tricks to creating these delicious D'Noir™ Prune & Brie Bites:
Cheese: If you're not a fan of Brie cheese, then try another creamy favorite like Camembert, chevre, or even goat.
Wine: Don't waste your best red wine – any red table wine will do since you're using it for cooking.
Herbs: Try this recipe with sage or even rosemary for a new twist.
Phyllo Cups: Don't spend your time and energy making the mini cups yourself – you can find mini phyllo dough cups at your grocery store in the frozen section. Also, be very careful when adding the ingredients to the phyllo dough cups as they are very gentle and crack easily.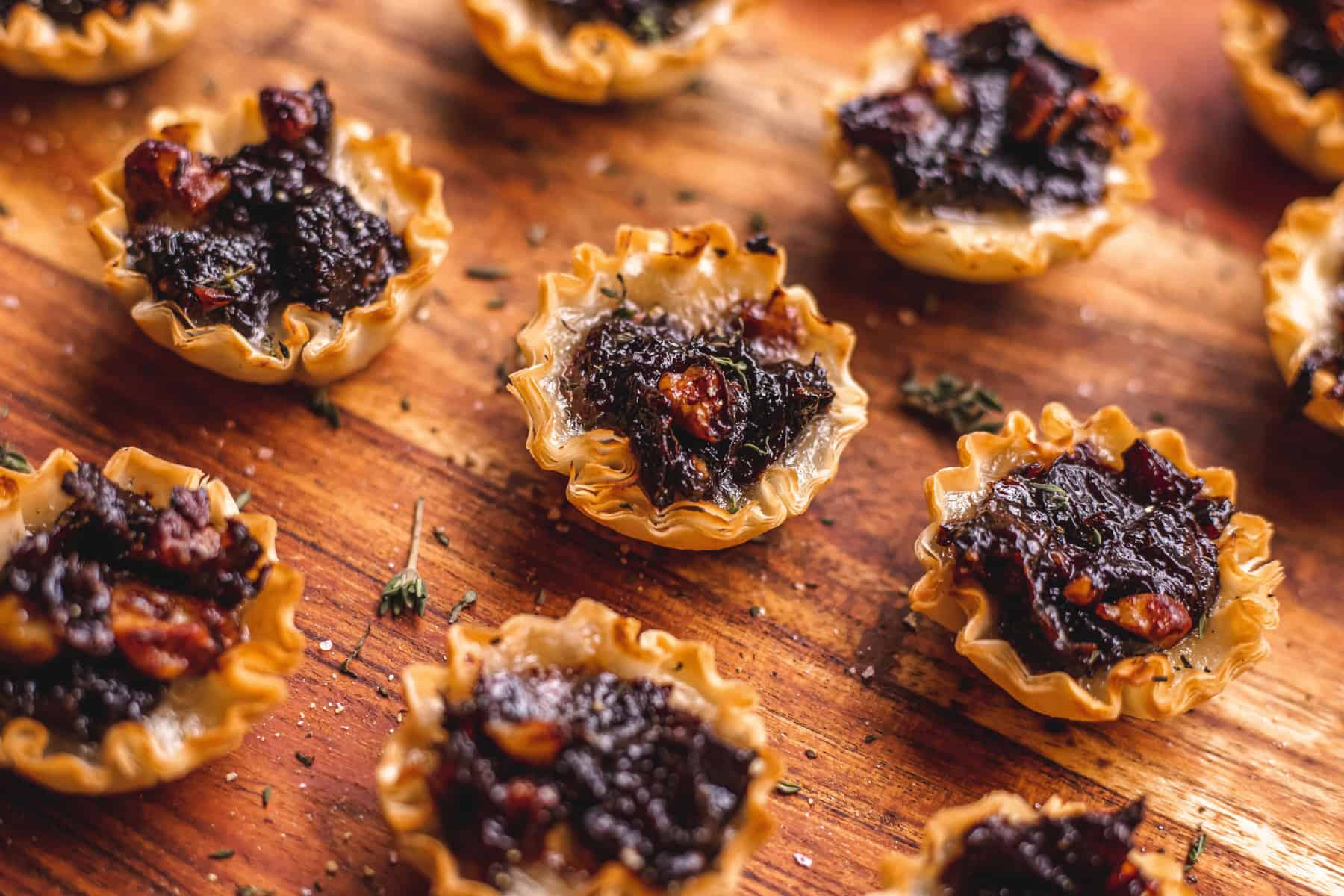 We hope you love this easy and delicious recipe! Don't forget to tag us and also Sunsweet on social media if you give this recipe a try. Happy snacking!

D'Noir Prune & Brie Bites:
Ingredients:
Pre-made mini Phyllo Cups

1 cup, Sunsweet® D'Noir Prunes, chopped

1/2 Cup Red Wine

4 Sprigs Fresh Thyme

1/3 Cup Walnuts, chopped

1 wheel Brie Cheese

1 1/2 tsp Balsamic Vinegar

Salt and pepper
Directions:
Preheat oven to 350 F

Add chopped D'Noir prunes, red wine, thyme sprigs, and balsamic vinegar to a small saucepan and bring to a boil. Lower heat and simmer for 5 minutes.

While dates simmer, add phyllo cups to a lined baking sheet.

Slice wax from the top of Brie Cheese wheel. Add a teaspoon of Brie Cheese to the bottom of each phyllo cup.

Remove dates from heat, discard thyme sprigs, and add chopped walnuts. Mix to combine.

Add a heaping teaspoon of date mixture on top of the Brie cheese in each phyllo cup.

Bake for 5 minutes, until cheese is melted and cups are warm.

Remove from the oven and top warm D'Noir Prune & Brie Bites with light dusting of salt and pepper. Option to top with maldon flaky salt rather than table salt. Lightly garnish with thyme leaves and serve warm.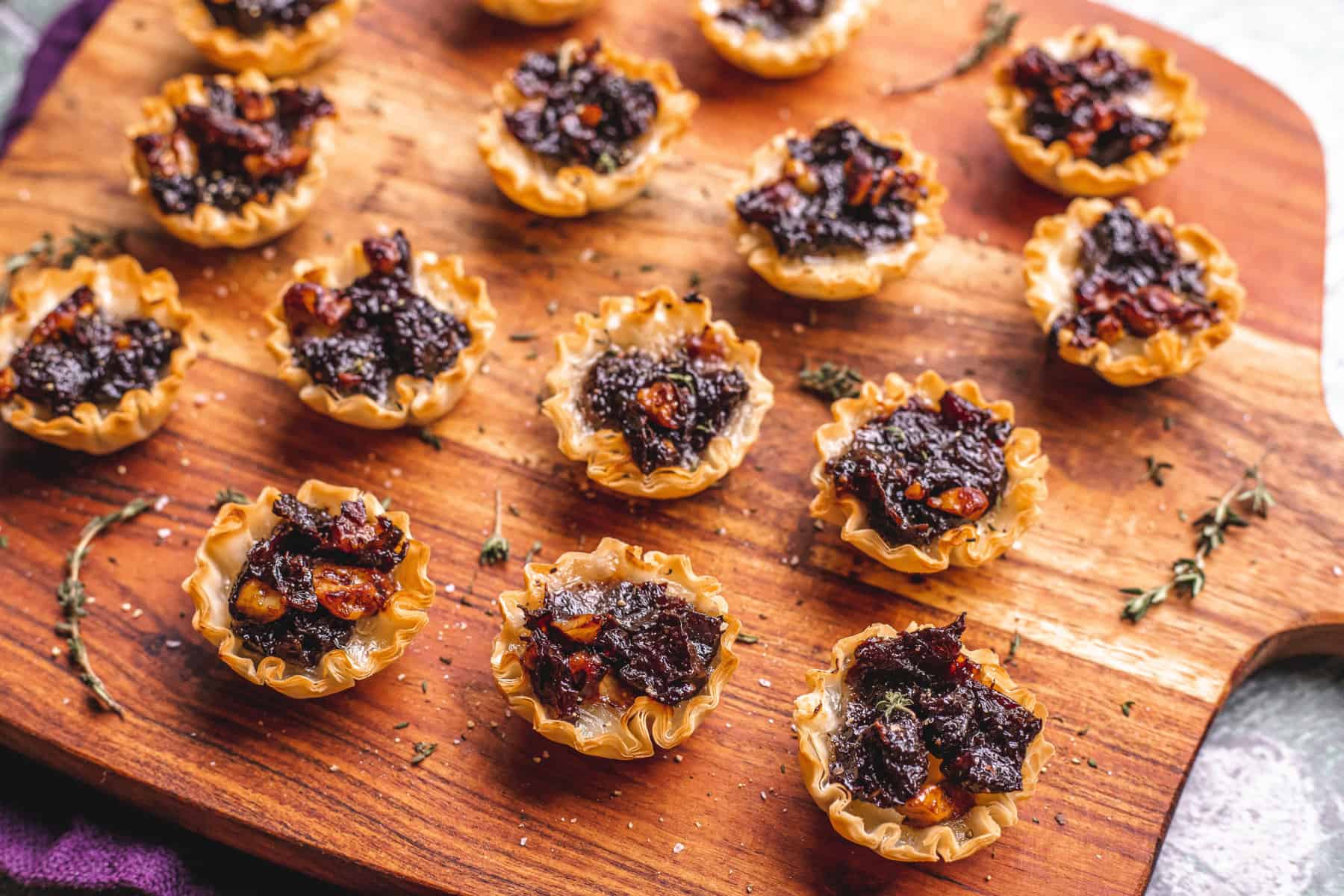 Servings 15.0 | calories 159 | Total Fat 12g | Saturated Fat 5g | Cholesterol 21 mg | Sodium 129 mg 5% | Potassium 41 mg | Total Carbohydrate 6g | Dietary Fiber 0g | Protein 6g | Vitamin A 7% | Vitamin C 0% | Calcium 13% | Iron 7%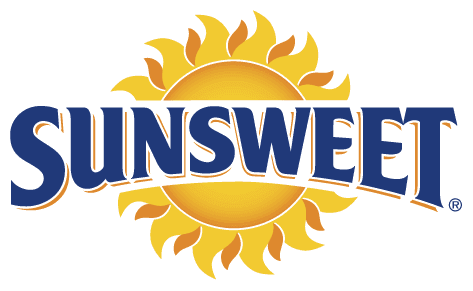 ---