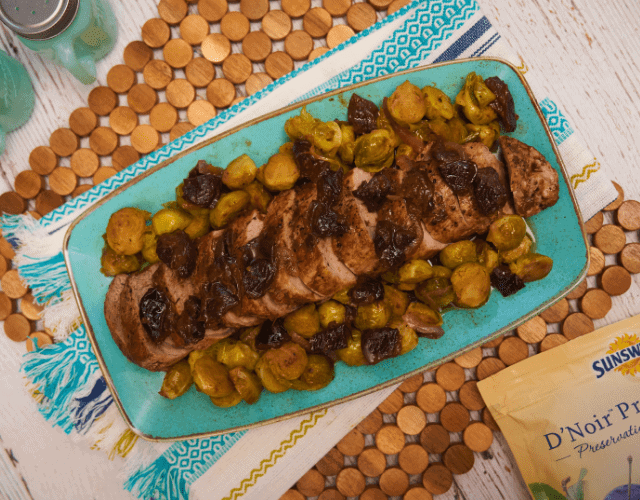 Elegance comes in diff shapes, sizes, and taste! This is why the Farm Star Living team is excited to introduce a pairing that resonates elegance without the fuss. Imagine the earthy, juiciness of Sunsweet's D'Noir™ prunes smothered over the crispy on-the-outside and tender on-the-inside, amazing flavor of a pork tenderloin. We have! Make your next dine-in experience rich and savory with our D'Noir™ prune sauce and pork tenderloin recipe. Bon appetit!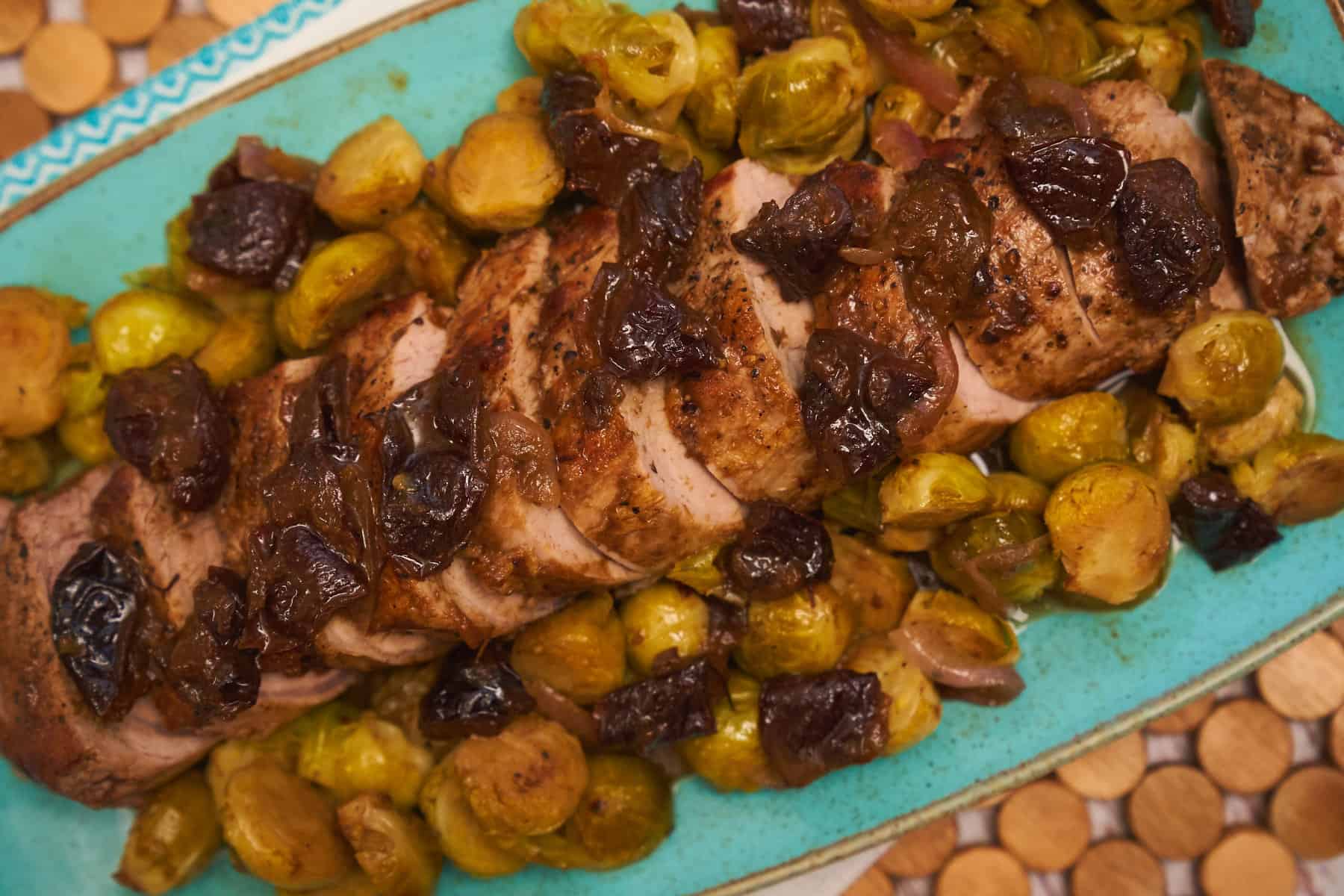 We've chosen D'Noir™ prunes for our sauce because they have been carefully selected from the Sunsweet® plums grown in the lush California orchards. Made without preservatives, there's nothing to stand in the way of their incredible taste.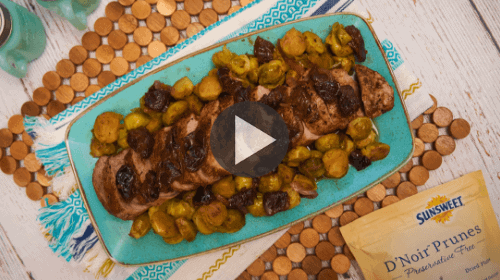 Sauce Ingredients:
1 8 oz package of Sunsweet® D'Noir Prunes
2 cups Chicken or Vegetable Broth - divided

3 tbsp Balsamic Vinegar

1 tbsp Dijon Mustard

2 tbsp Butter

Salt & Pepper
Other Ingredients:
2 cups Brussels Sprouts
1/2 cup Red Onion
Pork Tenderloin
Directions:
Preheat oven to 425F

Finely chop D'Noir™ prunes and combine sauce ingredients in a saucepan. Bring to a boil then simmer to thicken.

While the D'Noir™ prune sauce cooks, heat a medium skillet to high heat. Pat pork tenderloin dry with paper towels, add salt and pepper, and sear for about two minutes per side until a crust has formed.

Combine Brussels Sprouts, red onion, olive oil, salt and pepper to a medium bowl and mix to combine. Add mixture to skillet with pork tenderloin.

Once sauce has thickened (about 5-10 minutes) pour sauce over pork tenderloin to fully coat. Add about 1 cup of chicken or vegetable broth to the skillet. Cover with foil and bake in the oven for 15-20 minutes or until the internal temperature of the tenderloin has reached 150-155 degrees Fahrenheit (for medium cook).

Remove skillet from the oven and allow to rest for 5-10 minutes. Enjoy!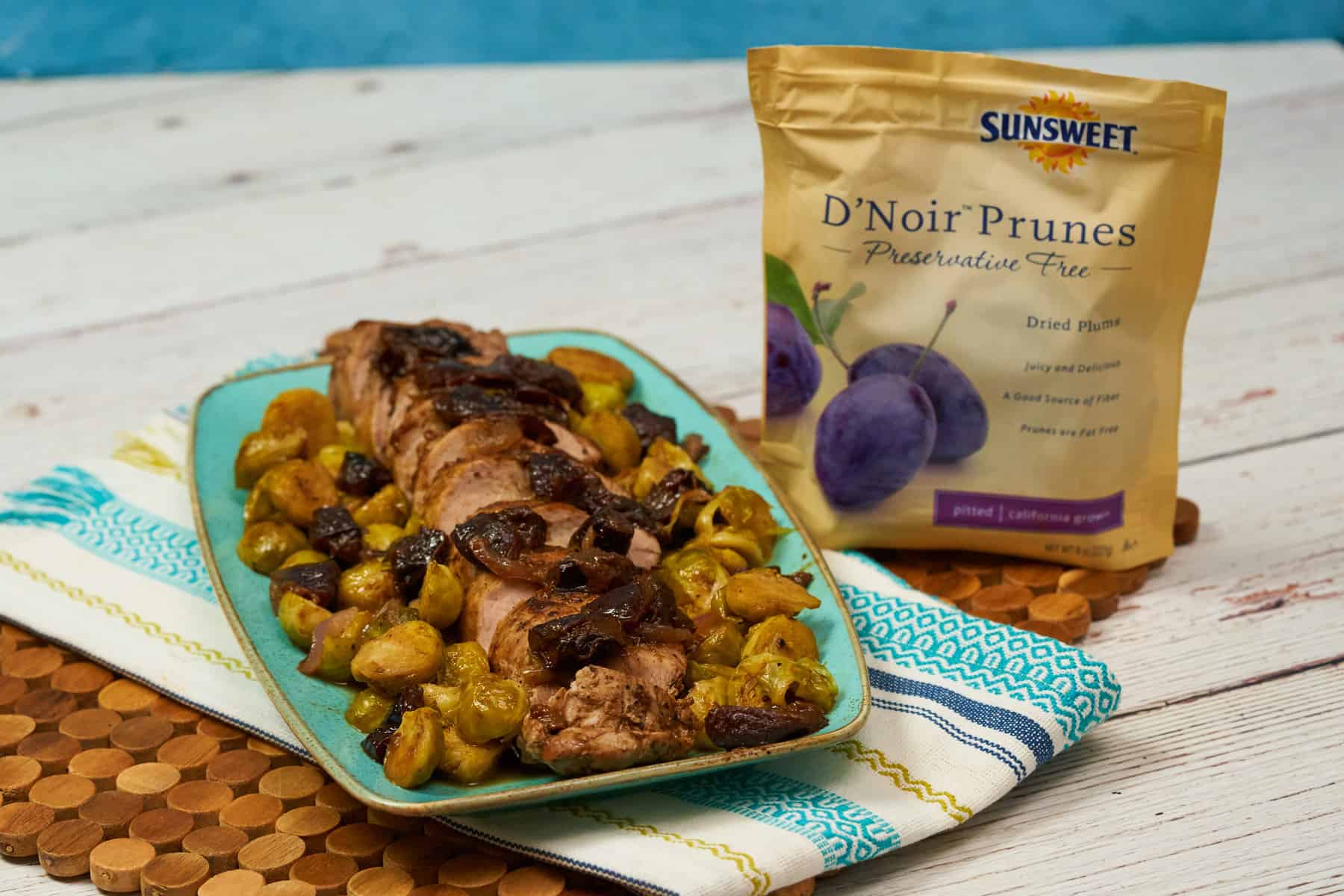 Servings 6.0 |Calories 283 |Total Fat 8g 12 % |Saturated Fat 4g |Monounsaturated Fat 2g |Sodium 110 mg |Total Carbohydrate 21g |Dietary Fiber 0.5g |Protein 32g |Vitamin A |2 % |Vitamin C 0 % |Calcium 0 % |Iron 9 %
---