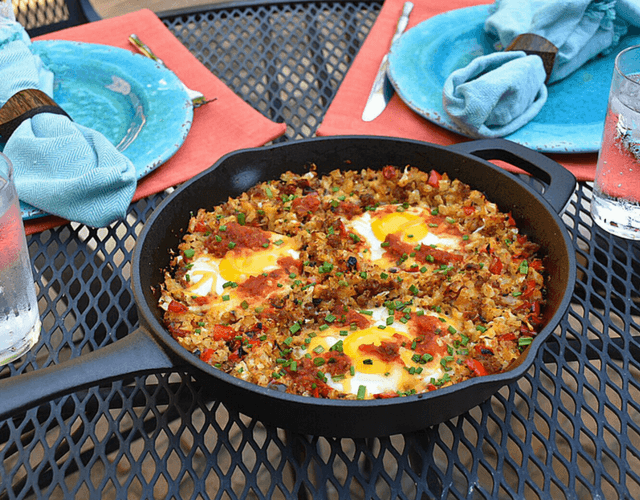 What's the best part of your weekend? Seemingly endless time off from work? Hanging out with friends and family? If you know us, you know any time we get to dine with friends and family it is the highlight of our weekends! That's why our favorite part has got to be Sunday morning brunch!
We started thinking, though, about all the calories we're eating at our favorite meal, and figured there had to be a fresh, more healthy way to have a kick-butt brunch! With the help of EatSmart's Cauliflower Rice, we had the makings of our scrumptious Breakfast Skillet!
EatSmart has been consistently been a leader when it comes to innovation, and this has been applied time and time again to their various washed and prepped veggies! Their BreatheWay packaging goes unmatched in its ability to keep produce fresher longer. Through a specially developed membrane, BreatheWay packaging can manage the amount of oxygen and CO2 in each bag! With this technology, you can rest assured that you don't have to forgo freshness for convenience.
We have fallen in love with their Cauliflower Rice that helps making your favorite recipes a little bit healthier. Not only is it fresh, but it's so much more convenient to have the cauliflower already washed and prepped for your next recipe!
Cauliflower is a great substitute for many starches that can often pack our daily meals without us realizing it. Did you know Cauliflower has little-to-no calories? Yup! Not only is it a low-calorie substitute in our favorite recipes, but it also is key source of vitamins C and K! When we eat cauliflower, it has a detoxifying effect on the body as well as provides it with more energy and works has a pain reliever! Head on over to the Food Spotlight to learn more about Cauliflower.
With EatSmart's technology and our recipe, you can now make a dish you're confident your friends and body will love! Our Breakfast Skillet is packed with different veggies for a colorful, flavorful new meal that's the perfect way for you to try out cauliflower in ways you've never done before!
Check out how we made this dish here, and cheers to your next brunch adventure!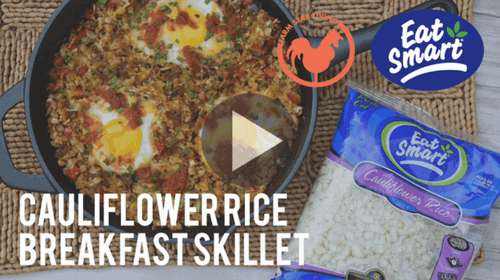 TIP: Serve with warm bread or tortillas.
INGREDIENTS:
1-2 tbs oil
1 cup chopped red bell pepper
1/2 cup chopped onion
1 tbsp minced garlic
1/2 lb crumbled breakfast sausage*
1 bag of Eat Smart Cauliflower Rice
1/2 tsp chili powder
1/4 cup of your favorite salsa
3 eggs
1tbsp of chopped fresh chives
salt and pepper to taste
For Gluten Free Version – be sure you are using a Gluten Free Breakfast Sausage
DIRECTIONS:
Preheat oven to 350.
In a hot cast-iron skillet, add 1/2 tbsp oil, breakfast sausage, and cook until crispy and browned - around 5-8 minutes. Remove to a plate and set aside.
In the same skillet, add red bell pepper, and onion. Cook until slightly crispy and onions are translucent.
Add Eat Smart Cauliflower Rice, minced garlic, chili powder and stir to combine. Cook for 2 minutes.
Using a whole egg or backside of a large spoon, create 3 areas for the eggs. Crack open eggs, one at a time, and place in spaces you created.
Place entire skillet in the oven for 5-10 minutes, or until eggs are cooked to your desired temperature.
Remove from heat, drizzle salsa, sprinkle with chives and cheese. Enjoy!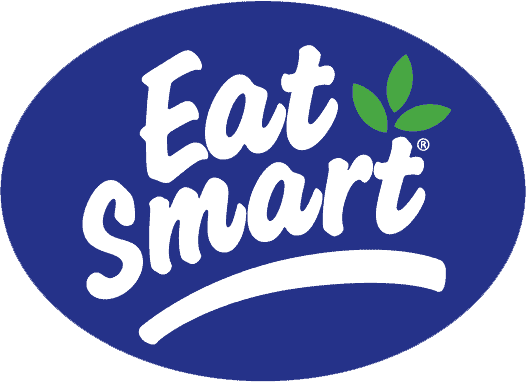 ---