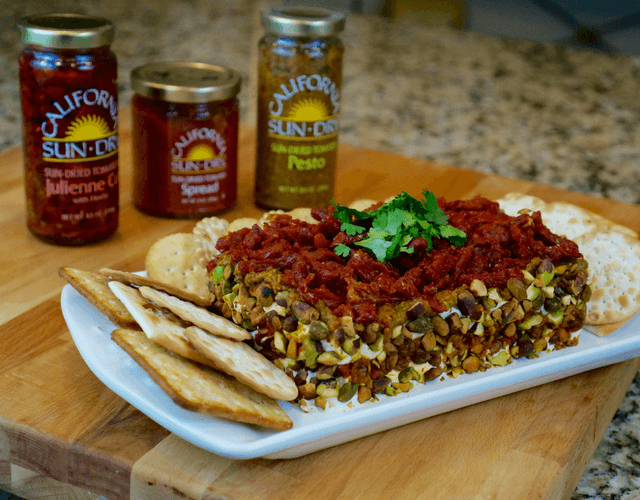 We all went wild for this! In fact, we served it at a pre-holiday dinner party and everyone raved. It is easy, just requires a bit of instruction - so watch the related video. We assure you - once you've tried it, it will become a staple in your holiday repertoire!
We used California Sun Dry® tomatoes, as they've been leading the way in delicious, flavorful sun-dried tomatoes for decades now. They make a variety of flavorful sauces as well – their pesto sauce is also a must-have for your pantry.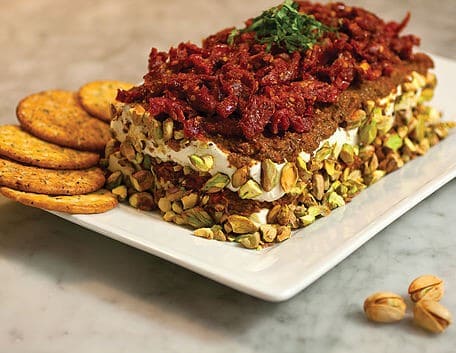 TIP: When draining the Julienne-cut, do not pat them dry. Drain them well and do that first, before assembly. The residual oil on the tomato and the oil enhances the flavor and look of the dish.
TIP: Chop the pistachios with a butcher knife, as a food processor can make pistachio dust pretty quickly.
Check out this video for step-by-step instructions:
Sun-Dried Tomato Holiday Torte
Recipe by
California Sun Dry
INGREDIENTS:
2 (8 oz) blocks of cream cheese
1 (8.5 oz) jar California Sun Dry® Pesto
1 (8.5 oz) jar California Sun Dry® Julienne Cut Tomatoes, drained
1/2 (9 oz) jar California Sun Dry® Spread
1 cup salted, roasted pistachios nuts, chopped
Assorted crackers
Parsley
DIRECTIONS:
Between two sheets of plastic wrap, press / roll out one of the cream cheese blocks into a rectangle, no more than 1/4" thick.
Wrap in plastic & repeat with remaining block of cream cheese. Refrigerate until thoroughly chilled.
Drain jar of Julienne Cut Tomatoes
Place 1 layer of cream cheese on a serving plate. Spread 1/2 jar or more of CSDF® Spread evenly on top to the edges and 1/2 of CSDF® Pestoover the Spread.
Place 2nd layer of cream cheese on top. Spoon remaining half of CSDF® Pesto over the cheese.
Top with drained CSDF® Julienne Cut Tomatoes.
Loosely press nuts around the sides.
Dress with fresh parsley or basil and serve with crackers.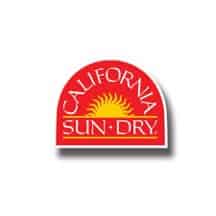 ---