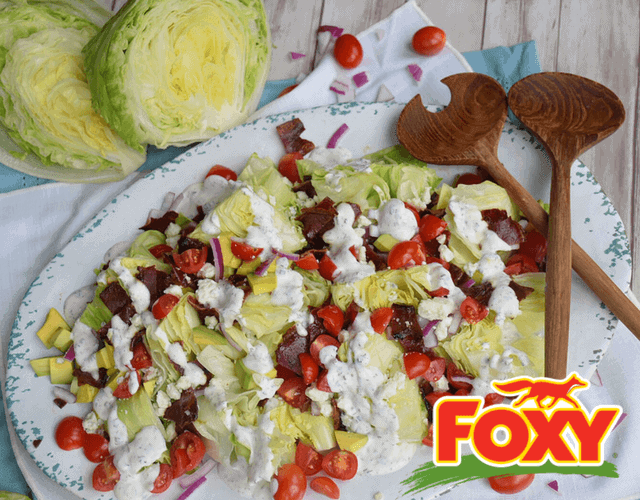 At the base of every good salad is a great, crisp and flavorful head of lettuce, and Foxy has perfected such an item! With the summer in full swing, we all felt that a classic gem of a salad would be a hit at your next family cookout. But this classic favorite has a twist!
The Foxy Iceberg "Party" Wedge Salad has combined Foxy's delicious lettuce with heart-healthy toppings like onions and avocados, plus our home-made dressing. This is sure to be the smash salad hit with your family, and one the Nunes brothers and family would approve of, too!
Who are the Nunes, you ask? Beginning in 1930, the Nunes family were known to produce some of the most marketable lettuce in California's Salinas Valley. Later, the second-generation brothers Tom and Bob Nunes got together and created the Nunes Company, Inc. in 1976. That's when the familiar favorite Foxy brand was born. Now their third and fourth generation family members are making sure their family company stays at the peak of produce innovation – and honesty.
Watch this video for step-by-step instructions: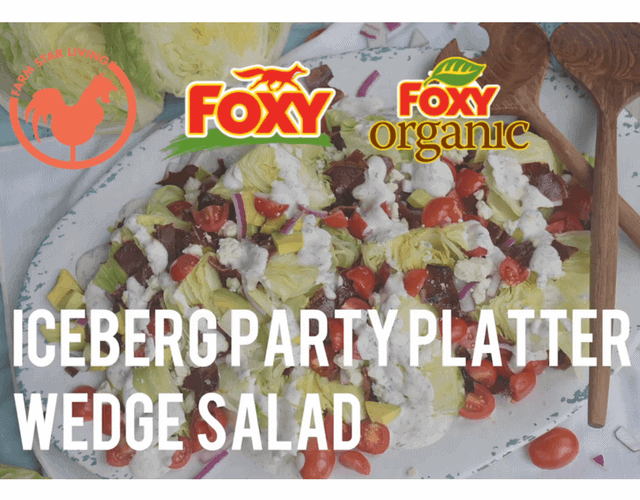 TIP: For a lighter version, use low or non-fat mayo, sour cream, buttermilk, and you can substitute bacon for turkey bacon!
Ingredients:
Foxy Iceberg "Party" Wedge Salad:
1 head of Foxy Iceberg Lettuce
1 cup cherry or grape tomatoes
1/2 cup red onions
1/2 blue cheese crumbles
1 avocado
Dressing:
3/4 cup buttermilk

1/2 cup sour cream

1/2 cup mayo

2 tbs white wine vinegar

1tbsp dried parsley

1 tbsp fresh or dried chives

1/2 teaspoon garlic powder

1/2 tsp onion powder

1 tsp fresh or dried dill

salt and pepper to taste
Directions:
Rinse and chop the Foxy Iceberg Lettuce into medium size wedges.
Chop all vegetables. Crisp bacon in a skillet and chop.
Top Foxy Iceberg with veggie toppings, bacon, and blue cheese crumbles. Set aside.
In a medium bowl, add all dressing ingredients and mix to combine. If consistency is too thick, add small amounts of buttermilk for a creamier texture.
Drizzle over salad and serve immediately. Enjoy!

---