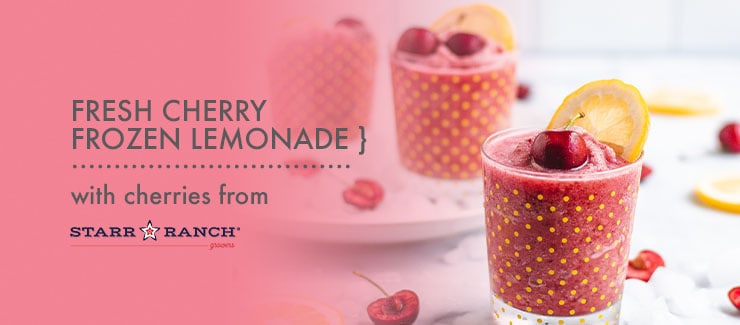 We're so excited it's cherry season! Seeing cherries at the grocery store is like nature giving summer the green light – "Summertime is a GO!"
Your warm weather celebrations should start with these sweet, plump, beautiful cherries from our friends at Starr Ranch® Growers, and these cherries are the "Starr" ingredients in this delicious Fresh Cherry Frozen Lemonade!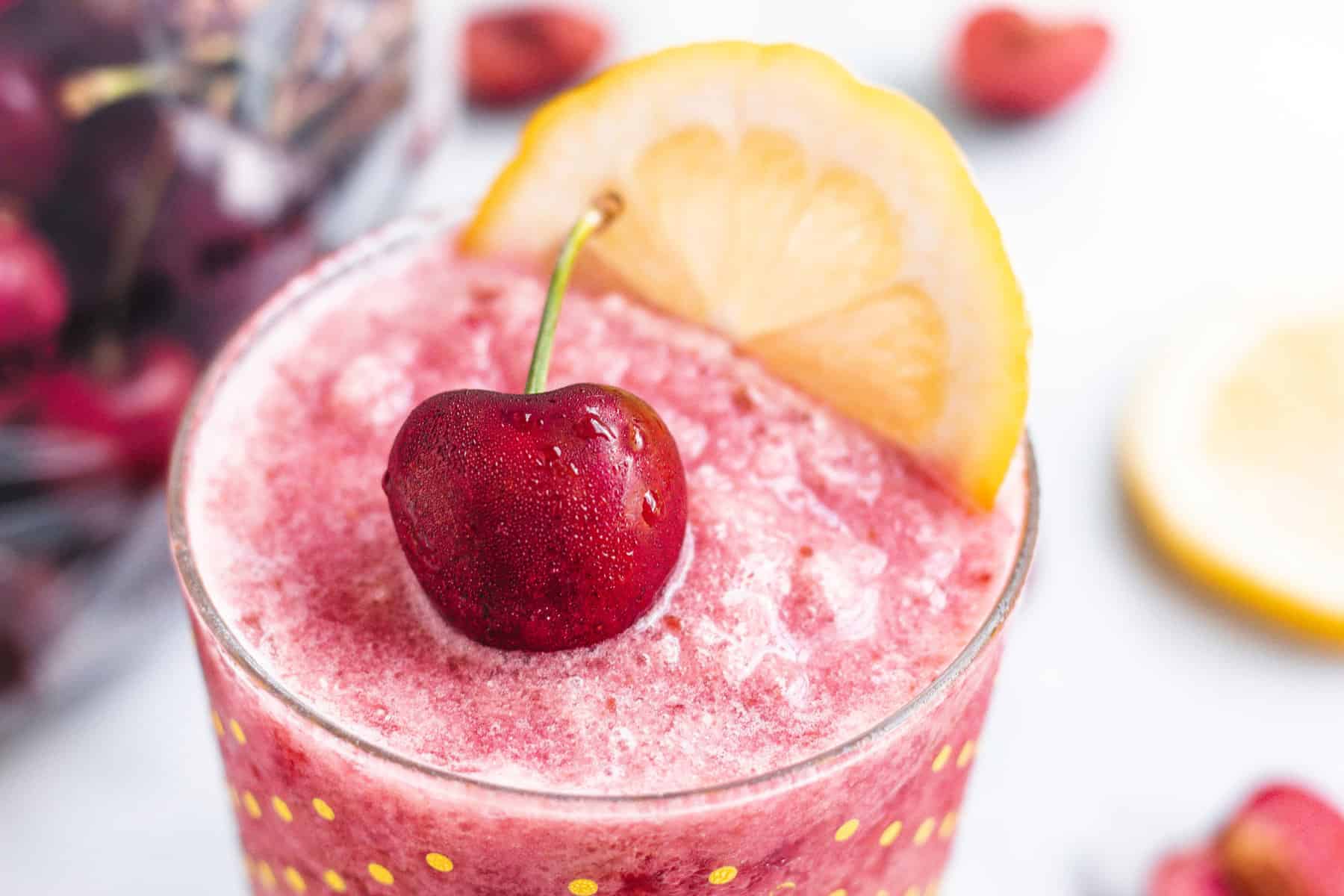 Starr Ranch® Growers are well-known within the produce industry for their expertise in growing quality cherries that are juicy, flavorful, and bursting with incredible flavor. Their prime orchard groves in the lush Pacific Northwest grants them a long, fruitful cherry season. This means the growers at Starr Ranch® are able to provide fresh cherries early in the year out of their orchards in Mattawa, Washington and also later in the season from their Odell, Oregon orchards. As one of the premier growers and shippers of sweet Northwest cherries, Starr Ranch® Growers moves an impressive 2.5 million cartons of the fruit each year!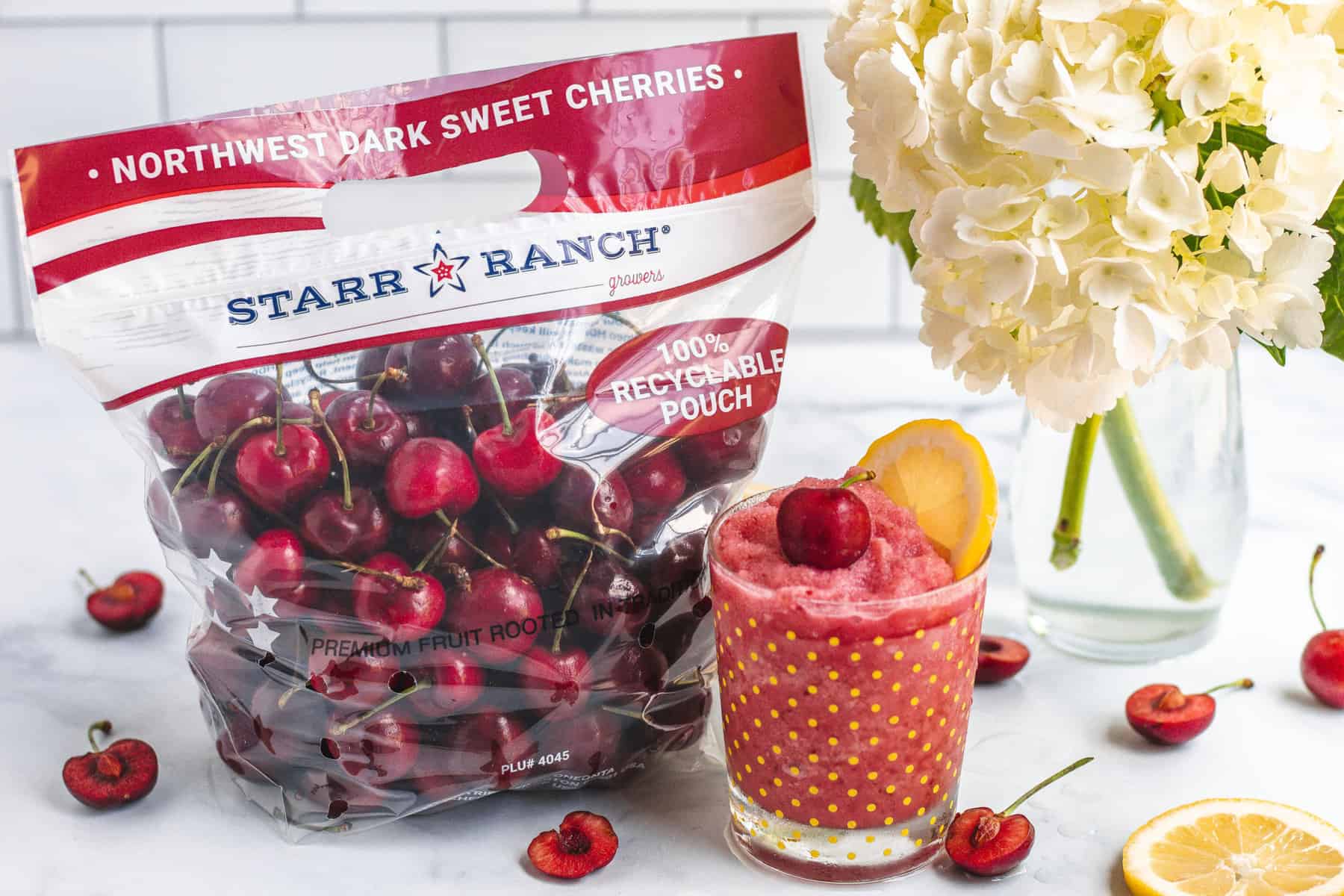 For this recipe, we opted for their Dark Sweet Cherries – which are explosively juicy, sweet, and firm. These Dark Sweet Cherries are known as the all-purpose cherry, which means they're either perfect for snacking right out of the bag or can be used for baking, juicing, and freezing.
PRO-TIP: Purchase fresh cherries during the summer months and freeze them so you'll have delicious cherries all year round!
Not only are cherries a delicious snack, they pack a serious healthy punch. In fact, cherries are known as a "superfruit" because of their abundance of antioxidants! These antioxidants may help to reduce the risk of cancer and heart disease, and the amount of Vitamin A they have is actually 19x more than blueberries! Plus, cherries are one of the few food sources of melatonin, which helps regulate heart rhythms as well as the body's sleep cycle.
Here are a few more of the incredible health benefits cherries provide:
Aids in digestion
Aids in weight loss
Anti-aging
Anti-inflammatory
Helps with insomnia
Improves hair, skin and nails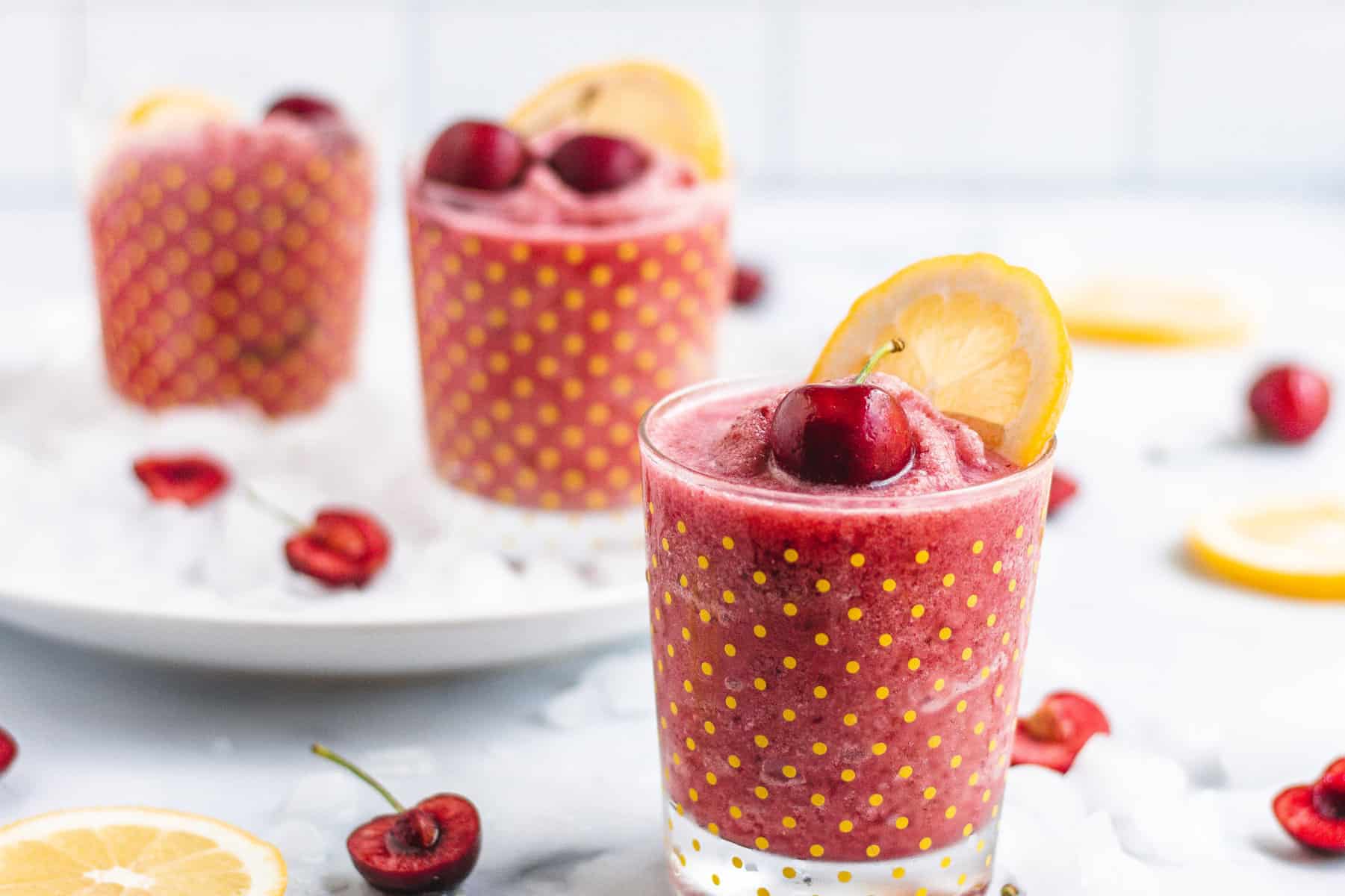 Our Fresh Cherry Frozen Lemonade is a tasty way to enjoy fresh cherries all summer long. This icy beverage is best served immediately and preferably poolside. It's refreshing, healthy, cooling, and a great to enjoy those sweet cherry health benefits.
Plus, this lemonade is customizable so you can cater to your taste. If you enjoy something a little more on the tart side, opt for less sweetener (or none at all). If you love a really sweet beverage, then add a little more sweetener to taste. You can also use any liquid sweetener of your choice like honey, maple syrup, or agave. Or try this recipe with limes instead of lemons!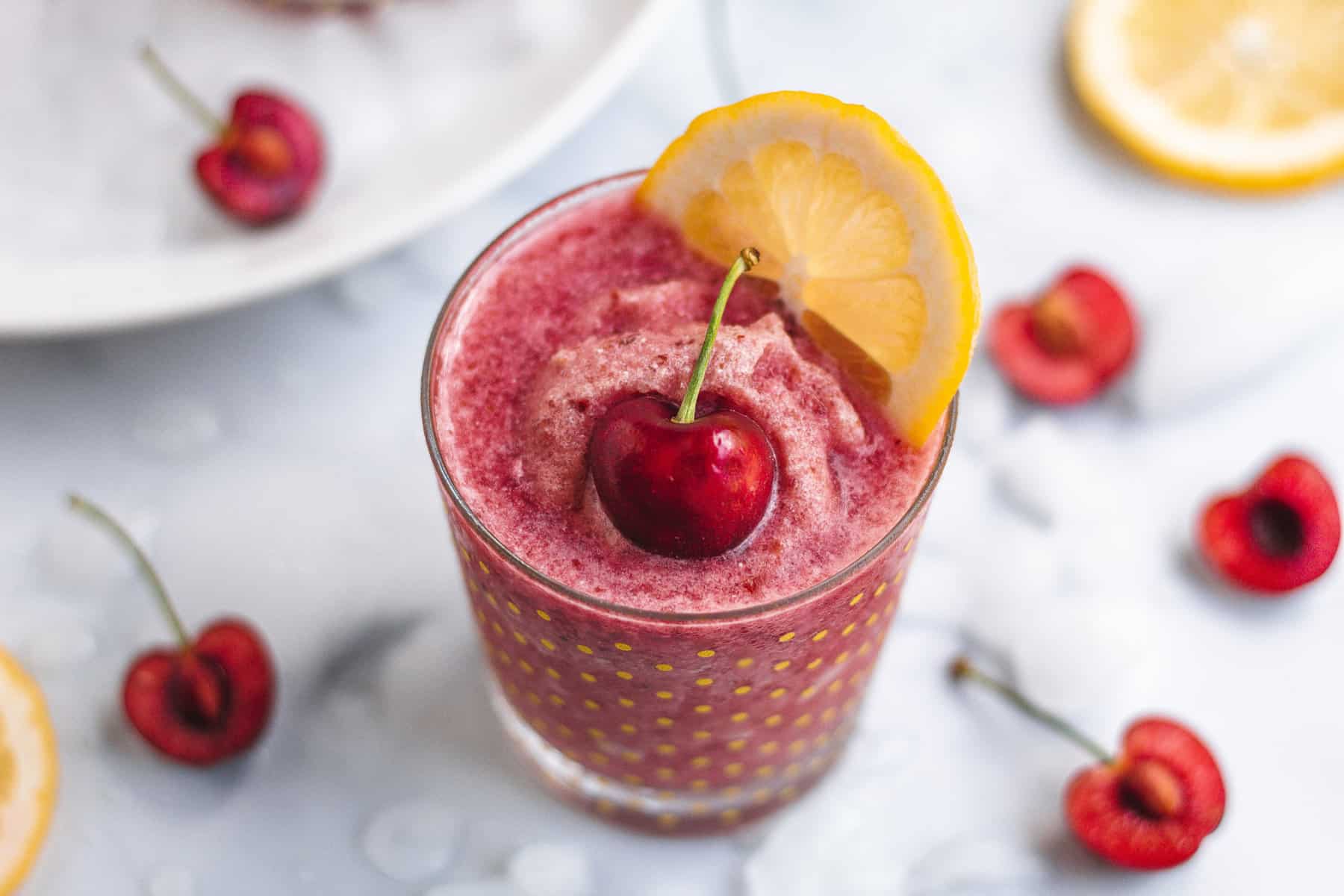 Want a sorbet? Well, if you have leftovers, add the lemonade to a plastic container with a lid and place in the freezer. When ready to enjoy, let it sit at room temperate for a few minutes and scoop into a bowl – it's like a delicious frozen cherry sorbet! You could also use this recipe in popsicle molds for the kids. For the adults, try adding some of your favorite clear liquor like rum, tequila, or vodka.
Whichever way you serve it, we hope you enjoy this sweet summertime treat! If you give it a try, don't forget to share with us and tag us our social channels on Facebook, Instagram, Twitter, & Pinterest. That would be the CHERRY on top!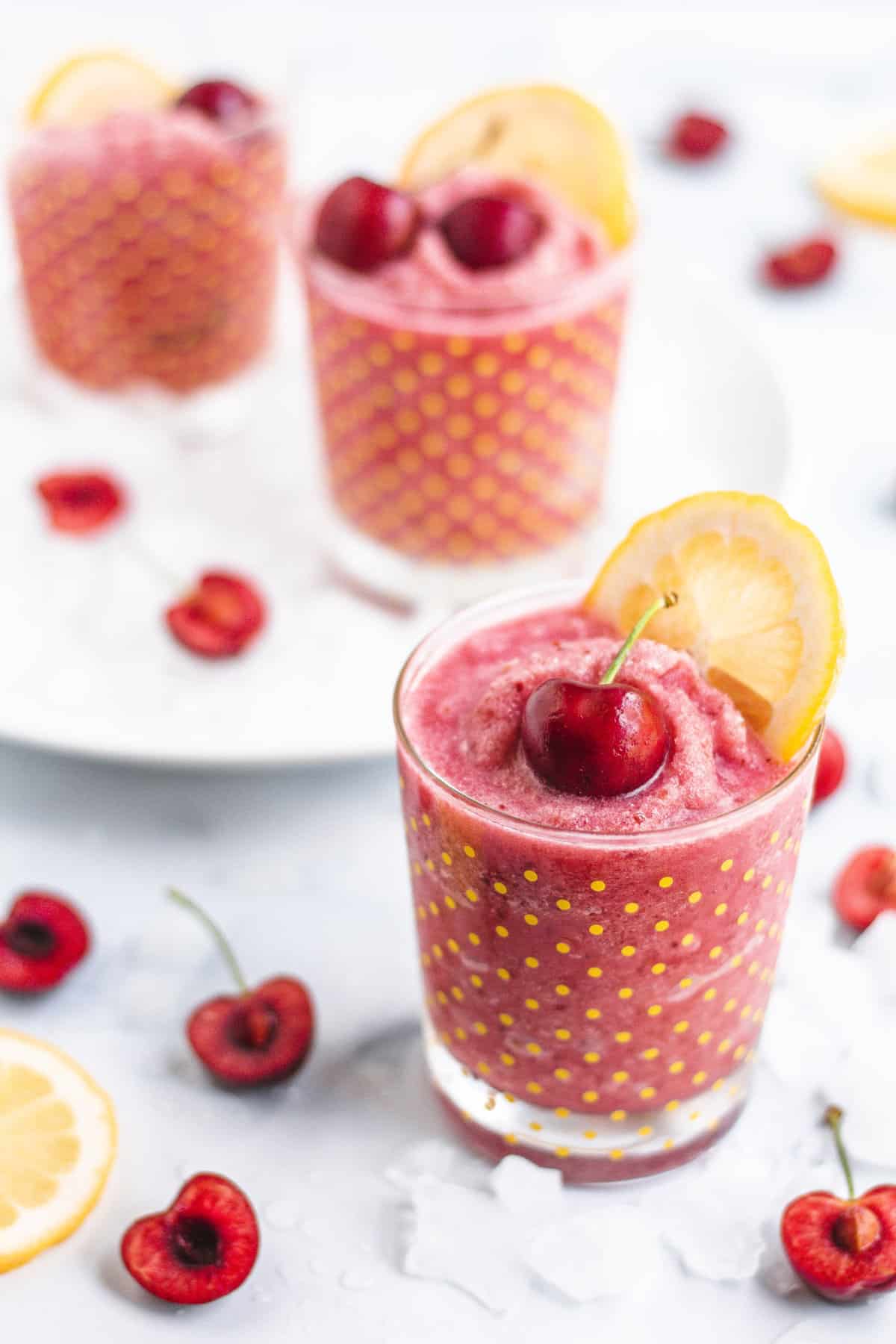 Ingredients:
3 cups Starr Ranch® Growers Dark Sweet Cherries, pitted

1/4 cup fresh Lemon Juice

1/2 cup canned coconut milk

3 cups ice

1 tablespoon Agave Nectar (or liquid sweetener of choice)

21+ Cocktail Option: Vodka, Rum, or Tequila

Substitutions:

Substitute lemon juice for lime juice

Choose your sweetener of choice and add to taste (maple syrup, simple syrup, or honey)

Use Store-bought lemonade and omit lemon juice and sweetener from this recipe.
Directions:
Combine pitted cherries, lemon juice, coconut milk, sweetener, and ice in a high-powered blender and blend until well-combined.

Taste and add sweetener to your taste then blend again.

TIP: Start with 1 teaspoon of sweetener and then add as needed, to adjust your taste.

Pour and serve immediately. Garnish with lemon slices and fresh cherries, and whipped topping (if desired). Enjoy!

21+ Cocktail Option: Add desired alcohol to your blender and blend before serving. Alternatively, add a one ounce shot of desired alcohol to each glass, top with Fresh Cherry Frozen Lemonade, and stir before serving.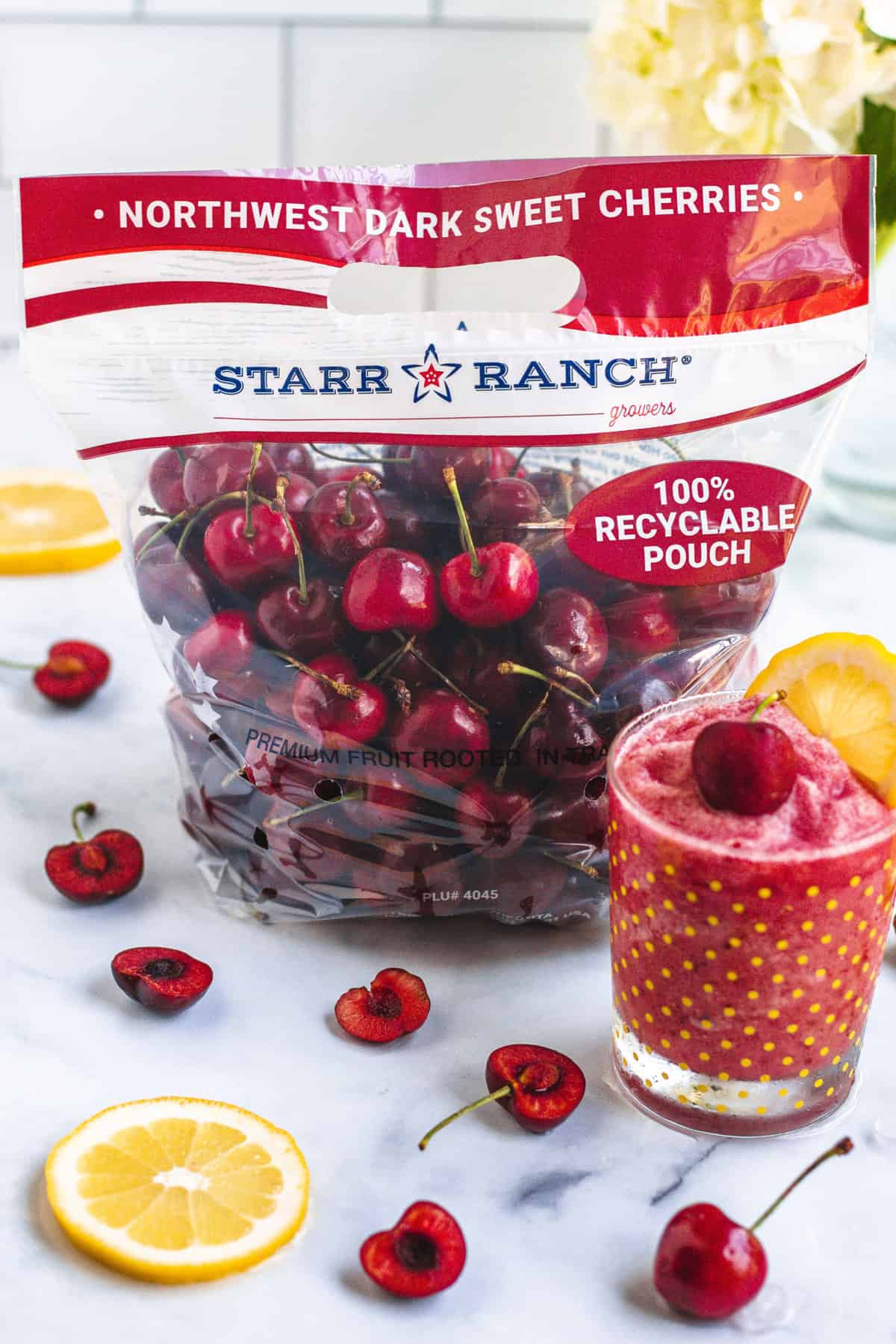 Servings 6.0 | calories 88 | Total Fat 4g | Saturated Fat 4g | Monounsaturated Fat 0g | Polyunsaturated Fat 0g | Sodium 3 mg | Potassium 182 mg | Total Carbohydrate 13g | Dietary Fiber 1g | Protein 1g | Vitamin A 1 % | Vitamin C 14 % | Calcium 1 % | Iron 2 %

---