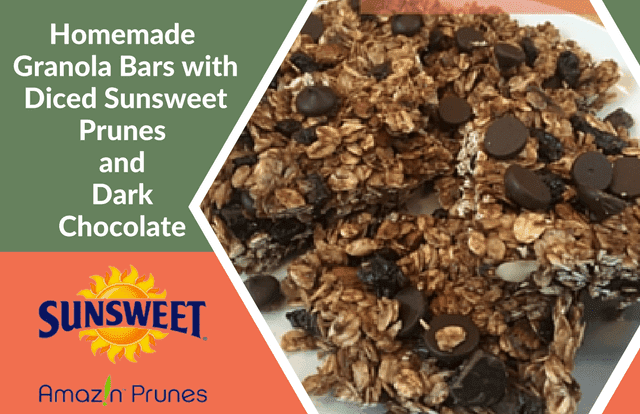 Snack time is one of our favorite times of day in the Farm Star Living kitchen – we love it so much, we often have two! When snacking, it's important to choose foods that are high in fiber and protein, and these delicious granola bars with Sunsweet diced prunes and dark chocolate are just the ticket. They will really have you longing for a break!
Sunsweet's diced prunes are rich in fiber and a great source of iron, and the dark chocolate is the pick-me-up we're secretly (and sometimes not so secretly) all looking for come snack time. In addition, the oats and almonds are a great source of energy to boost you through the day and keep you feeling full longer. No matter when you decide to treat yourself to this guilt free snack, you'll feel energized and ready to take on whatever may come your way.
Let's get cooking! We can't wait to hear how much you love them.
Ingredients
2 1/2 cups old fashioned rolled oats
1/2 cup whole almonds, coarsely chopped
1/3 cup honey
1/4 cup unsalted butter, cut into pieces
1/4 cup packed light brown sugar
1/2 teaspoon vanilla extract
1/4 teaspoon kosher salt
1/2 cup Sunsweet dried diced prunes
1/4 cup + 2 tablespoons mini dark chocolate chips
Directions
Heat the oven to 350 degrees F (177 degrees C).
Line the bottom and sides of an 8- or 9-inch square pan with aluminum foil. Then lightly oil or spray with cooking spray.
Add the oats and almonds to a small baking sheet, and bake for 5 minutes. Stir and bake for another 3 to 5 minutes until lightly toasted. Transfer to a large bowl.
Combine the butter, honey, brown sugar, vanilla extract and salt in a small saucepan over medium heat. Cook, stirring occasionally until the butter melts and the sugar completely dissolves.
Pour the butter mixture into a bowl with the toasted oats and almonds. Mix well. Let everything cool about 5 minutes.
Add the diced prunes and 1/4 cup of mini chocolate chips. Stir to combine. (The chocolate chips will most likely melt a little. This is totally fine, as they will help hold the bars together.)
Transfer the oat mixture to the lined pan. Use a rubber spatula or damp finger tips to firmly press the mixture into the pan. Press for about one minute. (Press hard here! This way the bars will stay together once cooled and cut.)
Scatter the remaining 2 tablespoons of chocolate chips over the pressed granola mixture. Use a rubber spatula to gently press them into the top of the mixture.
Cover, and refrigerate for at least 2 hours.
After refrigerating, remove the granola mixture from pan, and peel away the aluminum foil.
Cut into 12 bars, and enjoy!
Special tip straight from the Farm Star Living kitchen:
If you like your granola bars a little on the chewier side, add some extra honey and butter into the mix!
What is your favorite part of this delicious snack? Follow us on Facebook, Instagram, Twitter and Pinterest, and share with us!
---