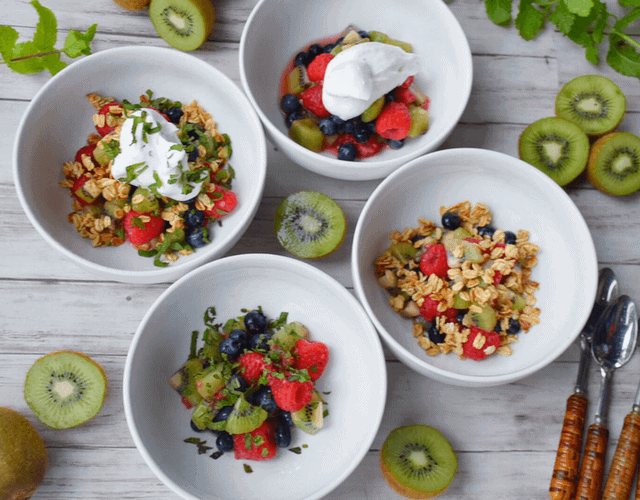 August is here, and we at Farm Star Living know you're slowly but surely getting back into routine after all your vacations and trips with friends and family! However, just because summer's coming to end doesn't mean the get-togethers should as well!
Let's be honest, one of the most important parts about hanging out with friends and family is the food. What can you bring that you know no one else will have thought of, but will also be a crowd-pleaser?
One recipe we've found to be both easy and versatile is our & Berry Fruit Salad with Lime Simple Syrup! It's the perfect way to spice-up some of your go-to fruits for a dish everyone will be grabbing a bite of! That's why we've partnered with a company like KiwiStar to help bring it to you!
But what makes their kiwis so good? These babies have been grown all over the world including Italy and Chile! They are grown strictly to achieve the premium standard of kiwis that are shipped across oceans to customers just like us!
Not only are they delicious, but these kiwis have been grown by people who also strive to remain socially conscious with their organic and Biodynamic lines of kiwis! Their Biodynamic kiwis are grown on organic farms that utilize plants, animals, air, water and soil into a regulating ecosystem. With sustainable farming, they are able to maintain healthy farms that take care of not only their products, but the earth and animals in the same ecosystem!
At only 56 calories, Kiwis are a light, heart-healthy way to reduce anxiety and your blood pressure rate!
Did you know one serving of kiwifruit (two medium fruits) contains more potassium than a banana, the vitamin C of two oranges, and the amount of fiber in a bowl of bran cereal? What?!
One of our favorite parts about putting dishes together is the endless combinations and ways to make a recipe your own! With the KiwiStar Kiwi & Berry Fruit Salad with Lime Simple Syrup, we've given you the building blocks for creating a dish with the special touch everyone will love!
Check out how we made this recipe here!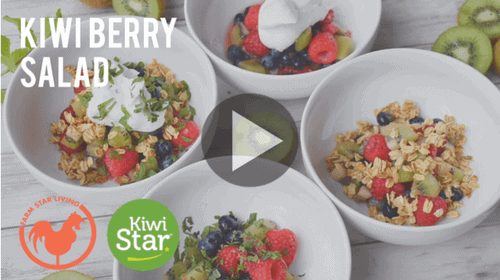 INGREDIENTS:
6 KiwiStar Kiwis chopped into 1/2 inch cubes.
1 6oz container of blueberries
1 6oz container of raspberries
Mint leaves for garnish
Granola
Whipped Topping
Lime Simple Syrup:
2 tbsp agave syrup
2 tbs lime juice
DIRECTIONS:
Wash all fresh ingredients well. Peel and chop KiwiStar kiwis into 1/2 cubes.
Mix chopped kiwis together with blueberries, raspberries.
In a separate bowl, mix agave and lime juice to make Lime Simple Syrup. Drizzle over fruit and mix to coat.
Serve salad into 4 small bowls.
Top with whipped cream and garnish with mint leaves.
For a more crunchy alternative, you can also sprinkle some granola on top as well. Enjoy!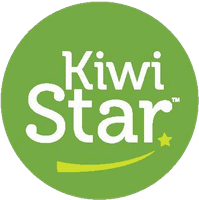 ---