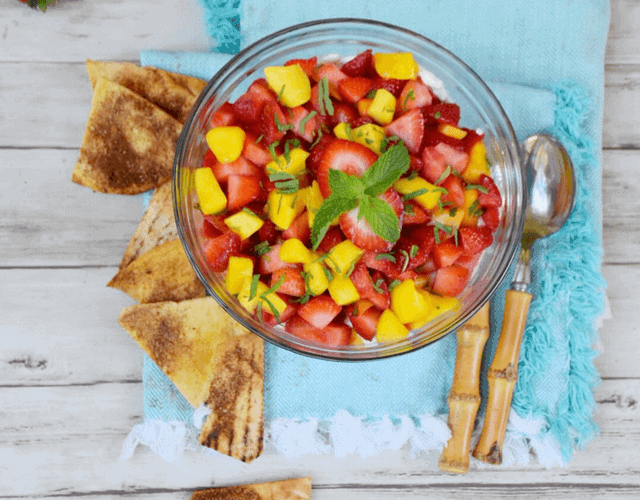 Is there anything quite as good as a fresh, juicy strawberry? It's like candy, but healthy for you. Introducing Smuccies™ Strawberries from Mucci Farms! These little adorable Smuccies are packed with juicy, sweet flavor and thankfully available year-round! How? Because they're greenhouse grown and by our friendly neighbors up North.
Greenhouses are a great way for farms to control the climate and grow what they want, when they want. Greenhouses are the perfect answer to a cold climate, which is not so desirable for growing strawberries. Plus, because of the controlled environment, Mucci Farms can supervise the growing process with TLC and concentrate on just growing the most delicious, juicy plants possible. Not that we don't love Mother Nature, but sometimes she can be quite problematic!
Using environmentally sound practices, Mucci Farms pollinates with bees – the old-fashioned way. Plus, Mucci Farms uses the IPM (Integrated Pest Management) method that uses ' good bugs' to rid their plants of 'bad bugs' – so that means no pesticides!
We teamed up with Mucci Farms to deliver you this fantastic recipe that is sure to impress. It's not only super colorful, but it's also really tasty! See how we made it: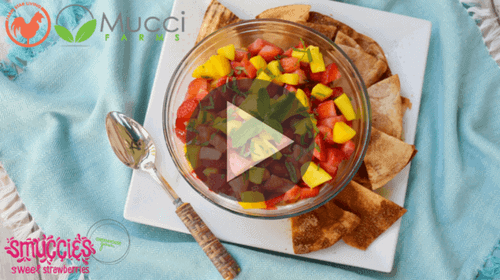 TIP: This recipe can be used also just the salsa recipe, which you may want to put on a fish or entree!
1.) CINNAMON PITA CHIPS
Preheat oven to 400єF
3 medium sized pita breads*, split into half thickness, then cut into triangles
Cooking spray oil of your choice
1 Tbs. granulated sugar
1 1/2 tsp. ground cinnamon
* For Gluten Free version, use Gluten Free Pita
Mix sugar and cinnamon in a large bowl and set aside.
Place pita pieces on a prepared baking sheet and spray lightly with cooking oil. Place in the oven for 5 minutes, flipping pitas over to bake evenly on both sides. Bake for another 5 minutes or until golden and crisp.
Remove from the oven and place in the big bowl with cinnamon sugar.
Lightly spray again with cooking oil and toss until evenly coated.
2.) SMUCCIES™ & MANGO SALSA
1 pint SMUCCIES™, washed and crowns removed
1 medium sized, ripe mango, peeled, seed removed
6 fresh Mucci Basil leaves
4 fresh mint leaves
1 tsp. fresh lime juice
Dice strawberries and place in a medium sized bowl.
Dice mango and add to strawberries.
Finely chop basil and mint leaves and mix gently with diced fruit.
Add lime juice, cover and refrigerate.
3.) LAYERED SMUCCIES™ & MANGO DIP
1 g. block cream cheese, softened
1/3 cup vanilla yogurt
1 Tbs. liquid honey
1 tsp. lime zest
1 tsp. lime juice
Place all ingredients in a food processor and blend until smooth.
Cover and refrigerate until ready to assemble dip.
Into the bottom of a glass bowl, place 1/3 of the SMUCCIES™ & MANGO SALSA. Carefully, spoon 1/2 of the cream cheese mixture over salsa and spread evenly. Top with another 1/3 SMUCCIES & MANGO SALSA. Repeat with the remaining cream cheese mixture, and top with the remaining salsa.
Cover and refrigerate until ready to serve with CINNAMON PITA CHIPS. Enjoy!

---