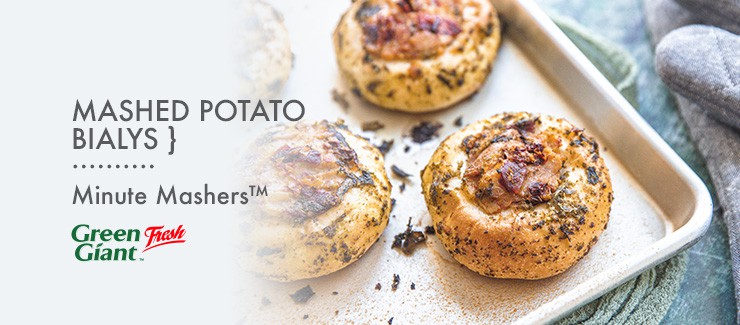 A mix between a bagel and an english muffin – meet the Bialy! This bread-y confection is often served with onions and poppy seeds but we've recreated this recipe using Minute Mashers™ Mashed Potatoes from our friends at Green Giant™ Fresh for a fun and festive twist.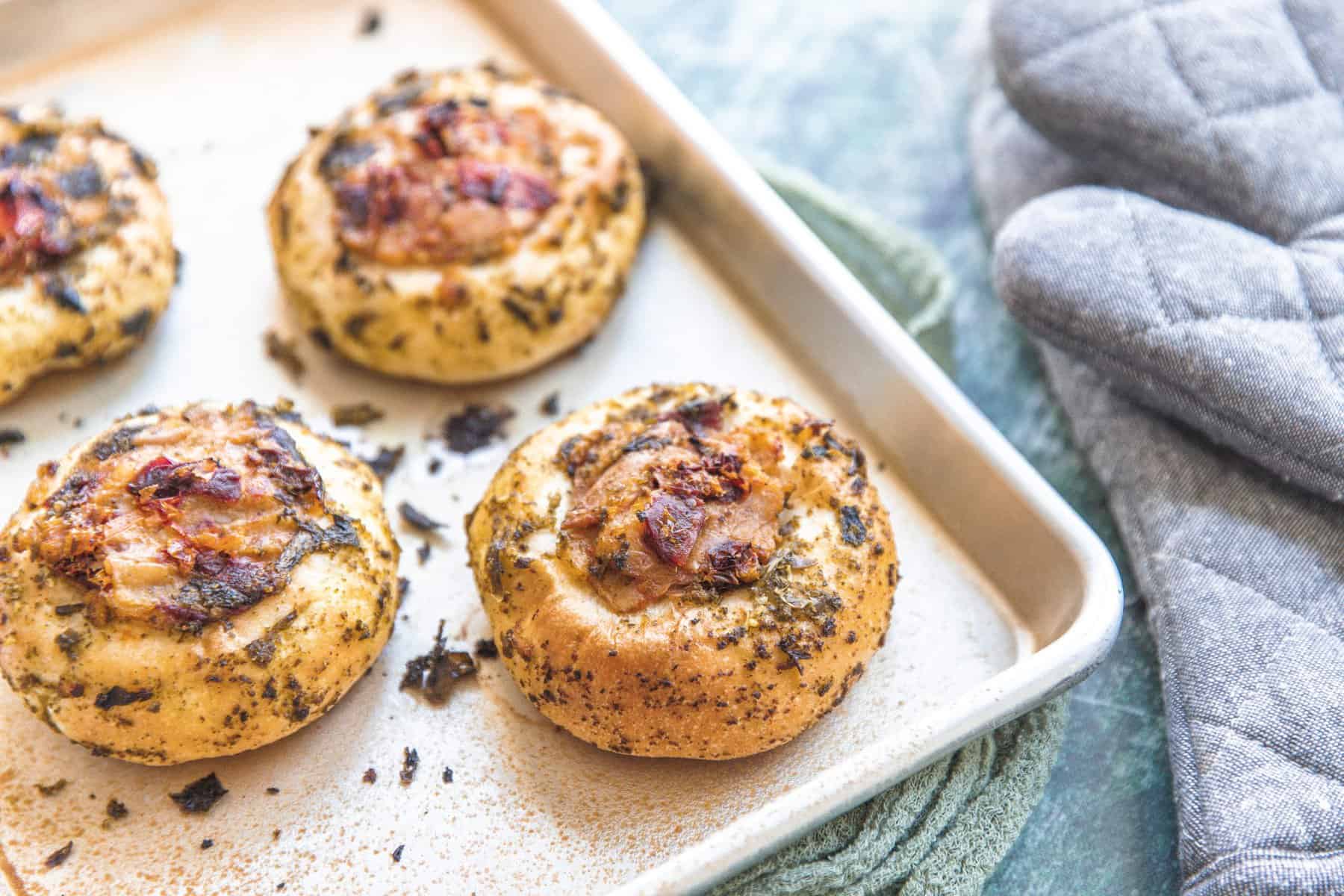 When you want to make mashed potatoes, Minute Mashers™ cuts time your cook-time in half – maybe even more! It's simplistic and easy-to-use packaging comes with everything you need including farm-fresh potatoes, real chef-inspired seasonings, and real butter. All you have to do is pop the whole package in the microwave for seven minutes then, using oven mitts, smash and mash the whole mashed potatoes into your desired mashed potato texture. Then just pour from the bag and enjoy! It's really that easy.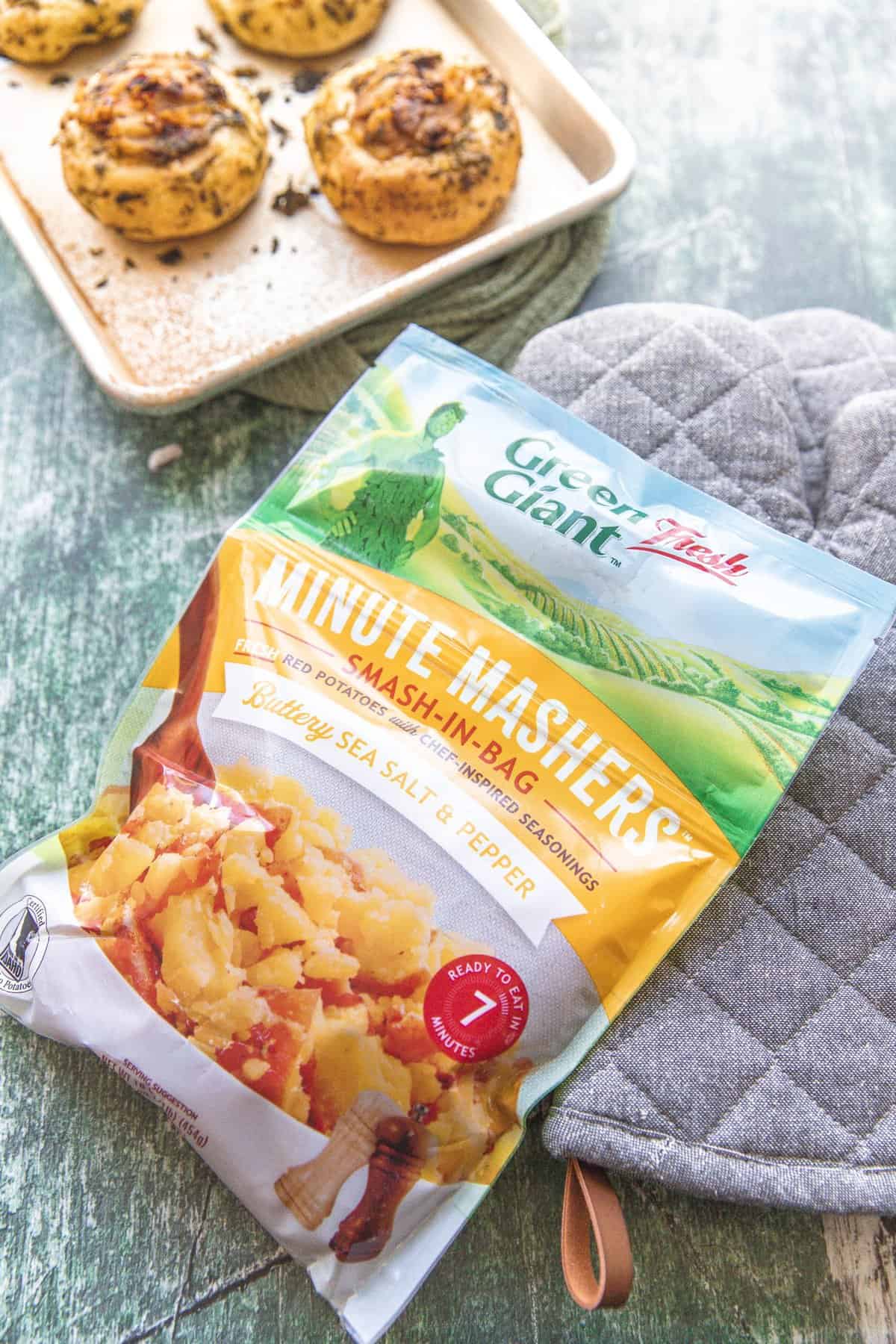 For this recipe, we used a mixture of Buttery Roasted Garlic Minute Mashers with sun dried tomatoes, store-bought pesto, and pizza dough from the grocery store – because we just don't have the time to make dough from scratch! See these tips and tricks below to make the best Bialy: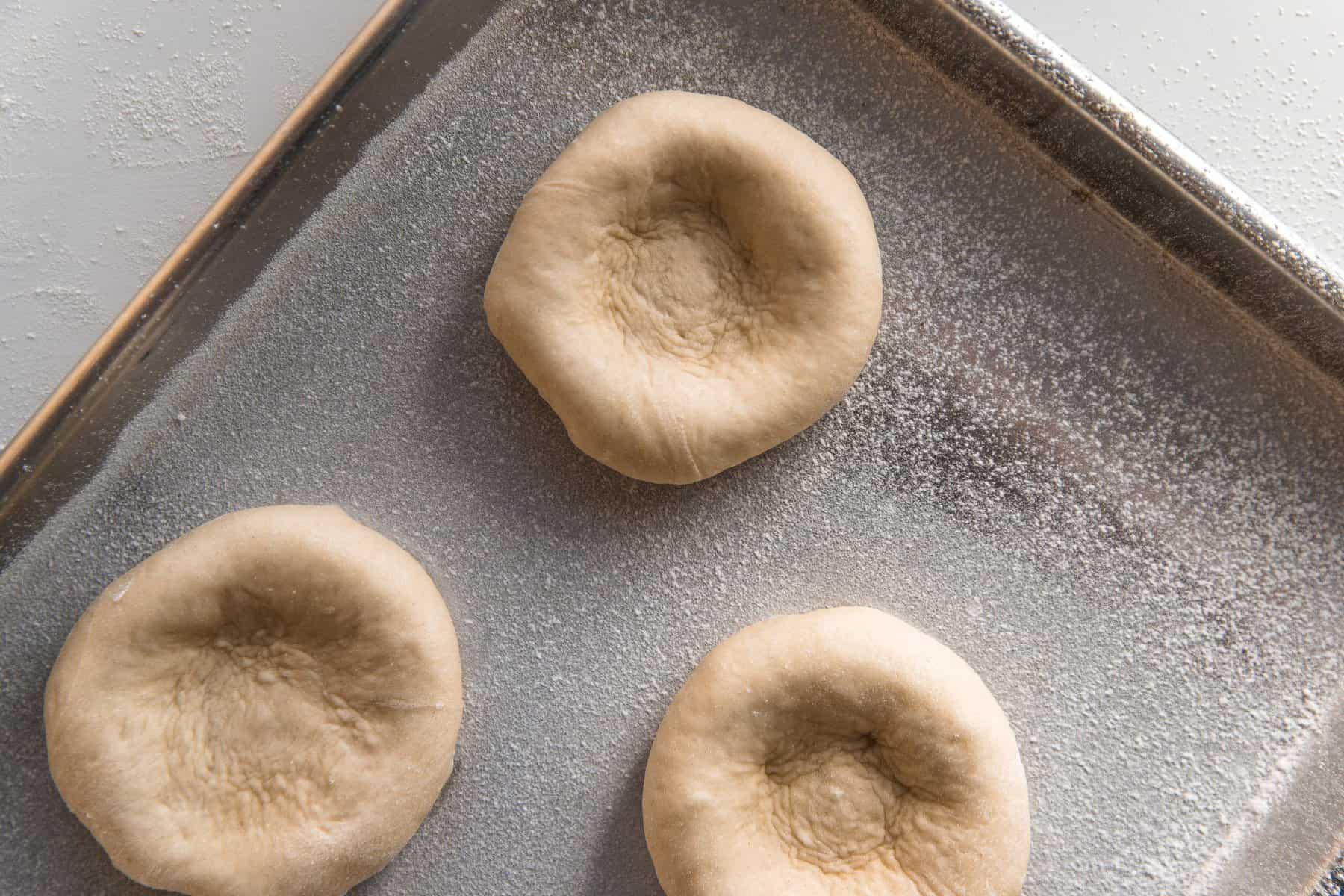 Dough: You can make the dough from scratch, but we suggest using a store-bought pizza dough usually stored in the frozen or refrigerated section of your grocery store.
Sun Dried Tomatoes: Using sun-dried tomatoes over fresh tomatoes add so much more flavor to this recipe. Plus, fresh tomatoes would add too much water to the mixture.
Shaping Bialys: Once you have the dough cut into even pieces, pull and stretch the dough in your palm and shape into a small ball. Using your thumbs, push an indentation into the center of the dough then pull and stretch the sides like you would when making a pizza. Just be sure you don't make a hole – we're making bialy not bagels!
Filling: You can always change up the fillings of this bialy recipe to include other veggies or cheeses!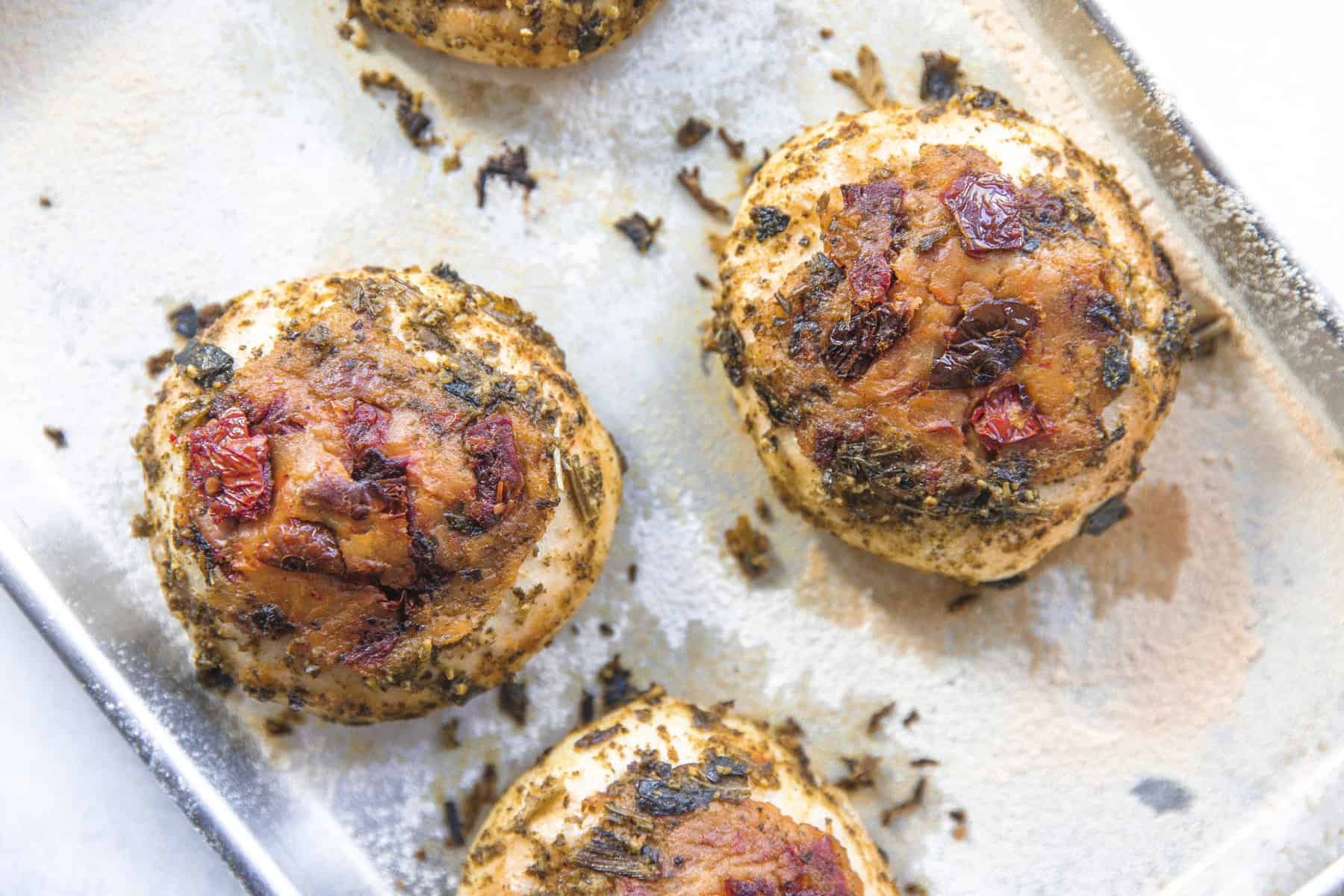 If you make this recipe, please share with us on social media and don't forget to tag us and our friends at Green Giant™ Fresh potatoes. Happy holidays!

Ingredients:
1 package Buttery Roasted Garlic Minute Mashers™ (about 1.5 cups)
1/2 cup sun dried tomato from a jar, strained and sliced
Store-bought pesto – enough to cover each bialy dough
Frozen or refrigerated pizza dough, cut into 8 even pieces
If using frozen, thaw dough according to directions
Salt & pepper to taste
Directions:
Pre-heat oven to 475F.
Prepare Minute Mashers™ according to directions and mash very well to create a creamy consistency.
Cut pizza dough into eight even pieces and shape each piece of dough into a ball by stretching and pulling dough into the center. Place dough balls on a floured baking sheet and allow to rest for fifteen minutes.
While dough rests, mix together the sun-dried tomatoes and Minute Mashers™ mashed potatoes.
After fifteen minutes, squeeze the center of the dough balls then pull and stretch the dough to create a cavity in the center. Be careful not to create a hole in the center – see photos for examples. Once stretched, the bialy should be about 4 inches in diameter. Place on the floured baking sheet.
Brush each bialy with pesto using a brush or back of a spoon. Fill each cavity with Minute Mashers mixture and press down to fill the cavity and flatten with a spatula or spoon.
Bake for 12 minutes or until bialy dough is fully cooked. Enjoy!

---