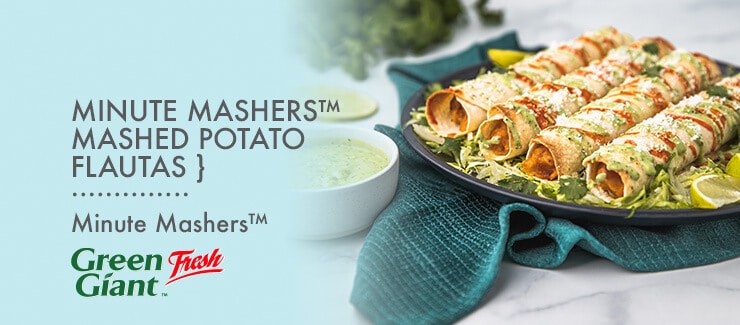 Easy, tasty, and made-in-minutes is the name of the game with this delicious recipe! And if you've been searching for a new dinner recipe that only take a few minutes, this recipe is your answer.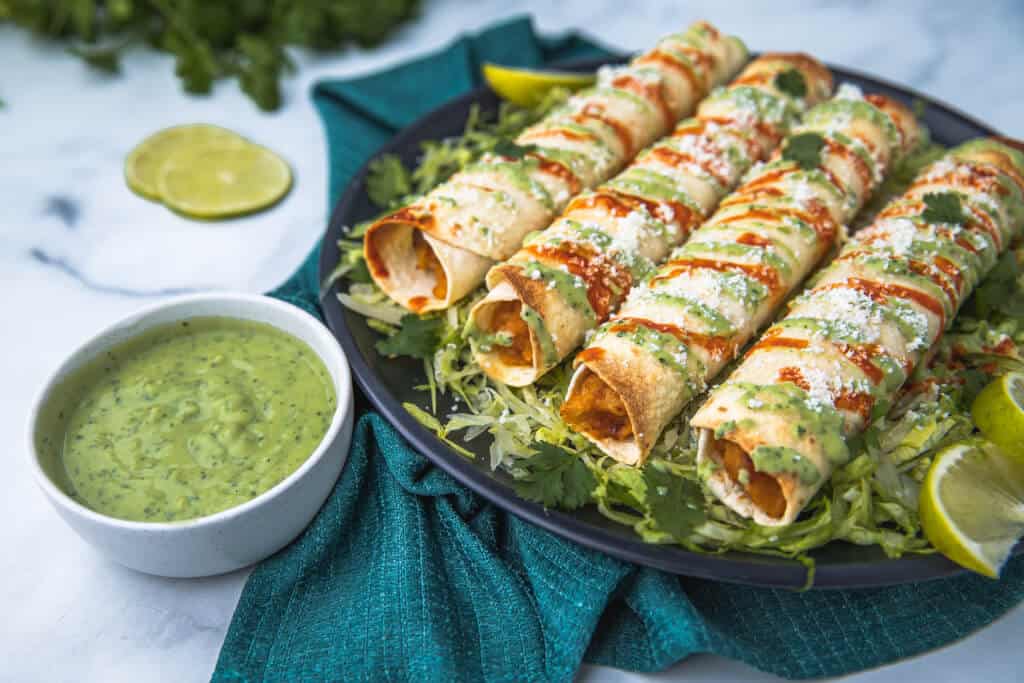 With so much going on in the world, with our families and friends, with our work and to-do lists a mile long, sometimes the last thing we want to do at the end of the day is cook a meal from start to finish. Some days, it can be downright exhausting! That's why we are big fans of Minute Mashers™ Mashed Potatoes from Green Giant™ Fresh – it's the healthy side without the hassle! Minute Mashers™ are real, whole potatoes just like the ones you buy from the grocery store. Alongside the real potatoes are real butter and chef-inspired seasonings so all of the work is done for you.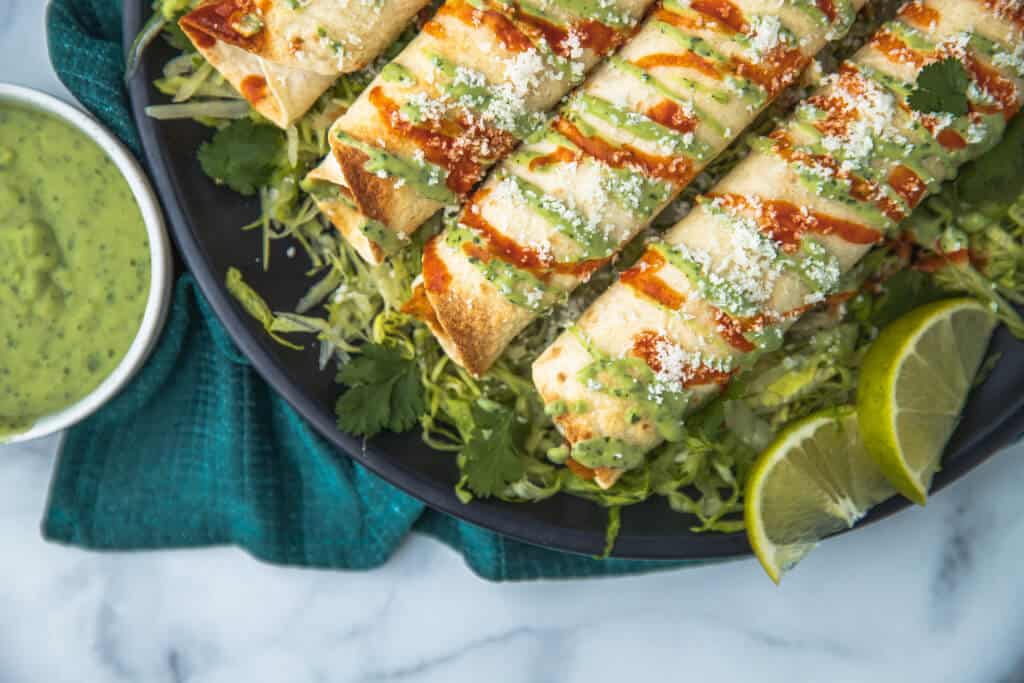 Green Giant™ Fresh offers Minute Mashers™ in three different flavors including: Buttery Sea & Pepper, Buttery Chive & Dill, or Buttery Roasted Garlic which means there's a Minute Mashers™ flavor for everyone! For our latest recipe, we're using the Buttery Sea Salt & Pepper flavor for our Minute Mashers™ Mashed Potato Flautas! We love using Minute Mashers as a base in some of our favorite mashed potato recipes like shepherd's pie, pierogis, waffles, muffins, and now Flautas!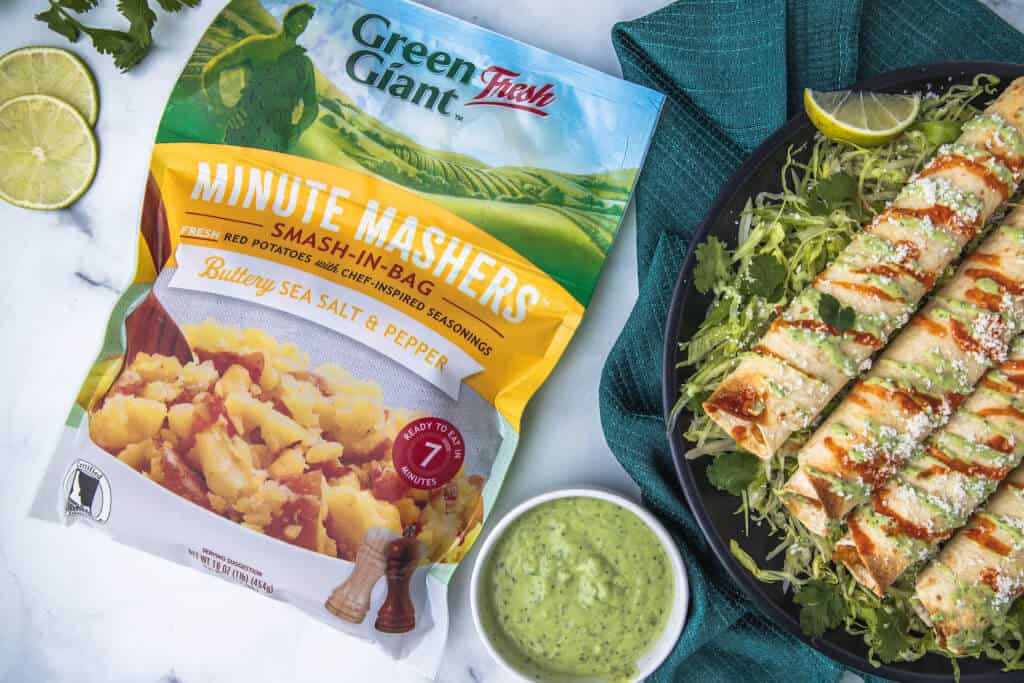 These Mashed Potato Flautas are going to be a staple in your recipe routine. Of course they're super easy and quick to make, but they're also really tasty and totally customizable! We kept it vegetarian by keeping the filling to mashed potatoes and cheese, but here's a few ways to mix it up:
Protein: Try adding shredded chicken, crumbled tofu, or beans for a little extra protein!
Cheese: You can truly use whatever type of cheese you like – mozzarella, or cheddar would work well in this dish.
Toppings: Go wild! Add hot sauce, sour cream, shredded cabbage, pickled radish, or jalapeno.
Spice: If you like things a little extra spicy, swap the jalapeno in our Avocado Crema for serrano peppers.
If you give this recipe a try, please share on social media and tag us and our friends at
Klondike Brands
!

Minute Mashers™ Mashed Potato Flautas:
Ingredients:
Large Flour Tortillas
Minute Mashers™ Mashed Potatoes
1 tbsp Taco Seasoning
4oz can Green Chiles
1 cup Mexican-Style Shredded Cheese
Optional Toppings:
Iceberg, shredded
Hot sauce
Sliced jalapeno
Sour cream or greek yogurt
Lime wedge
Cotija Cheese
Directions:
Preheat oven to 425F and line a baking sheet with parchment paper.
Microwave minute mashed according to package instructions. Mash well into a creamy consistency.
Add cooked and mashed minute mashers to a bowl and all taco seasoning, green chiles, and Mexican-style cheese. Mix to combine.
Add 1/4 cup mashed potato filling to a tortilla and roll tight.
Add rolled tortilla to the prepared baking sheet and spray flautas with olive oil or cooking spray.
Bake for 10 minutes or until edges of tortilla begin to brown.
Serve flautas on top of a bed of shredded iceberg lettuce
Avocado Crema Ingredients:
1 avocado (about 1/2 cup)
1/4 cup greek yogurt or sour cream
4 tbsp fresh lime juice
1 cup cilantro (including stems)
1 jalapeno, roughly chopped, seeds removed
Approximately 1/4 cup warm water
Directions:
Add all ingredients except water to a food processor and blend until combined. Scraping down the sides of the food processor as needed.
Once ingredients are well blended, turn the food processor on and slowly add warm water. Check the consistency and if mixture is too thick, add more water as needed.
Serve on the side or on top of flautas.
---