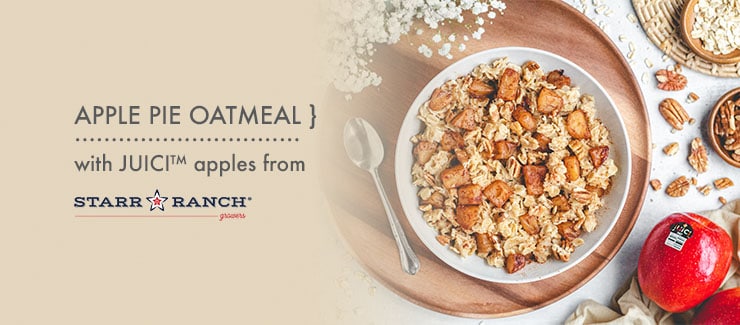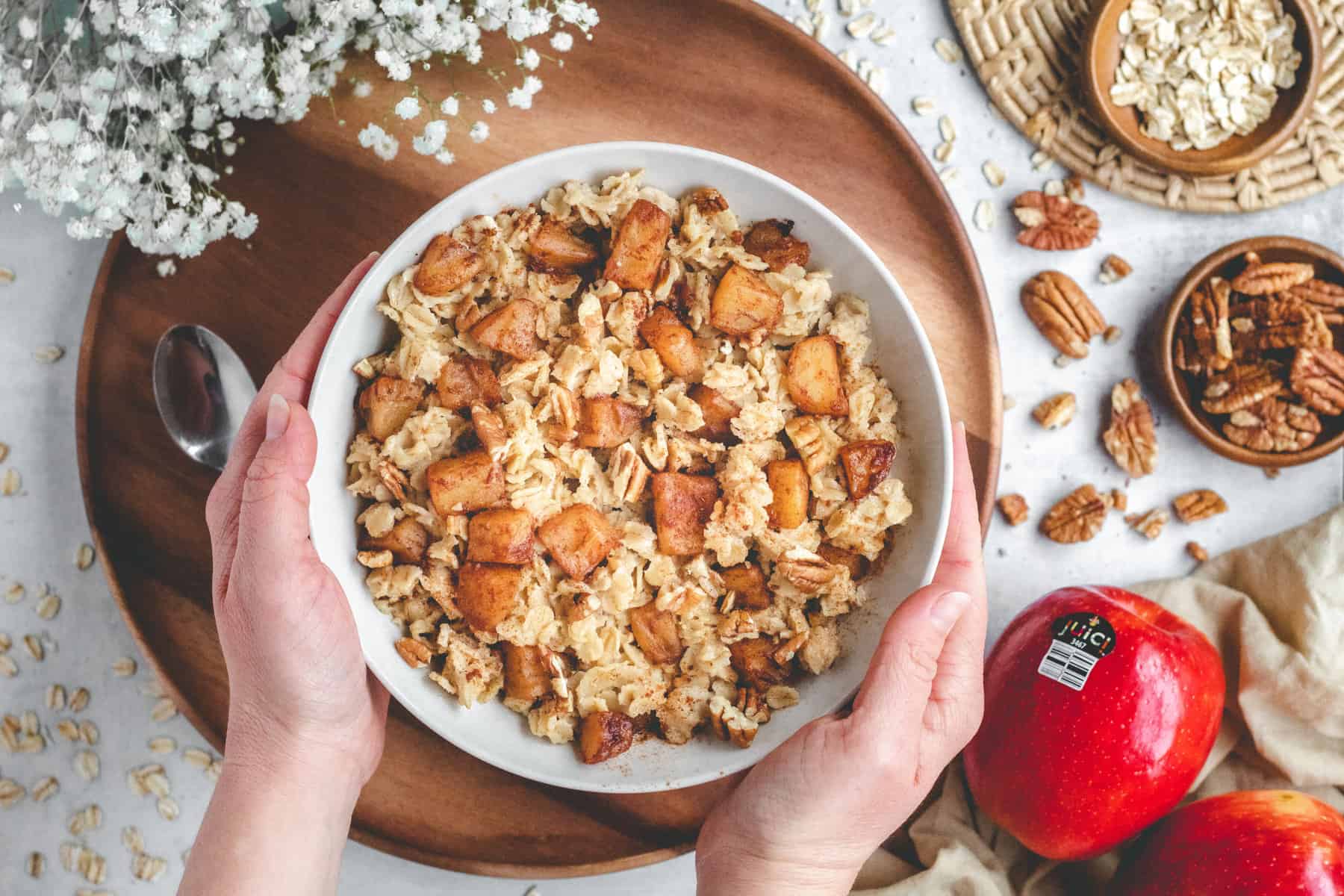 Our eyes are set on spring; but we still have to get through the rest of winter first! So, we suggest that while chilly weather is still lurking, you soak up these cool (or even cold?!) winter mornings with this one-pot hot oatmeal recipe. It is the perfect way to start your busy day; and not only is it healthy and naturally sweetened, it's also truly delicious! It's like having apple pie for breakfast, and who doesn't want pie for breakfast?!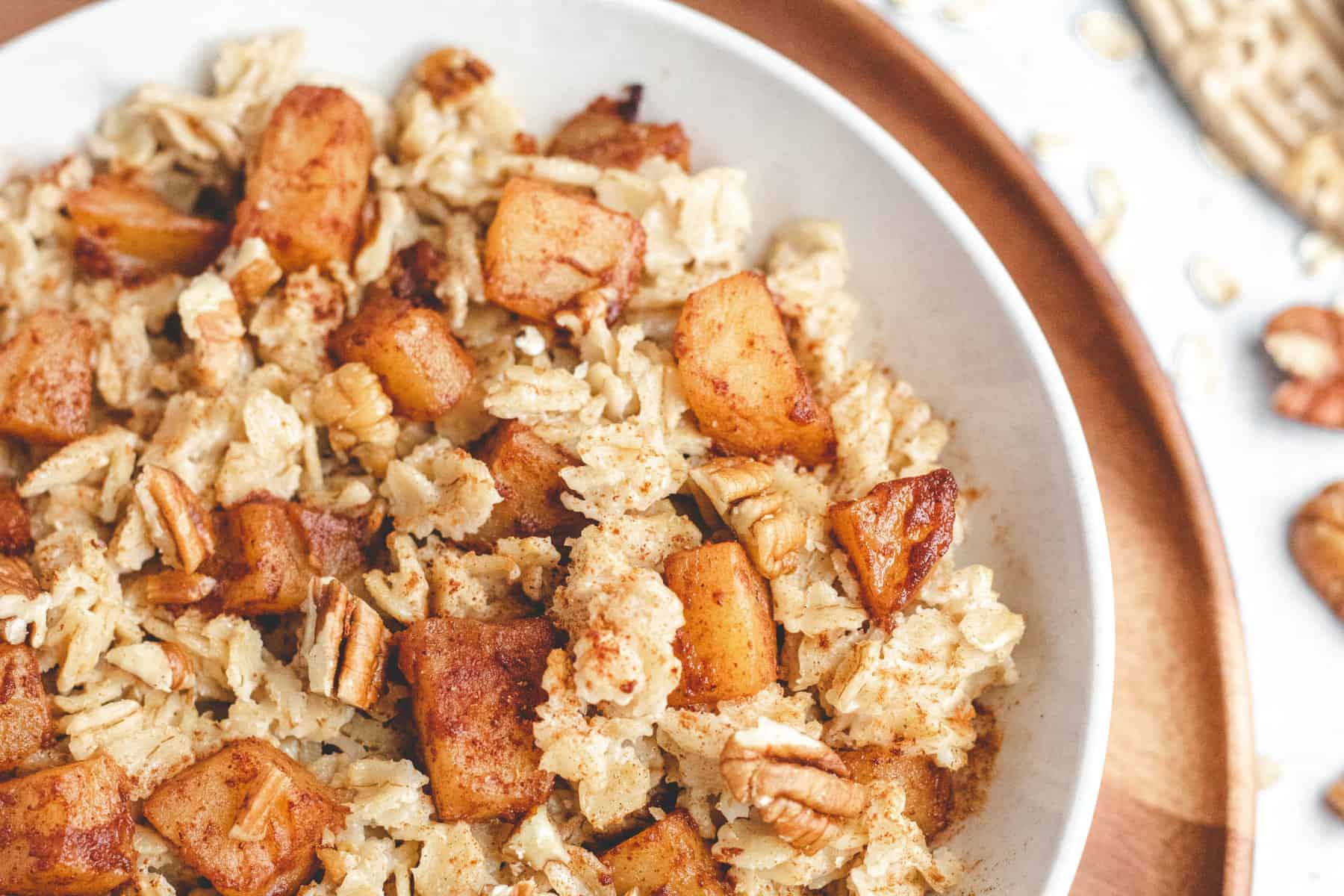 Of course, at the base of this oatmeal recipe is old fashioned oats, and starting the day with oats is starting the day off on the right foot. Just 1/2 cup of oats fuels your body with 27 grams of carbohydrates, 4 grams of fiber, 5 grams of protein, and only 150 calories! However, this doesn't mean heading to the grocery store and purchasing those oatmeal packets that are loaded with extra sugar and extra everything. Cut down on calories, your added sugars, and mystery ingredients by easily making it simply, naturally and for yourself at home!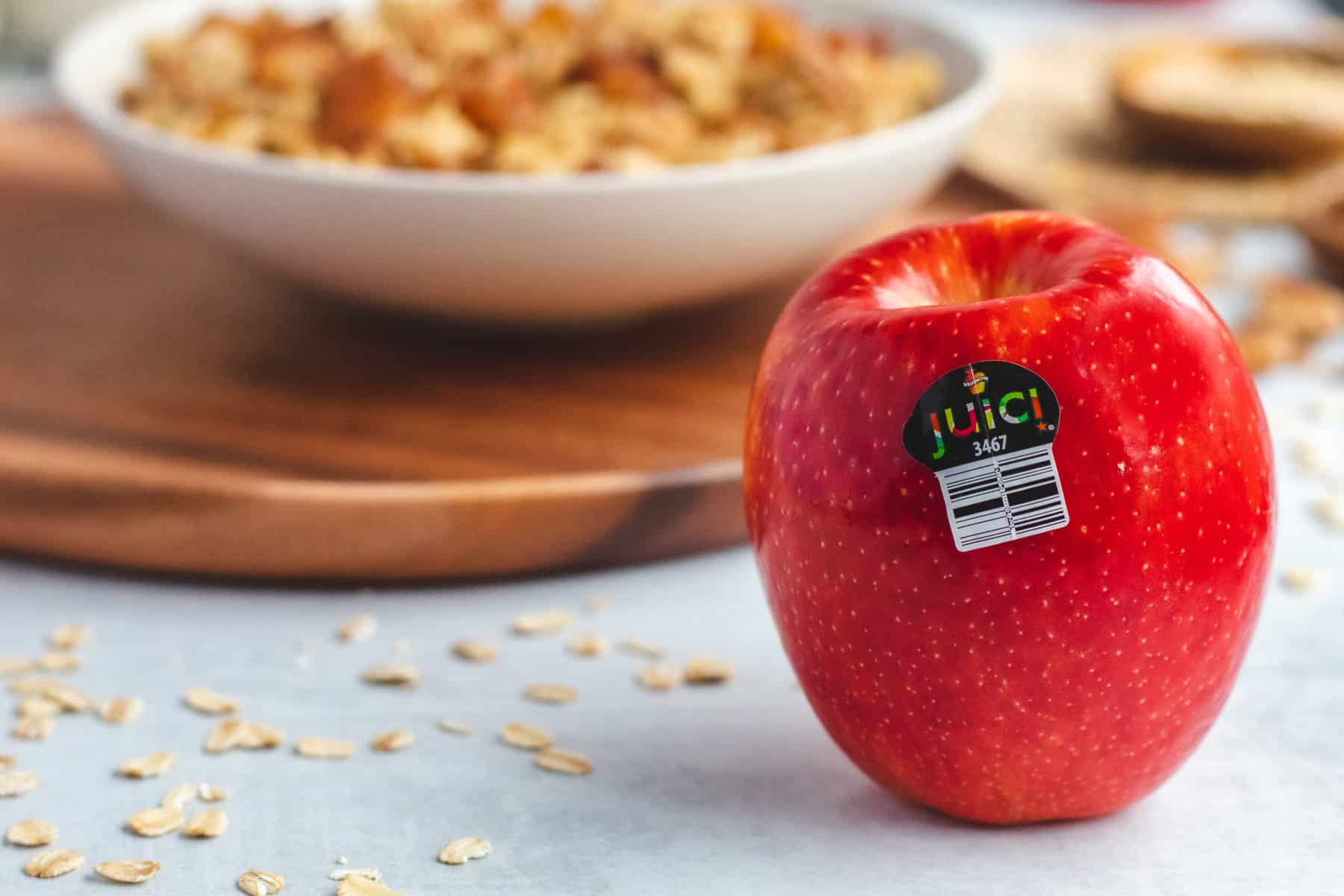 Now, you certainly realize that can't have apple pie oatmeal without the apples! For this recipe, we're reaching for JUICI™ apples from our friends at Starr Ranch® Growers. Why JUICI™? JUICI™ apples are the perfect balance of sweet and tart, which is why these apples blend so well into many different kinds of recipes. In fact, just take a look at the different ways we've used the JUICI™ apple: JUICI™ Apple & Pear Salad, JUICI™ Apple Old Fashioned, JUICI™ Apple Pie Cocktail, and our Halloween-themed JUICI™ Apple Spooky Spread. As you can see, the JUICI™ is so versatile and is great for salads, snacks, cocktails, and now breakfast!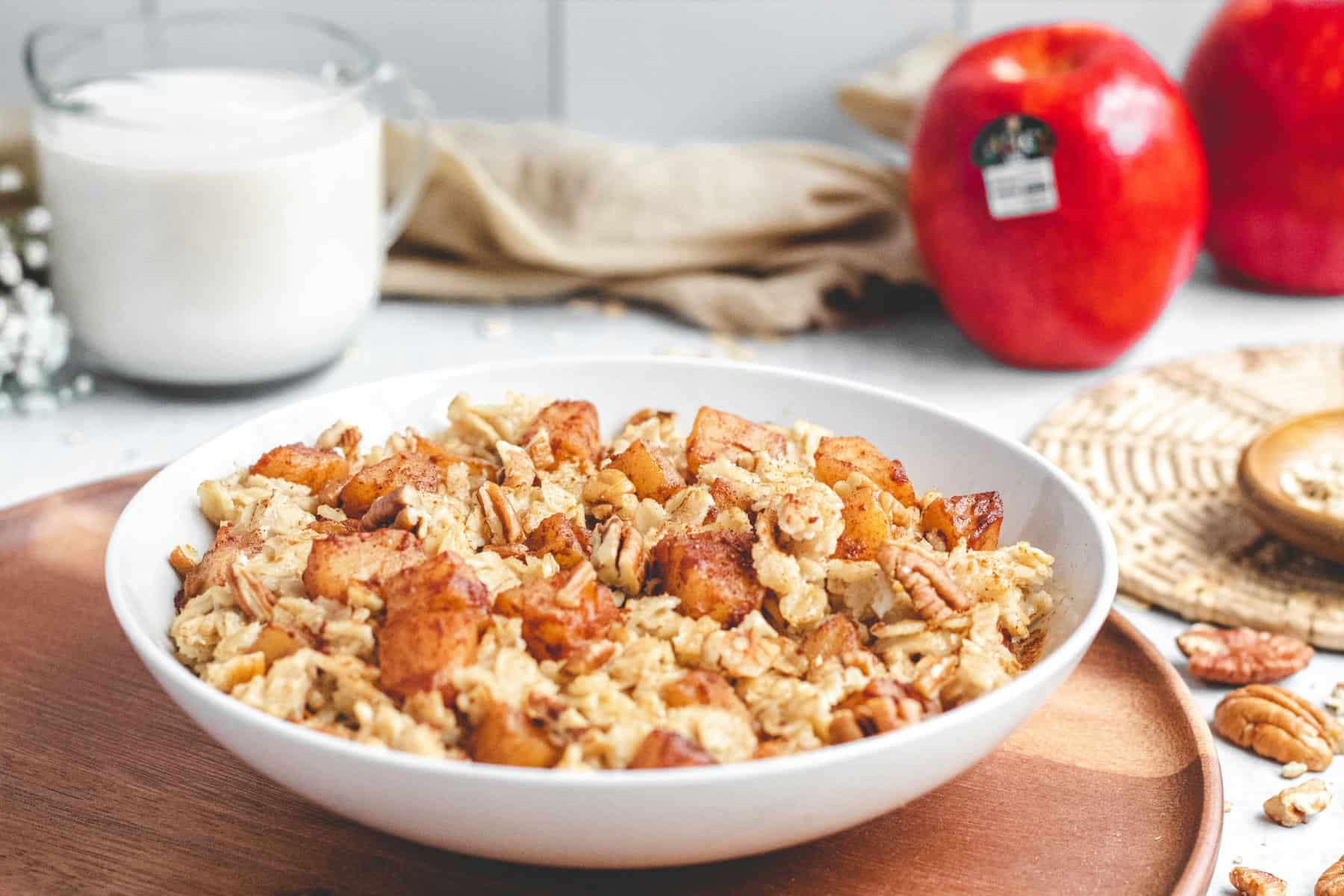 Here are a few tips to creating the most delicious pot of JUICI™ Apple Pie Oatmeal:
For a creamier and thicker consistency, use a mix of water and milk (or milk of choice).
Add your spices to coconut oil first before adding JUICI™ apples to the pot. It'll be easier to coat the apples in the spice-infused oil rather than trying to spread the powdered spices around evenly.
Don't have coconut oil? Substitute with butter or ghee!
Don't have old fashioned oats? Substitute with quinoa, buckwheat groats, or steel-cut oats!
Don't have maple syrup? Use honey!
Don't have milk? Use only water!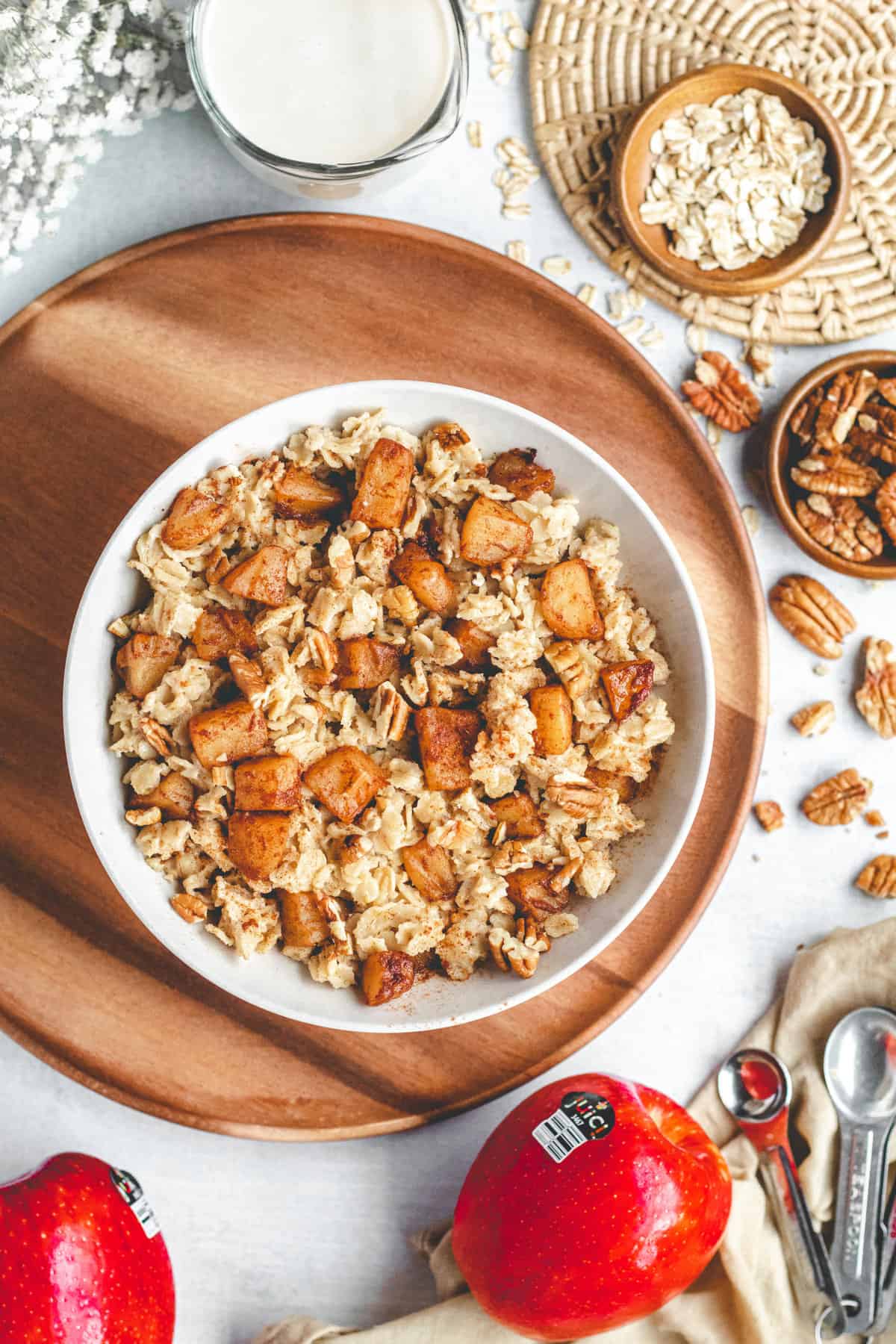 Don't forget to have fun with your recipes when cooking at home. Celebrating something special? You can add a dollop of whipped topping to make breakfast feel like dessert! If you like things on the sweeter side, add more apples and more maple syrup. Love a good crunch? Add walnuts, pecans, or other nuts to add more texture. You can also make this recipe ahead of time and keep it in the fridge for a quick heat-and-eat breakfast on those extra-busy mornings.
However you choose to make this recipe, just make sure you choose the incomparable JUICI™ apple. Enjoy your morning, sunshine!

NOTE: recipe ingredients are listed PER APPLE, so if you're using two apples, double the measurements. If you're using three apples, triple the measurements and so on.
Ingredients:
1 JUICI™ Apple

1 tbsp coconut oil

1/2 tsp cinnamon

1/4 tsp ginger

dash nutmeg (if desired)

1/2 tsp Vanilla

1/2 cup Old Fashioned Oats

1/2 cup your favorite milk (we like almond or oat)

1/2 cup water

Pinch of salt

1/2 tsp maple syrup

Top with Walnuts, nut butter, or cream
Directions:
Peel JUICI™ Apples and cut into cubes.

Melt coconut oil in a saucepan over medium heat.

Add spices, cubed JUICI™ apples, and stir to coat apples in spice-infused coconut oil. Cook for about 5-7 minutes until apples are soft.

To the same pot add milk, water, salt and bring to a boil. Add oats and cook for 3-5 minutes, stirring occasionally. Continue to cook until most of the liquid is absorbed and the oats are fully cooked.

Remove from heat, stir in maple syrup, and cover. Allow to sit for 3 minutes.

Top with more toppings (if desired): cinnamon, maple syrup drizzle, walnuts, nut butter, cream, or jam.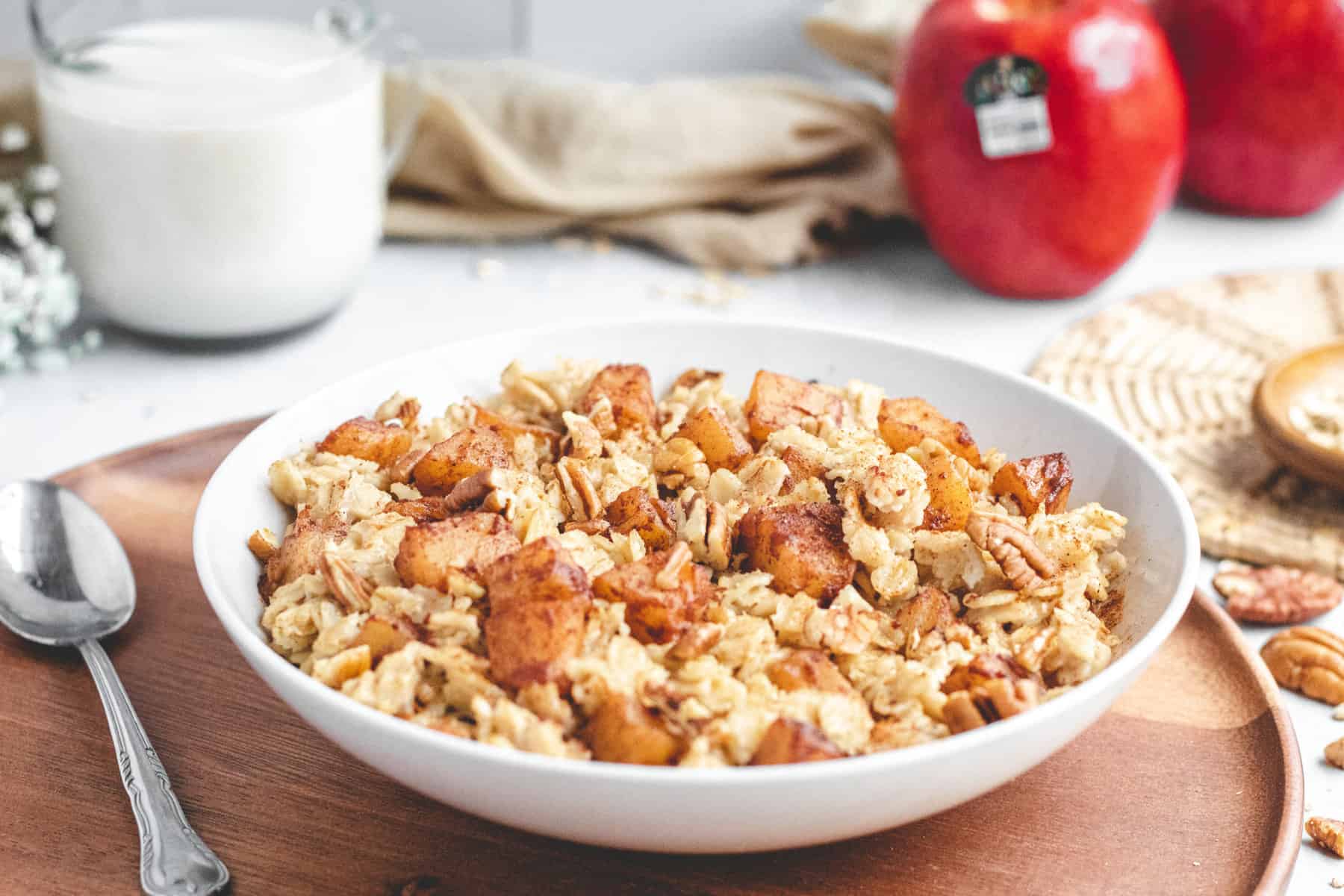 Servings 1.0 | calories 429 | Total Fat 17g | Saturated Fat 12g | Monounsaturated Fat 3g | Sodium 89 mg | Potassium 243 mg | Total Carbohydrate 65g | Dietary Fiber 10g | Protein 7g 13% | Vitamin A 5% | Vitamin C 0% | Calcium 41% | Iron 14%

---