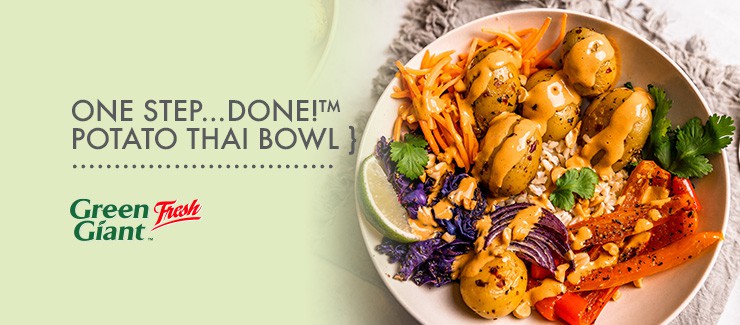 You just need one pan and One Step...Done!™ potatoes from Green Giant™ Fresh to make a fast, easy, and ultra-flavorful meal!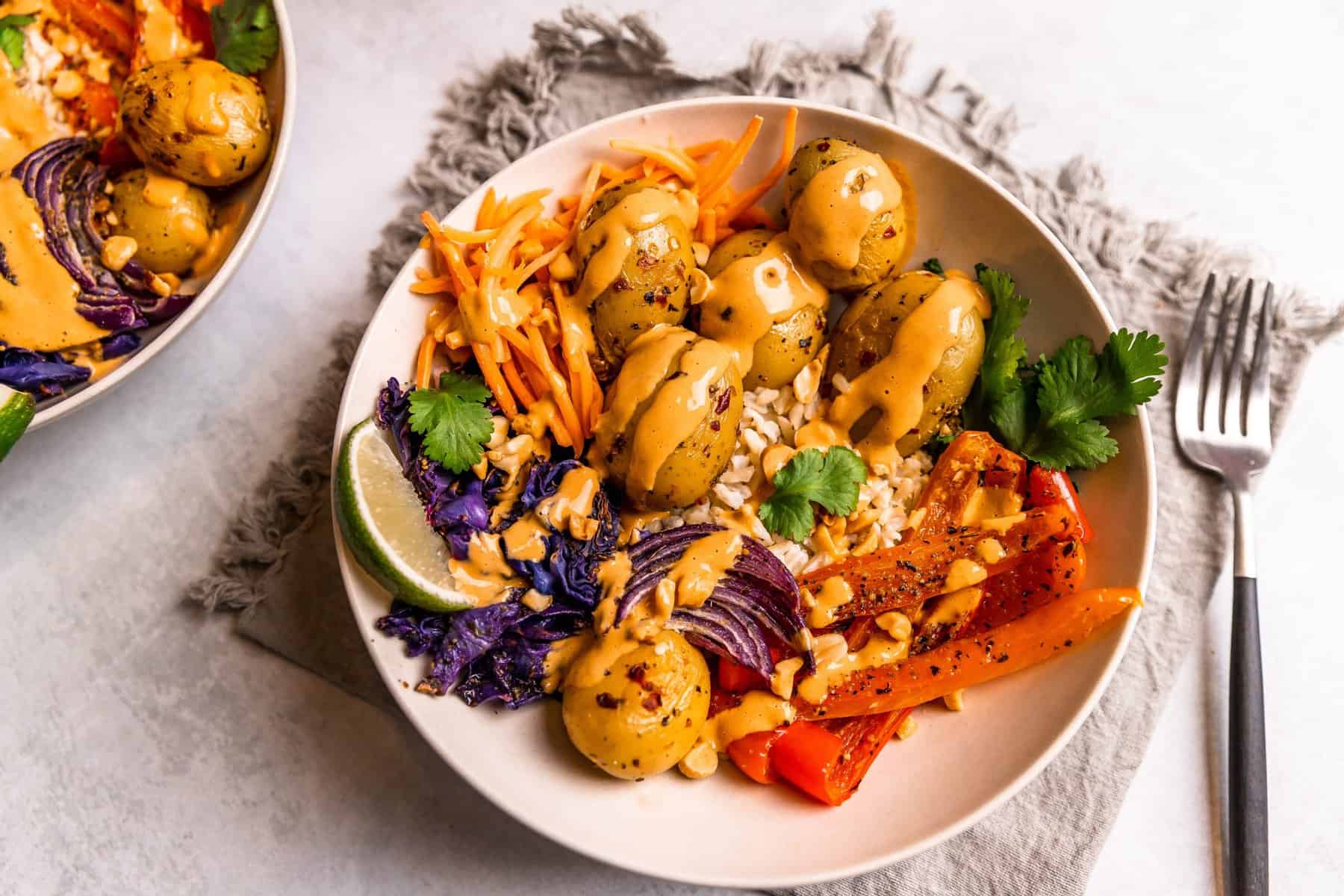 Life is a delicate balance and we know it's a struggle to find that balance when it's time to eat: you want something healthy but also need something fast. This is just one reason why we love One Step...Done!™ potatoes from our friends at Green Giant™ Fresh. These mini potatoes are pre-seasoned with real seasonings and butter, just like ingredients you'd use in your kitchen. Plus, they only take six minutes to cook in the microwave! Thank you Green Giant™ Fresh for making it easy to be healthy.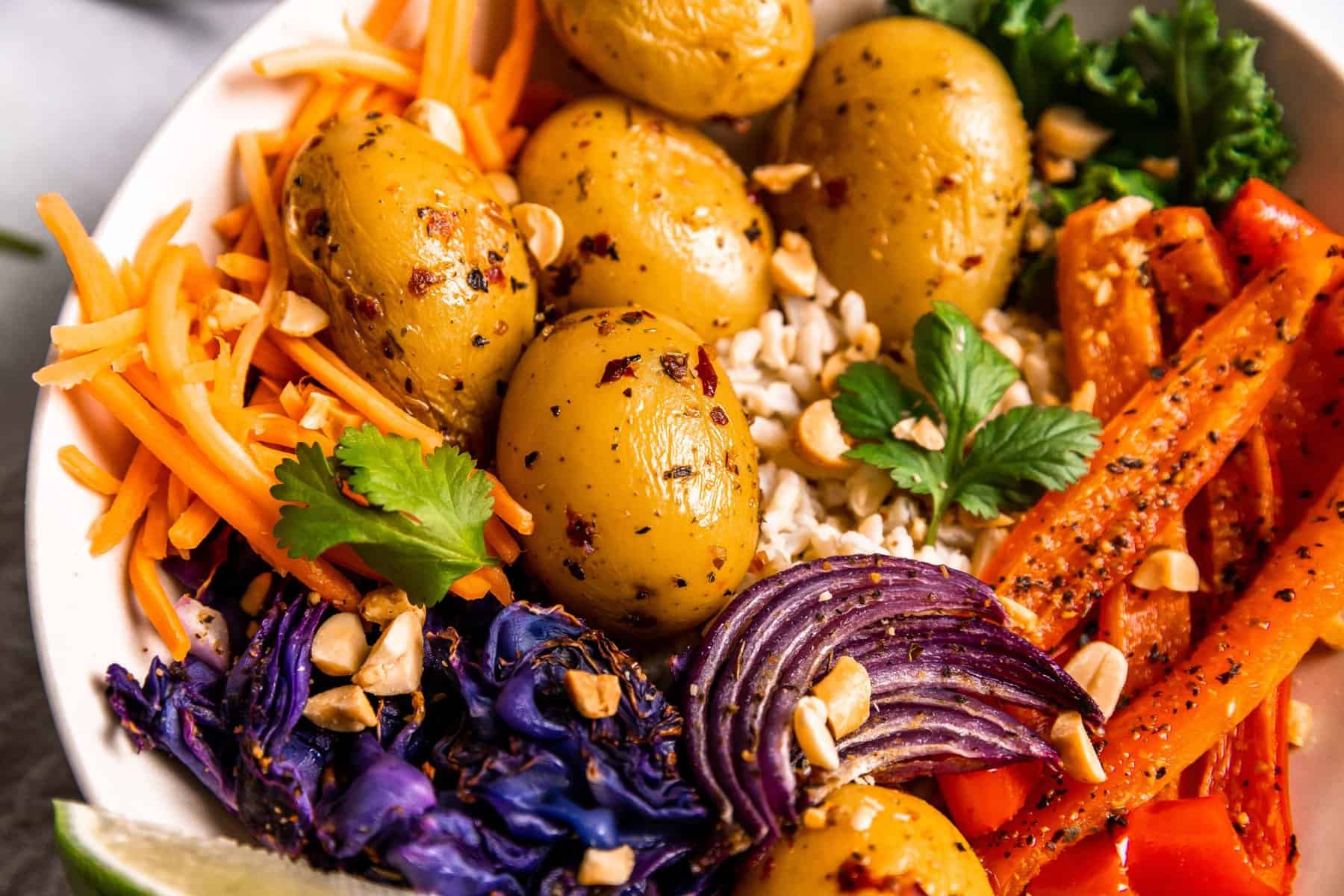 TIPS / SUGGESTIONS / SUBSTITUTIONS:
Vegetable Seasoning: If you aren't able to find a Thai-inspired seasoning at your grocery store, you can substitute with garlic powder, ginger powder, and cayenne pepper (if you like spicy foods).
Protein: Add your favorite protein to the baking sheet and bake until almost fully cooked. Add vegetables to the same baking sheet and finish cooking everything together until veggies are just fork-tender.
Bowl: To make this dish a true veggie bowl, serve with rice, cauliflower rice, greens, quinoa, or other grains.
Sauce: For a super creamy and smooth sauce, add all ingredients to a small blender after mixing.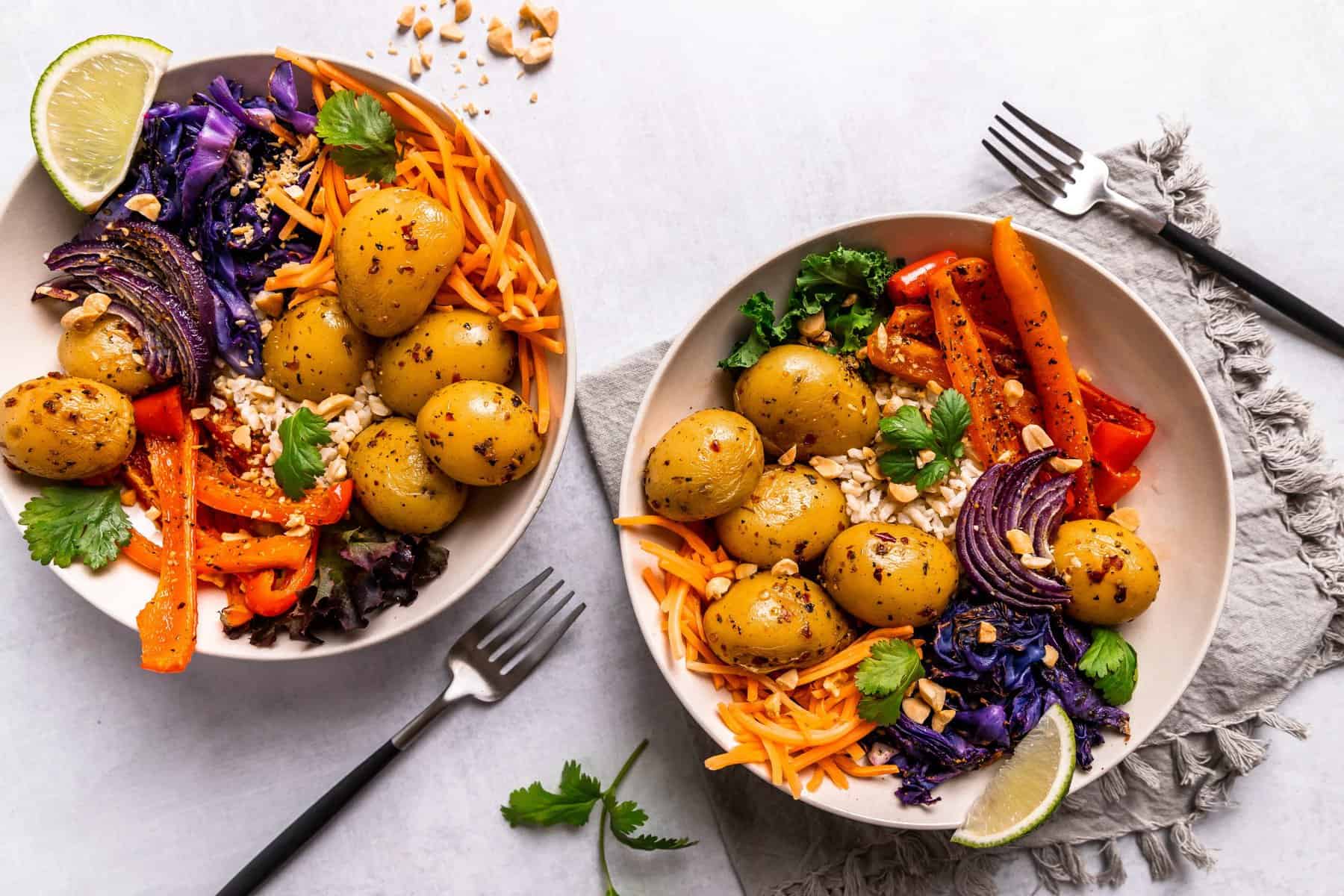 Ingredients:
Roasted Red Pepper One Step...Done!™ Potatoes
1 whole Red Bell Pepper, sliced
1 cup Red Onion, sliced
1/2 Cabbage, sliced
1 tbsp Thai Spice Blend (your favorite brand)
1 cup Carrots, shredded
2/3 cup Distilled White Vinegar
2/3 cup Water
1/2 tsp Sea Salt
1 Tbsp Sugar
1/4 cup Peanut Butter
2 tbsp Soy Sauce
1 tbsp Chili Paste / Garlic Chili Paste
1 tbsp Minced Garlic
1 tsp Grated Ginger
2 tbsp Rice Vinegar
1 tbsp Warm Water or more as needed
Garnish Cilantro, Chopped Peanuts, Lime Wedge
Directions:
Preheat oven to 400F.
Add sliced vegetables to a parchment paper lined baking sheet and lightly coat with cooking spray. Sprinkle all vegetables with Thai Spice Blend and roast for 25 minutes or until vegetables are just fork-tender. Note: as an alternative to Thai Spice Blend, sprinkle with cayenne pepper, garlic powder, ginger powder.
Add shredded carrots to a glass jar or bowl. While vegetables cook add vinegar, sea salt, water, sugar to a sauce pan and bring to a boil. Remove from heat and carefully pour over carrots. Cool in the refrigerator until ready to use.
Microwave Roasted Red Pepper One Step...Done!™ potatoes according to package instructions.
Add peanut butter, soy sauce, chili paste or garlic chili paste, minced garlic, and rice vinegar to a medium bowl and whisk to combine. Add warm water 1 tbsp at a time until sauce reaches a smooth and pourable consistency. Option: after all ingredients are combined, blend in a small blender until smooth.
Split all vegetables and potatoes between two bowls and pour peanut sauce over vegetables. Garnish with cilantro, chopped peanuts, lime wedge. Option: serve vegetables over rice, quinoa, cauliflower rice, or greens.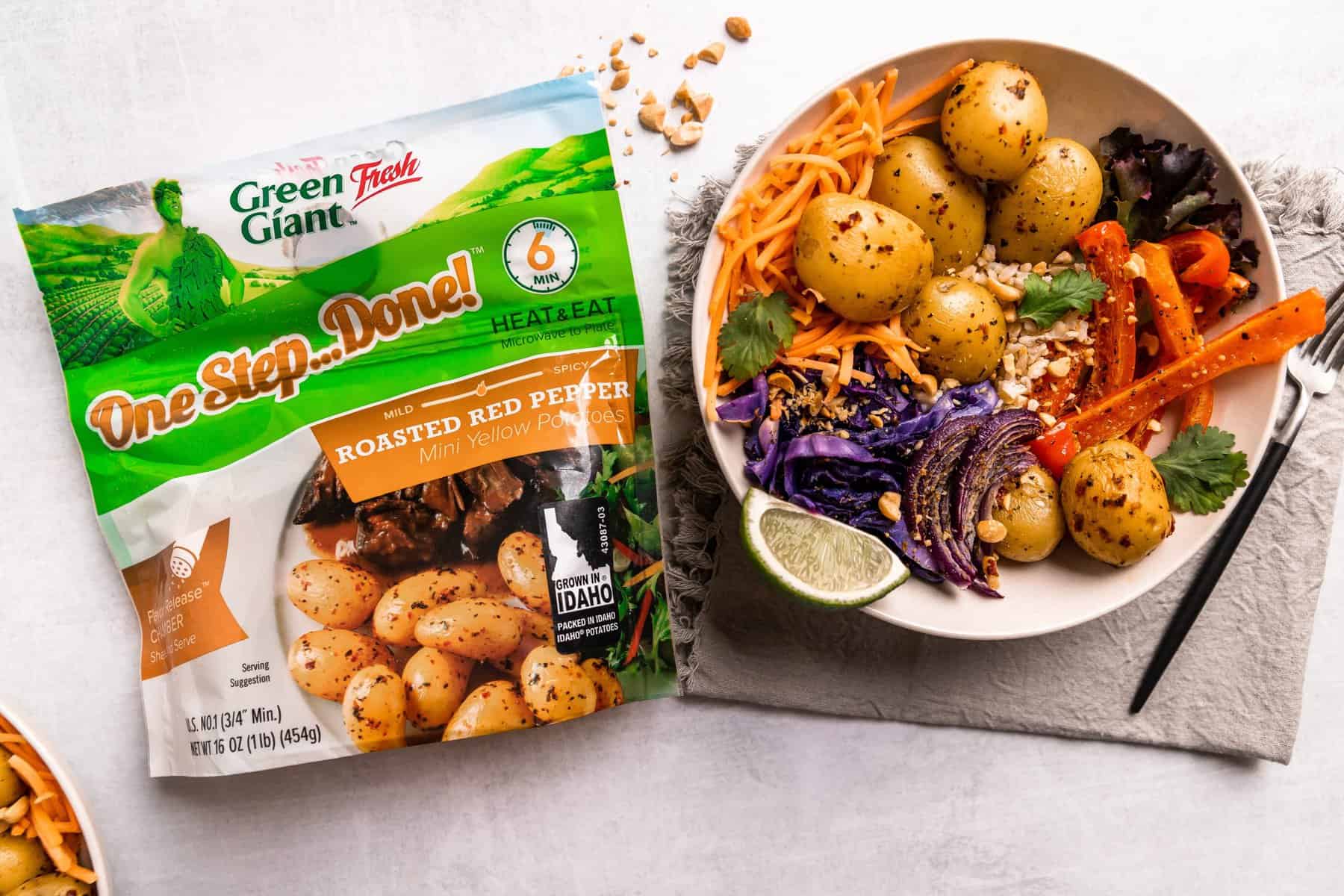 Servings 2.0 | calories 572 | Total Fat 20g | Saturated Fat 4g | Monounsaturated Fat 8g | Polyunsaturated Fat 4g | Cholesterol 8mg | Sodium 1264mg 60% | Potassium 1894mg | Total Carbohydrate 88g | Dietary Fiber 14g | Protein 18g | Vitamin A 890% | Vitamin C 340% | Calcium 16% | Iron 22%
---