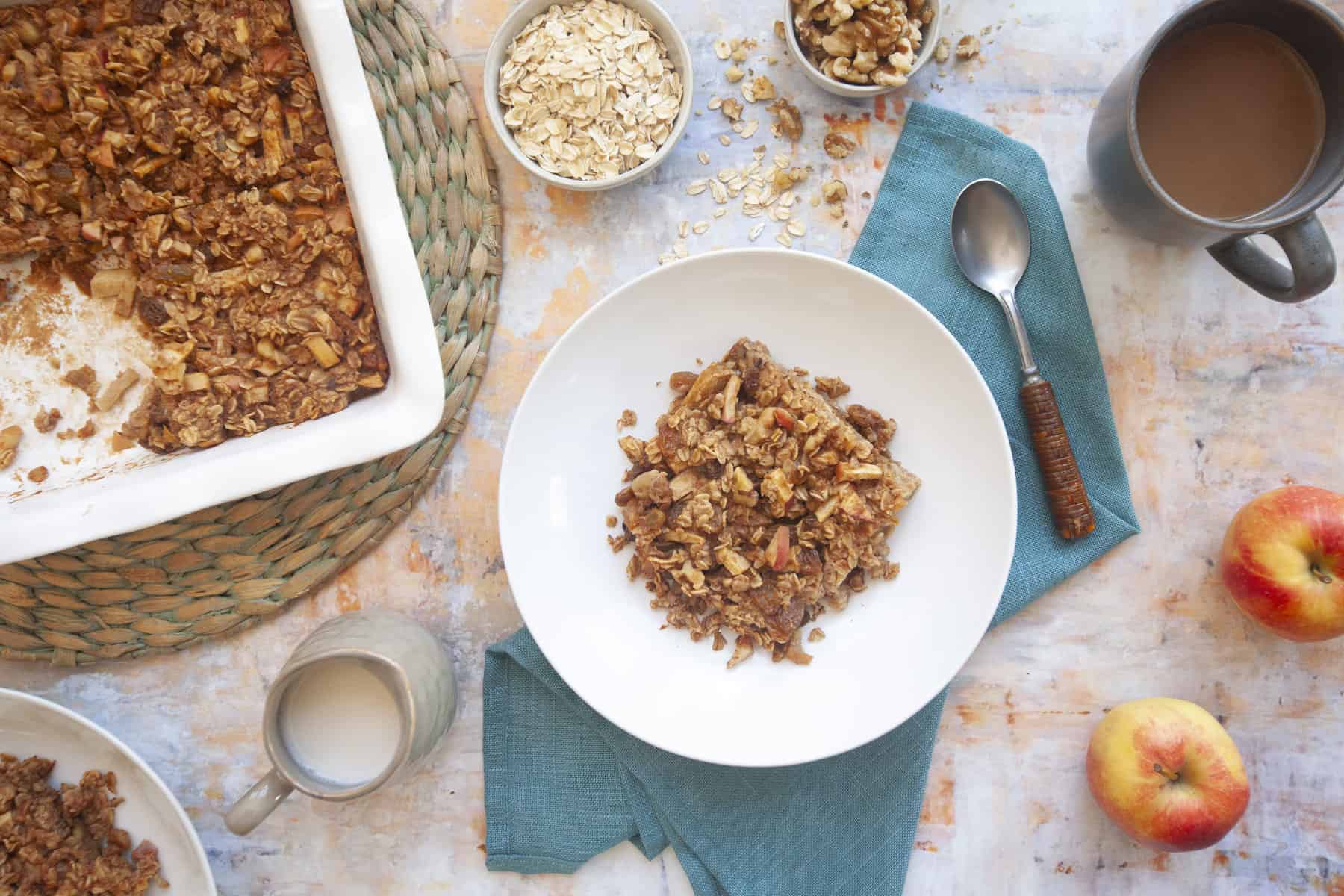 This breakfast recipe may as well be a dessert for how tasty and naturally sweet it is! Baked oatmeal is a warm breakfast casserole whipped up from oats, almond milk, and other ingredients typically found in your kitchen. The texture is similar to bread pudding, combining chewy, soft, and creamy all in one. We suggest adding a bit of your favorite milk, we used almond, then topping with greek yogurt and a drizzle of maple syrup.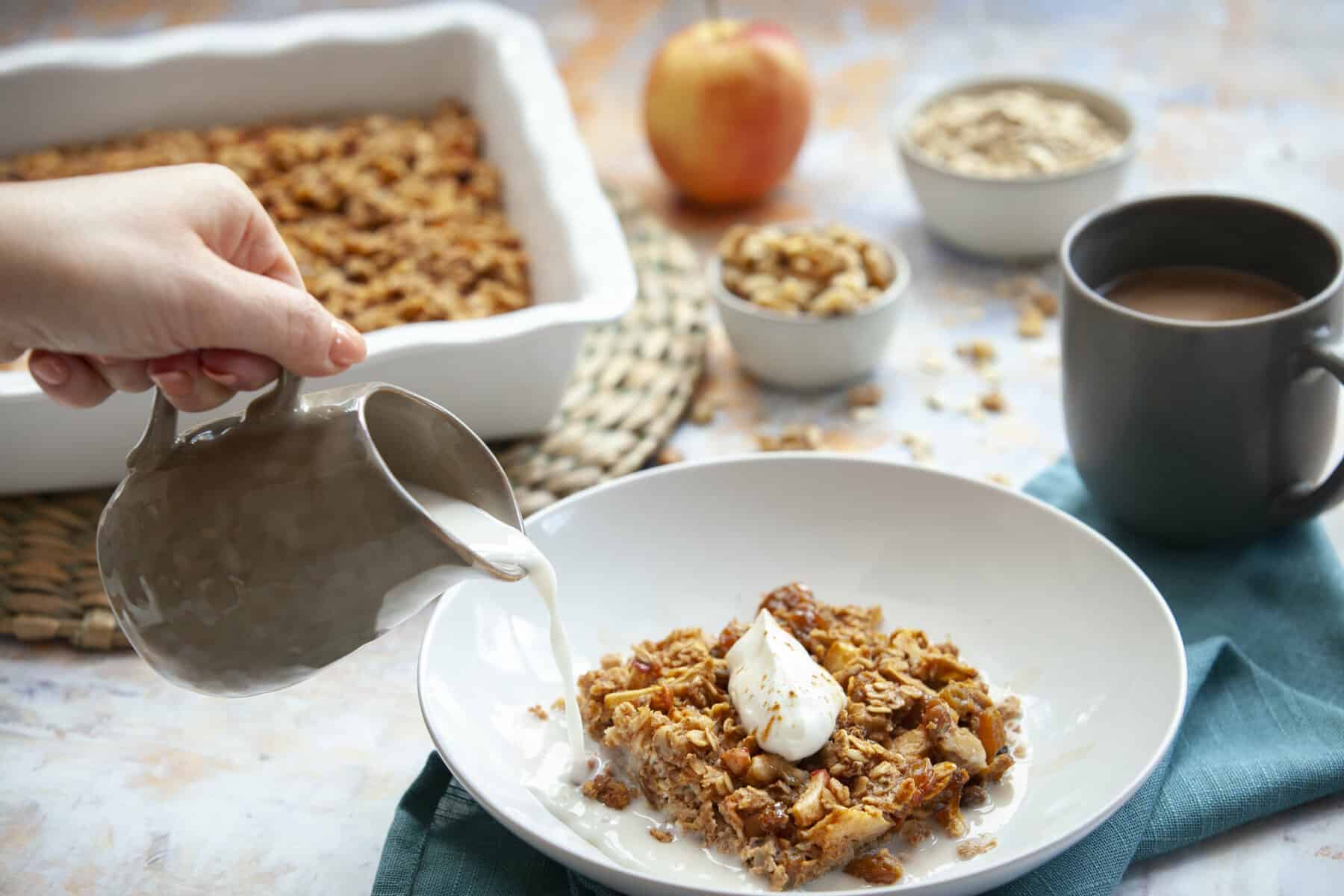 Although oats themselves are delicious and healthy, the star of this recipe has to be the diced apple throughout. The baked apple pieces are soft and juicy with a bright, fresh flavor. Best of all, apples are amazing for our physical health. With an impressive list of phytonutrients and antioxidants, they provide vitamins, minerals, and support a healthy digestive system. Not to mention they're low in calories!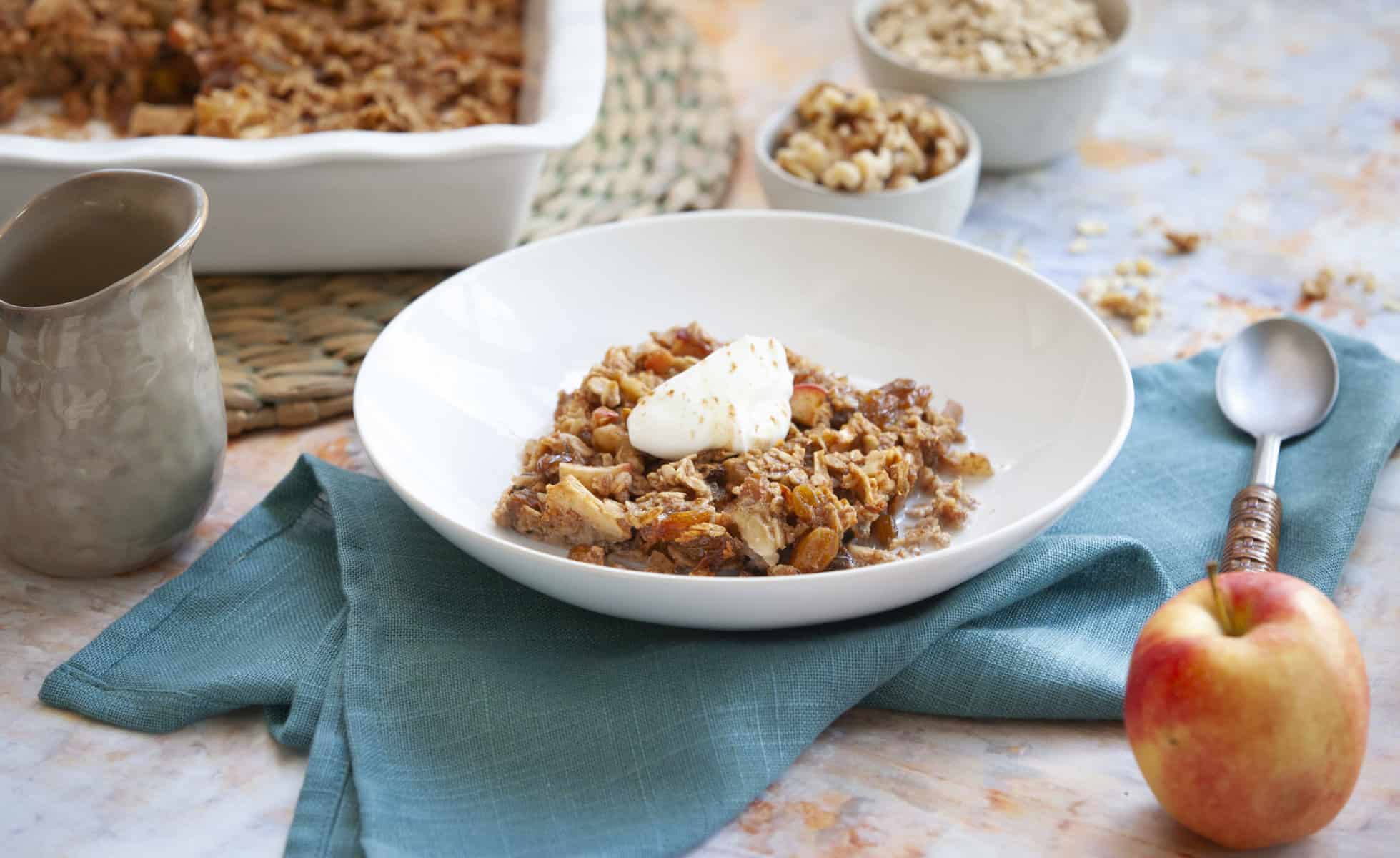 We recommend Starr Ranch® Growers Organic Gala Apples for this recipe. Why? Because they're "simply better." For over 85 years, generation after generation at Starr Ranch has cultivated some of the finest orchard locations in the world, providing premium apples to their loyal consumers. They're proud to boast that they provide unmatched levels of care and attention to their work.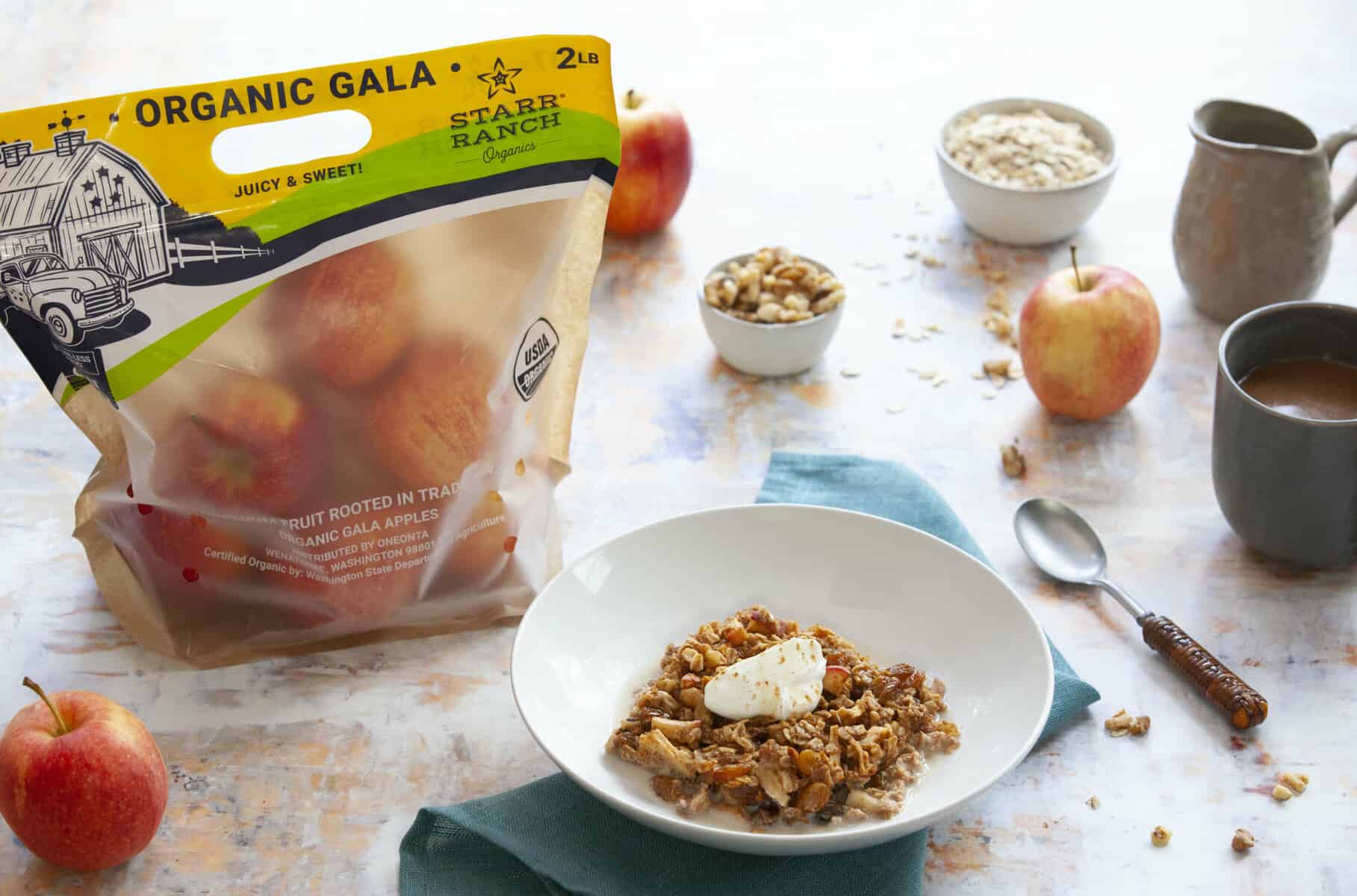 While the apple may be the star of the show, the other ingredients are also beneficial to your health. So this recipe is both delicious and health conscientious! Here's some information about what this tasty treat has to offer:
Oats: One of the healthiest grains on earth, they're an amazing source of vitamins, minerals, fiber, and antioxidants.
Walnuts: This exceptionally nutritious nut is known to reduce inflammation and improve heart disease risk factors.
Unsweetened Applesauce: This is an excellent source of vitamin C to help boost your immune system!
Almond Milk: This alternative to milk is low in calories in sugar while high in calcium, vitamin E, and vitamin D.
Raisins: While small, these dried fruits are jam packed with energy, fiber, vitamins, and minerals, while also helping with bone health and iron levels.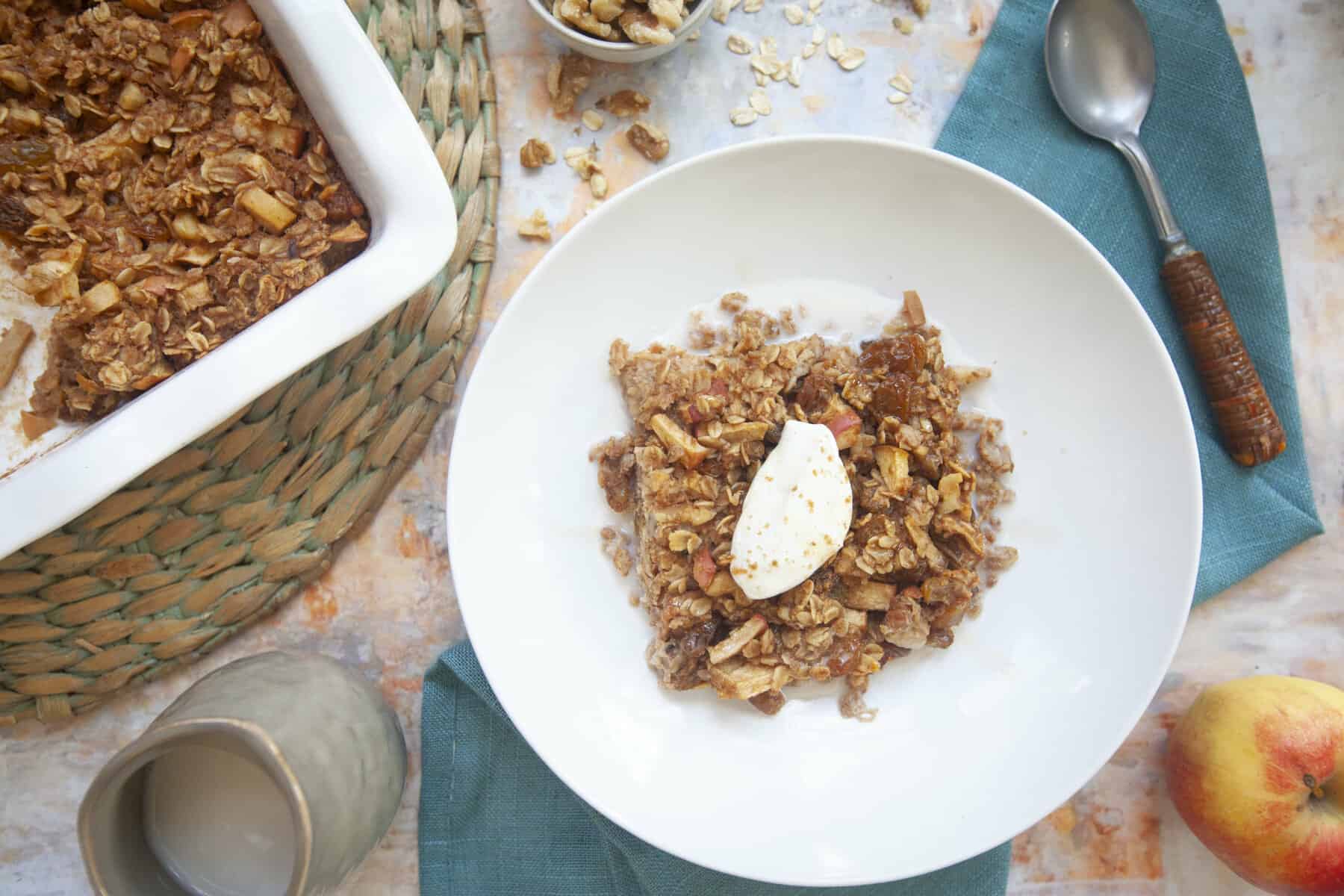 The best part yet may be how easy this recipe is. Your oven does all the work for you! After combining and mixing all your ingredients into one bowl, you simply spread the mixture into a pan and bake for thirty minutes. Then, a delicious and nutritious snack or breakfast is ready and waiting! Go ahead and check it out below.
Organic Gala Apple Baked Oatmeal:
1 Starr Ranch® Gala medium apple, finely diced
2 cups old fashioned rolled oats
1 cup chopped walnuts
2 teaspoons ground cinnamon
1/2 teaspoon ground ginger
1/4 teaspoon sea salt
1/2 cup unsweetened applesauce or apple puree
1/2 cup vanilla almond milk
2 eggs, beaten
2 tablespoons maple syrup or honey
1 teaspoon pure vanilla extract
3 tablespoons coconut oil, melted
1/2 cup golden raisins
Preheat to 350°F. Lightly spray an 8 by 8 inch ceramic baking dish with coconut oil cooking spray.
In a large bowl, combine oats, walnuts, cinnamon, ground ginger, and sea salt. Then mix in diced apples, applesauce, almond milk, eggs, maple syrup, vanilla, and melted coconut oil and stir until all ingredients are well combined. Add in raisins to combine.
Spread mixture into prepared baking dish and bake for 30 minutes or until set. Allow to cool slightly before slicing. Serve warm in a small bowl topped with yogurt and/or almond milk, adding fresh berries and a drizzle of maple syrup!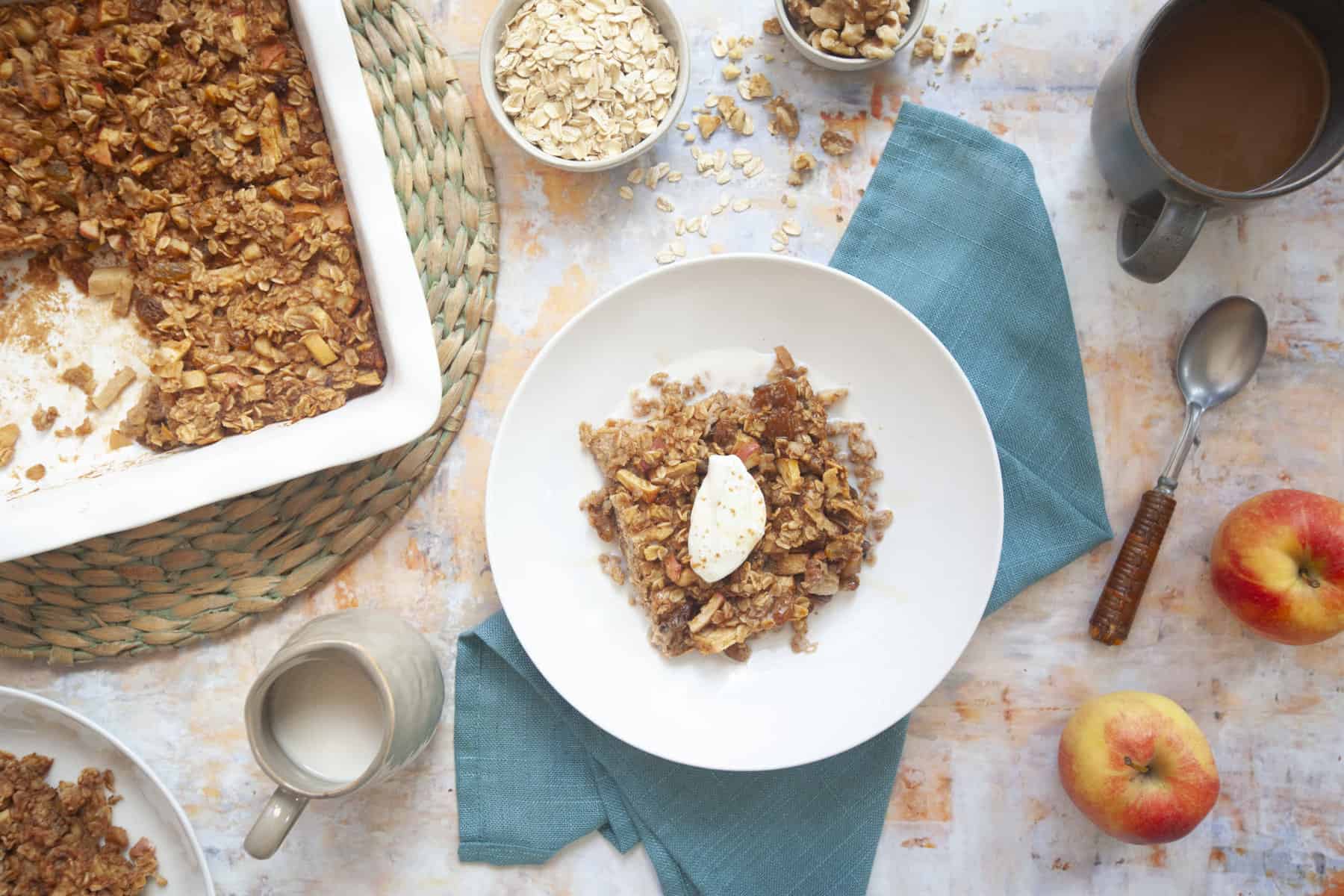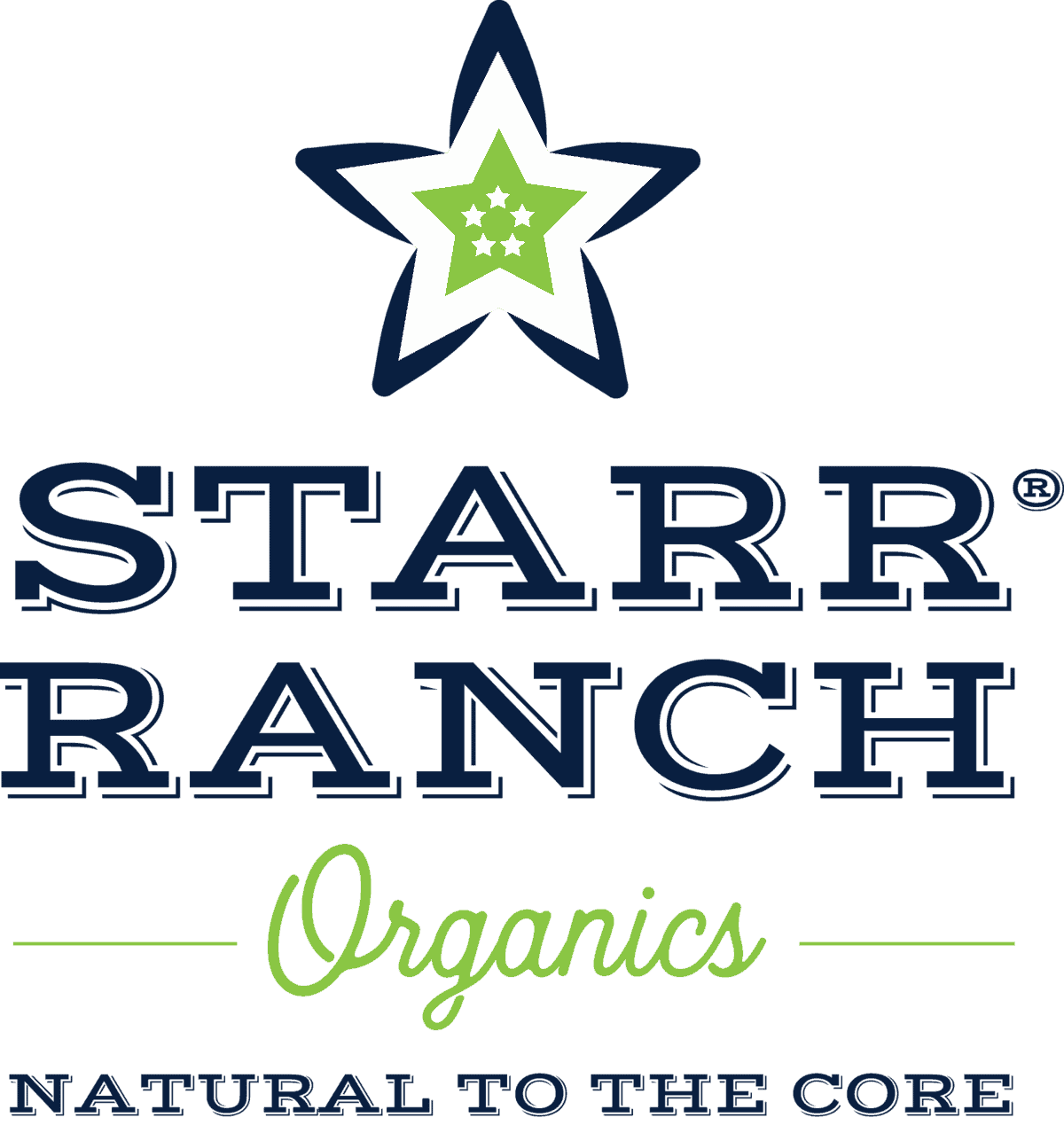 ---