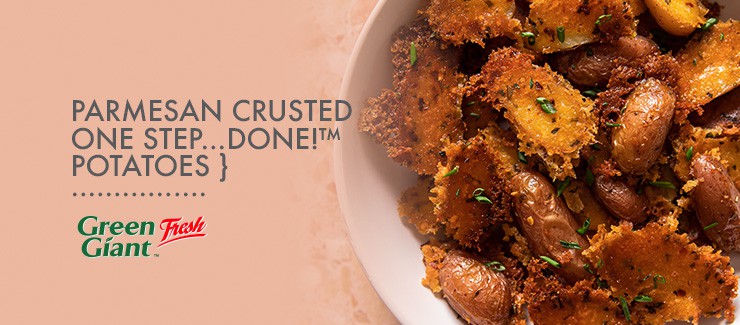 We're springing right into summer which means it's nearly time to break out the shorts, sunscreen, and flip flops. And thanks to One Step...Done!™ potatoes from our friends at Green Giant™ Fresh, your summer side dishes are easy so you can get back to enjoying the sunshine.
Whether you're popping some potatoes on the grill or making something tasty in the oven, One Step...Done!™ potatoes are THE easy way to get something delicious on the table in just a few minutes. Just put the whole package in the microwave for six minutes and you have a seasoned side dish that's ready to eat.
We love the variety of flavors available and we went for the Rosemary Garlic One Step...Done!™ potatoes for this easy summer side. This recipe will compliment any grilled meat like steak, chicken, pork or fish or serve it alongside your preferred vegetarian protein. Here's a few tips and tricks to perfecting your Parmesan Crusted One Step...Done!™ potatoes:
Cheese: If you don't have grated parmesan cheese, shredded will work just fine!
Herbs: Fresh herbs add a ton of flavor to your recipes without adding fat or calories. Try topping this recipe with more fresh rosemary or try green onions, dill, or parsley.
Bake: Bake time will depend on the heat of your oven so we suggest baking until the cheese has become golden brown and crispy on the edges.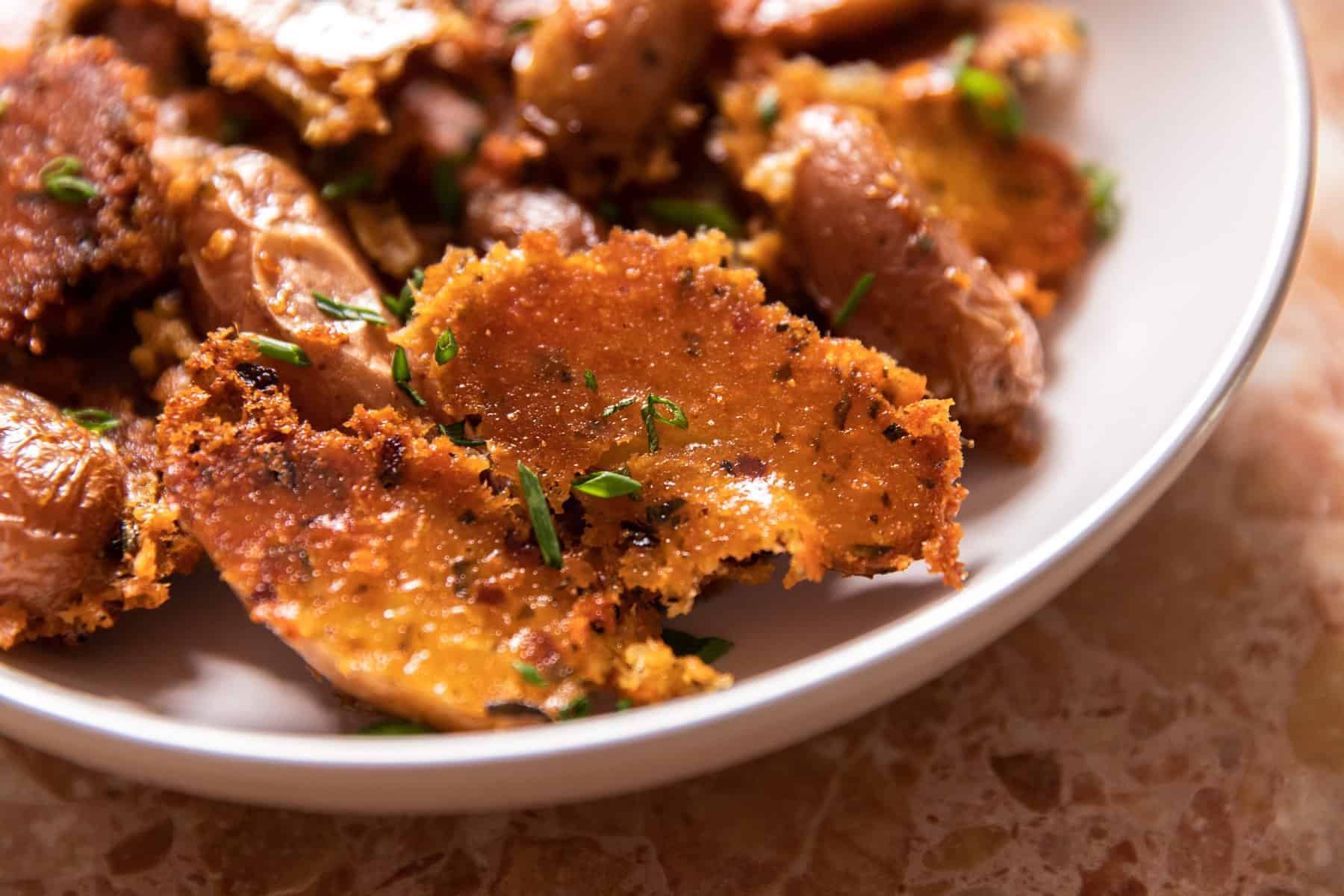 Let us know if you give this recipe a try and don't forget to tag us @farmstarliving and our friends at Green Giant™ Fresh Potatoes!

Ingredients:
Garlic Rosemary One Step...Done!™ Potatoes
1 cup grated parmesan cheese
2 tsp garlic powder
1 tsp red pepper flakes (optional)
1/4 cup extra virgin olive oil
1 tbsp fresh rosemary, chopped
Directions:
Preheat oven to 425F.
Microwave One Step...Done!™ potatoes according to package directions. Once cool enough to handle, slice each potato in half long ways and set aside.
In a glass baking dish, add parmesan cheese, garlic powder, red pepper flakes, rosemary and mix to combine ingredients. Drizzle with olive oil and mix well to combine ingredients with olive oil. This should create a pasty consistency.
With a spatula, spread and pat the parmesan cheese mixture until it completely covers the bottom of the baking dish.
Place potatoes cut-side down on top of the parmesan cheese mixture.
Bake for 15-18 minutes or until cheese becomes golden brown. Remove dish from the oven and cool until cheese stops bubbling. Remove potatoes from the baking dish with a spatula and garnish with chives or more fresh rosemary. Serve warm and enjoy!
---