Monkey Bread always makes us think of sharing - one big beautiful dessert made up of little bite-size pieces for the whole family to pull apart and enjoy. This recipe has a little extra special ingredient that we want to share with you. Each of those little bite-sized pieces is topped with a scrumptious peanut butter surprise! We like to think of it as a dessert within a dessert.
For this recipe, we used PBCrave Cookie Nookie Peanut Butter – a mix of delicious chocolate chips from Belgium, cookie dough flavor, organic honey from Brazil, and peanuts from the US. Heaven!
We also love PBCrave because they are dedicated to using high-quality ingredients from around the world to bring artisan-quality peanut butter from their facility – to your kitchen. Another bonus? No funny-named ingredients and 7-grams of protein - per serving!

Check out this video for step-by-step instructions: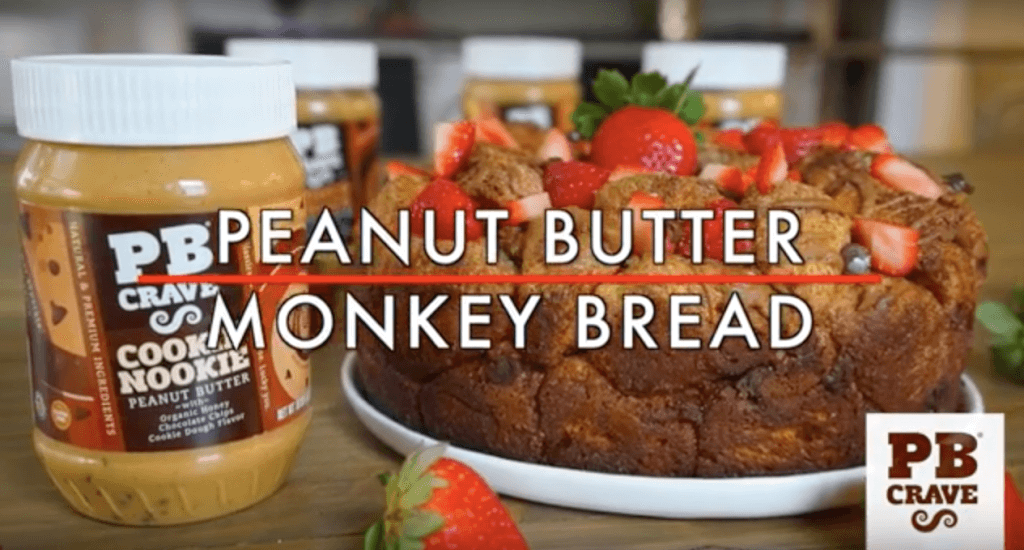 Ingredients:
1/2 cup Sugar
1 tsp Cinnamon
2 16oz cans of refrigerated Biscuits
1/2 cup PB Crave Cookie Nookie Peanut Butter, melted
1/2 cup Semi Sweet Chocolate Chips, melted
1/4 cup Butter, melted
strawberries for topping
Directions:
1. Preheat your oven to 350 degrees F. Grease a bundt pan and set aside.
In a large plastic bag, combine the sugar and the cinnamon and shake until well combined. Cut the biscuits into quarters and add to the cinnamon sugar mix in the bag. Shake until all of the biscuits are coated.
Place half of the biscuits into your bundt pan.
Drizzle with half of the melted peanut butter and half of the melted chocolate. Add all of the melted butter.
Add the rest of the biscuits to the bundt pan. Bake for 30 minutes or until the biscuits are cooked thoroughly.
Remove from the oven and allow to cool slightly before inverting onto a plate. Serve warm!

---