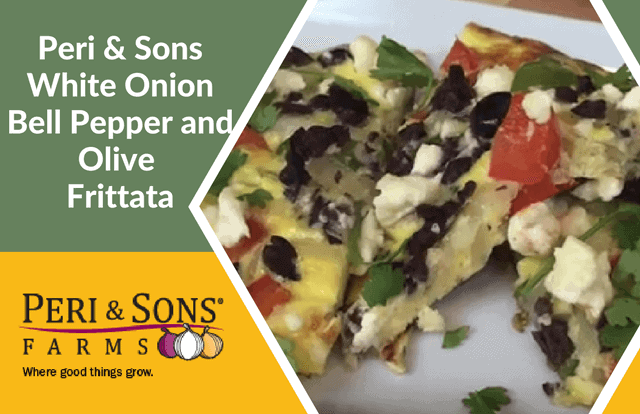 Who is up for a fabulous farm-fresh breakfast this weekend? Or perhaps even breakfast for dinner? We are!
When we found out that we could get creative with the renowned and beloved hand-harvested white onions from Peri & Sons, we were more than excited. We all had just been talking about brunch menu items and simply had eggs on our minds. So, we started thinking about the delicious tantalizing waft of sautйing onions with peppers, and came up with the idea of serving a frittata that is enough to make anyone's mouth water and eyes grow wide with sweet anticipation!
This frittata is a hit, and we know why. It's the secret special ingredient – the larger than life white onion from family farmers Peri & Sons. Look for them at your local grocer!
Tip: This is so easy, and we loved how colorful and beautiful it is, we also recommend garnishing with a bit of parsley. If you want an extra 'kick' to it, add some red pepper flakes or a little more vinegar. Enjoy!
Ingredients:
3 eggs, whisked until fluffy
2 tbsp. milk
1 tbsp. Extra Virgin Olive Oil
1/2 of a Peri & Sons Farms medium-size white onion, sliced thin
1/3 red bell pepper, chopped
1/3 green bell pepper, chopped
2 heaping tablespoons crumbled feta cheese
8 Kalamata olives, chopped
Salt and pepper to taste
Instructions:
Whisk eggs and milk together well. Heat the olive oil over medium heat in a medium-size oven-proof skillet.
Add onion and peppers to pan, sprinkle with salt and pepper and sautй just until they begin to soften.
Add eggs to vegetable mixture. Let eggs sit in pan for a few minutes until bottom starts to set.
At this time, take a spatula and work around edges while tilting pan to let extra egg mixture fill in space around pan.
Cook for another few minutes and add feta and olives on top.
Place under broiler for up to 5 minutes until cooked through and golden brown.
Carefully remove pan from broiler using an oven mitt and serve warm.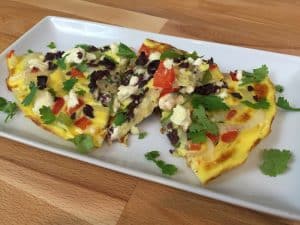 ---