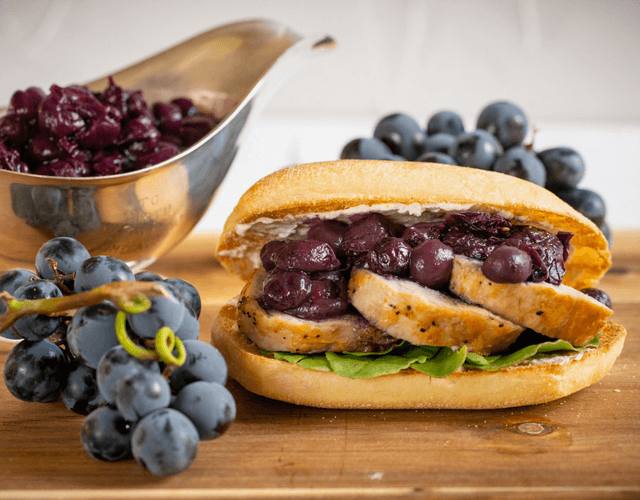 Grape Jammers® are easy to eat Thomcord grapes farmed by Brandt Farms in California. Celebrating 77 years of cultivating fresh fruit, this farm is part of a heritage that believes quality fruit is in the hands of the growers.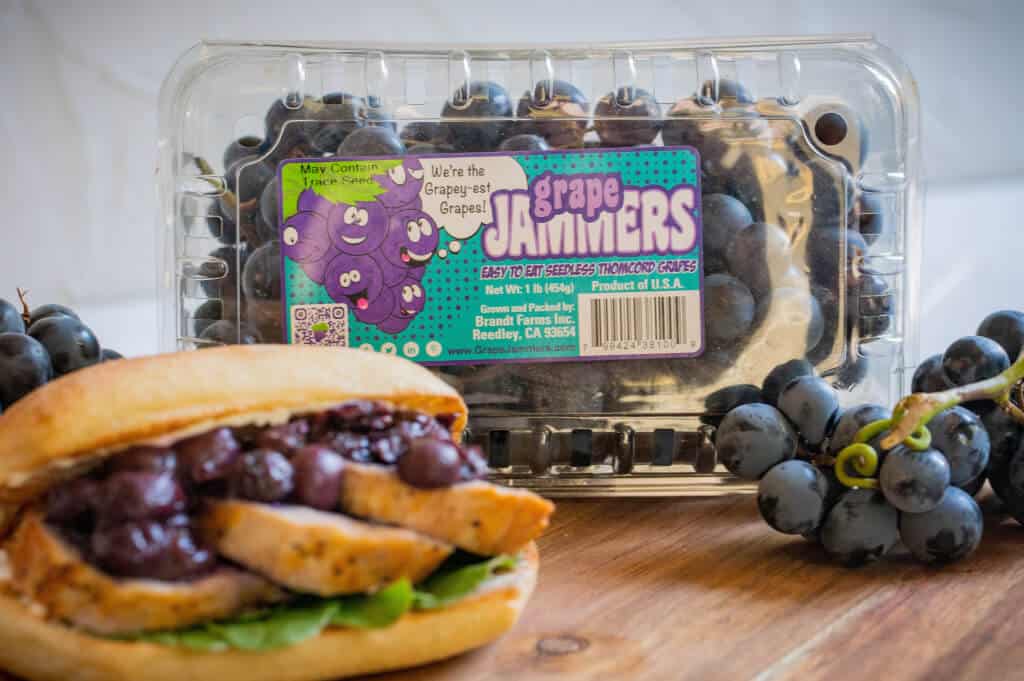 Their Grape Jammers are harvested with peak sugar and maturity and hand packed in a controlled temperature facility to ensure food safety and quality. By the time they reach your home, they are ready to party as a snack or a gourmet thick sauce.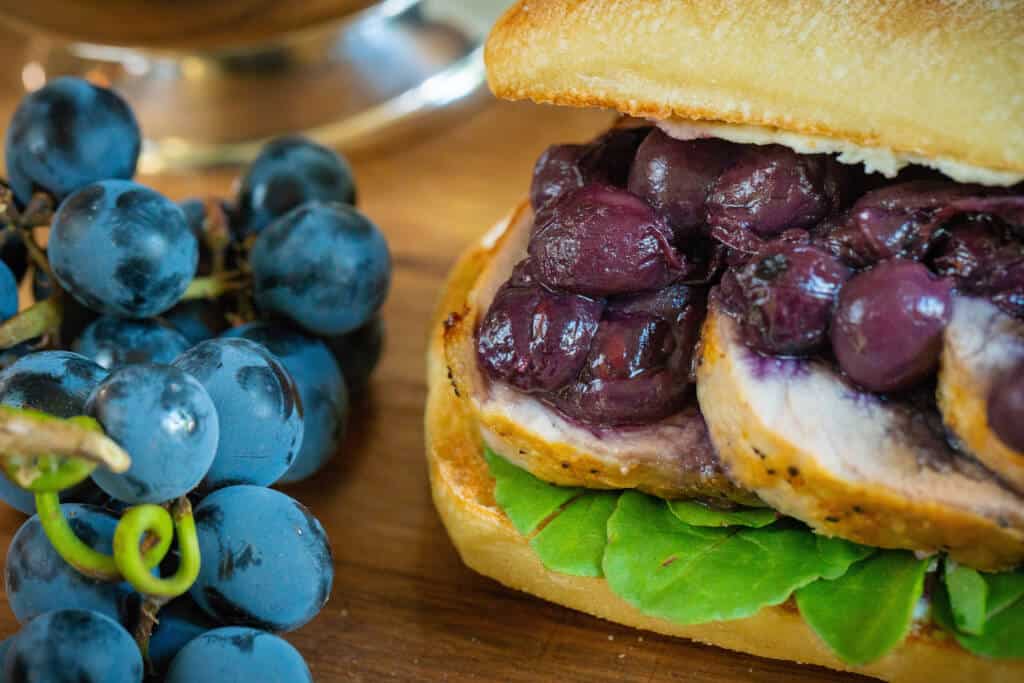 We hope you have fun with these juicy Grape Jammers in this savory meets sweet dish! Watch the recipe video below to see how easy it is to create this sweet sauce. Use it as a topper for other sandwiches, grilled meats, or even paired with cheese for an impressive appetizer.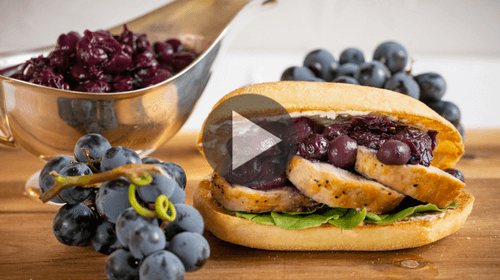 TIP: Add a sprig of rosemary, thyme, or other fresh herb to the skillet when reducing red wine and Grape Jammer mixture for more flavor.
TIP: Grape Jammers may have a trace amount of small, edible seeds so if these show up in your sauce you can easily scoop them out with a spoon, if you like. The seeds are soft, edible and added a slight texture to the sauce.
INGREDIENTS:
1 Pork Tenderloin

Ghee Butter - 1 tbsp (or other high-heat oil)

Ciabatta Bread - toasted

Grape Jammers – 1 package

1/2 cup Red wine

Goat Cheese or butter

Lettuce
DIRECTIONS:
Heat oven to 400 degrees.

Pat dry pork tenderloin and generously season with salt and pepper.

Heat ghee butter (or other high-heat oil) in a large skillet on medium-high heat and sear all sides of pork tenderloin until browned – about two minutes each side.

Move tenderloin to a foil lined baking sheet and bake in the oven for 20 minutes turning the tenderloin half way through cooking. Tenderloin must reach 140 degrees.

While the tenderloin cooks, add butter, washed and dried Grape Jammers to the same skillet on medium-high heat. Once the Grape Jammers burst, add red wine and bring to a simmer to thicken – about 5 -10 minutes total.

Remove Pork Tenderloin from oven and allow to rest for 5 minutes.

While the Pork rests, toss ciabatta into the oven and bake for 5-10 minutes until warm. Once finished, slice pork tenderloin into medallions (about 1-2 inches thick).

After spreading a little goat cheese (or butter) to each slice of bread, layer:
Lettuce

Pork

Grape Jammer coulis

Enjoy!


Yield 4 Sammies | Serving Size 1 Sammie | Calories 386 | Total Fat 9 g | Saturated Fat 3 g | Cholesterol 86 mg | Sodium 441 mg | Potassium 254 mg | Total Carbohydrate 60 g | Dietary Fiber 3 g | Protein 31 g | Vitamin A 3 % | Vitamin C 18 % | Calcium 9 % | Iron 24 %
---