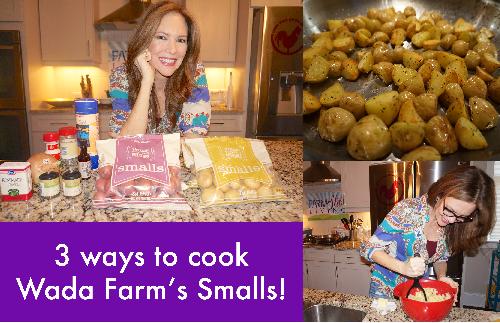 Dinner just got a lot smaller (and quicker and easier)! Thanks to Wada Farms' newest product, Smalls, we are bringing you 3 super easy and delicious ways to cook potatoes! You heard me right -- this month we are giving you THREE recipes!
Potatoes are such a great farm fresh ingredient the you can use for any meal of the day! And who doesn't LOVE potatoes? They are healthy, hearty, and of course delicious. With these Wada Farm's artisan mini potatoes AKA Smalls, we were able to whip together 3 delectable dishes and two of them took us under 7 minutes to make!
For our first dish we made MASHED POTATOES! It could not have been easier!
Since the Smalls come in microwavable bags, no water or boiling was necessary. We just popped them in the microwave for 5 minutes and when they were finshed we poured them in a bowl, added half a stick of butter and started mashing! We then added salt & pepper to taste and garnished with rosemary!
Thats it! According to our measurements, 1bag of smalls makes about 2 servings of mashed taters.
The next dish we made was super yummy and crunchy home fries!
Again, we just used one bag of smalls which made enough home fries for 2-3 people depending on your serving size. All we did was quarter the mini potatoes and throw them in a pan that was coated with olive oil and smokin' hot.
We added salt, pepper, and dried thyme and sauteed the potatoes on high for about 6 minutes, occasionally tossing. When they were finshed they was brown, crispy, and incredibly delicious! Serve them with eggs at breakfast, or as the perfect side to any lunch or dinner!
Lastly we whole roasted some red smalls! Again these could not have been easier. We just opened the bag and put them on the baking sheet.
We then coated them with olive oil, onion salt, rosemary, and a touch of cayenne and popped them in the over at 425 for about 45 mins.
They were simply divine! Crispy on the outside and creamy on the inside and they are the perfect bite size!
*TIP: To reduce the cooking time, you can microwave the potatoes in the bag for 2.5 mins and then finish them in the oven!
We hope you enjoy making (and eating) these yummy Smalls as much as we did! Let us know on Facebook what you think!
---