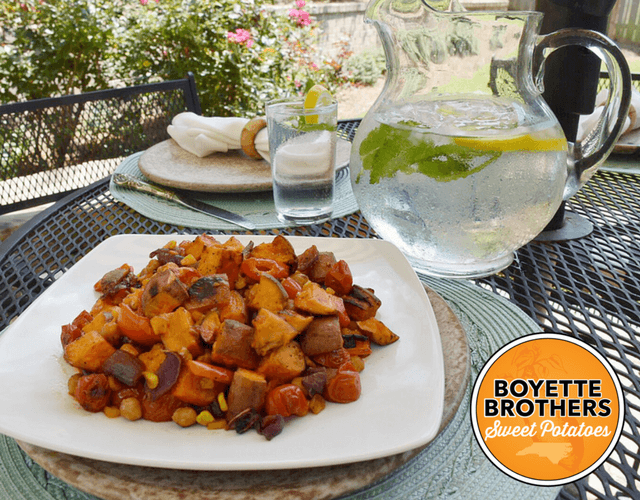 Want to know a secret? Sweet potatoes are so good for our bodies, they make us beautiful from the inside out! They improve hair and nails while protecting your skin from harmful UV rays. These power-packed veggies also improve heart health, eye sight, as well as bone and muscle health. Plus they are great for combatting one of our greatest enemies: fatigue! The sweet potato is a powerful veggie with all kinds of health benefits, but this is something the Boyette Brothers Produce has known intimately.
The Boyette family has been growing for four generations. It started with Rock Ridge Farms, which later founded the operation Boyette Brothers Produce in 2012. The growing focus was on the sweet potato, which had its challenges throughout the years due to low commodity prices. That made it difficult to turn a profit, which can put any farm out of business very quickly. But, the Boyettes wanted to focus on this crop specifically, and they believed in it. It is a good thing that they did, and now Boyette Brothers Produce is one of the biggest producers of sweet potatoes in the nation, and they even started distributing their delicious sweet potato crop to Europe!
Boyette Brothers' versatile little veggies are great mashed, baked or fried, but we also love it roasted. By combining the sweet and creamy taste of a roasted sweet potato with the following colorful fresh ingredients, we have created a salad unlike any other. Use this recipe for your weekly meal preps or for your favorite weeknight delish side dish.
Watch the full video to see how we made it!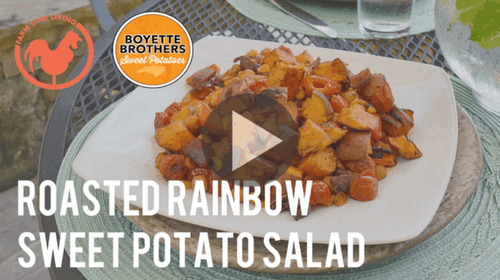 TIP: We love using Ghee Butter when roasting - it has a high smoke point (approximately 500 degrees) so it won't burn.
INGREDIENTS:
2 -3 Boyette Brothers Sweet Potato, cut into 1 inch pieces

2 Cups cherry or grape Tomatoes, halved

1/2 Red Onions, small chop

1 cup Red Bell Pepper, medium chop

2 cups Corn

2 cups Chickpeas

2 tbsp melted ghee butter

1/2 tsp Cumin
Chili Lime Dressing:
3-4 tbs fresh lime juice

2 tbs of chili sauce (or more if you like it spicy)

2-3 tbs olive oil (depending on consistency)

salt to taste
DIRECTIONS:
Preheat oven to 450.

Add all cut vegetables to a large bowl and drizzle with melted ghee butter. Add cumin and toss to combine.

Line baking sheet with foil and add all vegetables. Roast for 35-45 minutes or until sweet potatoes are tender and all vegetables are crispy on the edges.

While vegetables roast, add all Chili Lime Dressing ingredients to a medium bowl and whisk to combine.

Remove roasted vegetables from the oven and transfer to a serving dish. Drizzle with Chili Lime Dressing or serve on the side. Enjoy!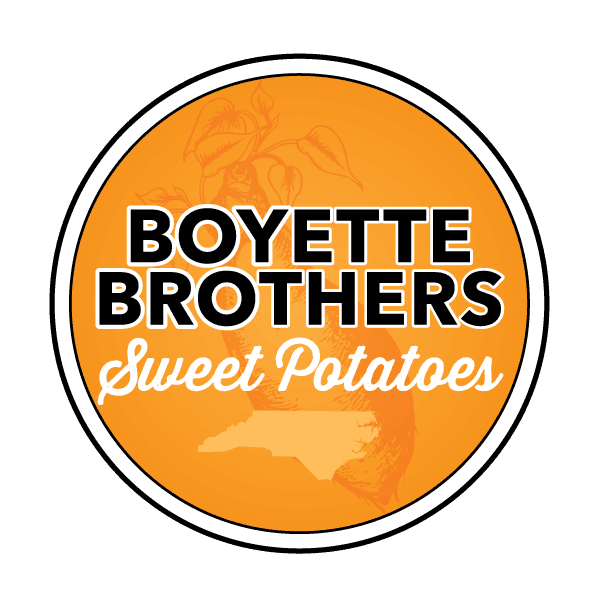 ---