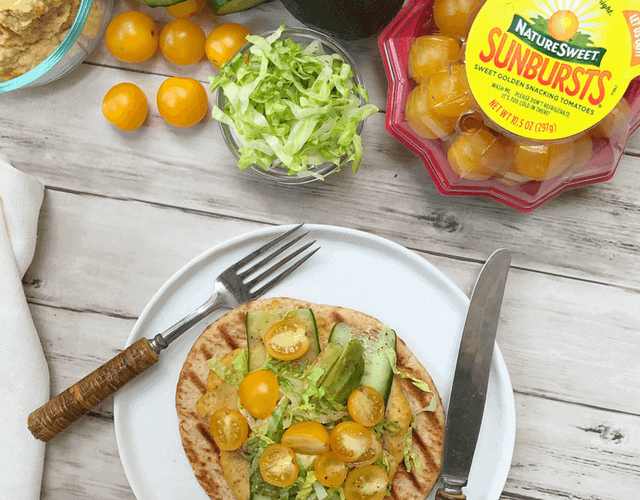 It's Sunday evening, and you're not as excited about your weekly meal prep as you usually are. I mean, after so long even the most delicious of meals can get monotonous, right? You're trying to stay healthy, and you only have an hour for lunch so it's got to be quick, but packed with nutrients to get you through the day.
With the help of NatureSweet® SunBursts® tomatoes, we have created just the thing! In this recipe, you're getting double the tomatoes which means double the health benefits! Lettuce, pita bread, avocado, and cucumber will create a picture worthy lunch you'll keep coming back for. Not to mention the hummus alone is great with any other veggie for an afternoon snack.
With NatureSweet® tomatoes not only are you getting a hand-picked product, you're literally getting the fruit of their tireless efforts to bring you both freshness and flavor! Every tomato is cared for by full-time Associates of the NatureSweet® family. The company proudly states, "as a business we grow tomatoes, but our higher calling is to unleash the power of people." They make sure every Associate knows they are capable of anything, and have helped them reach goals in their work, families and communities!
NatureSweet® remains socially conscious by decisions to use coconut husk instead of soil! This helps the tomatoes resist disease, which means less chemicals touching their products, and helps reduce water waste by 80%!
After being hand-picked, the tomatoes are tested to meet the highest criteria of firmness, freshness, and sweetness. Within 24 hours, their products are shipped to your local grocery-talk about fresh off the vine!
So, on the mornings you're running out the door, but still want the freshest ingredients in your lunch, trust our Roasted Sunbursts® Tomato Hummus Wrap! It will keep you going throughout the day until you make it home to make some more!
See just how easy it is to make your own hummus!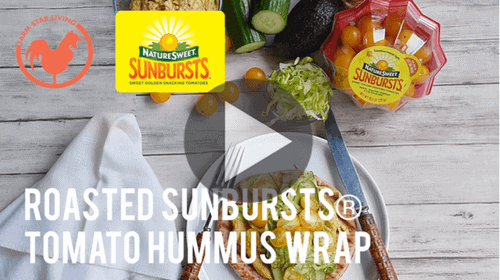 TIP: When mixing the hummus in your food processor, add as much olive oil as you need to create a creamy consistency (usually 1-2 tbsp).
Hummus Ingredients:
1 10.5-oz. container NatureSweet® SunBursts® tomatoes, whole
2 tbsp melted Ghee Butter
2 tbs Olive Oil
2 cups canned chickpeas - drained
1/4 cup tahini
2 cloves garlic, minced
1 tbs fresh lemon juice
Salt and Pepper to taste
Wrap Ingredients:
1 10.5-oz. container NatureSweet® SunBursts® tomatoes, halved
1 head of Romaine Lettuce, chopped
1 cucumber, sliced thin
1 avocado, sliced
4 pita bread rounds*
Salt and pepper to taste
*For Gluten Free version – use Gluten Free Pita
Instructions:
Hummus:
Preheat oven to 450 degrees. Line a baking sheet with parchment paper.
Place SunBursts® in a bowl and drizzle with melted Ghee Butter, salt, and pepper. Stir to coat.
Roast in the oven for 20-30 minutes or until SunBursts® Tomatoes edges are crispy.
Once fully cooked, remove from the oven and set aside to cool.
In a food processor, add chickpeas, tahini, garlic, lemon juice and blend to combine. Taste the hummus and adjust seasoning as needed.
To the food processor, add the roasted SunBursts® Tomatoes, and pulse just a couple of times to combine all ingredients. Add olive oil as needed.
For the Wrap:
Toast pita bread rounds in hot skillet, 1 minute on each side.
Spread 1-2 tbsp. hummus on pita round.
Top with chopped romaine, sliced cucumbers, and SunBursts® tomatoes, avocado.
Salt and pepper to taste. Enjoy!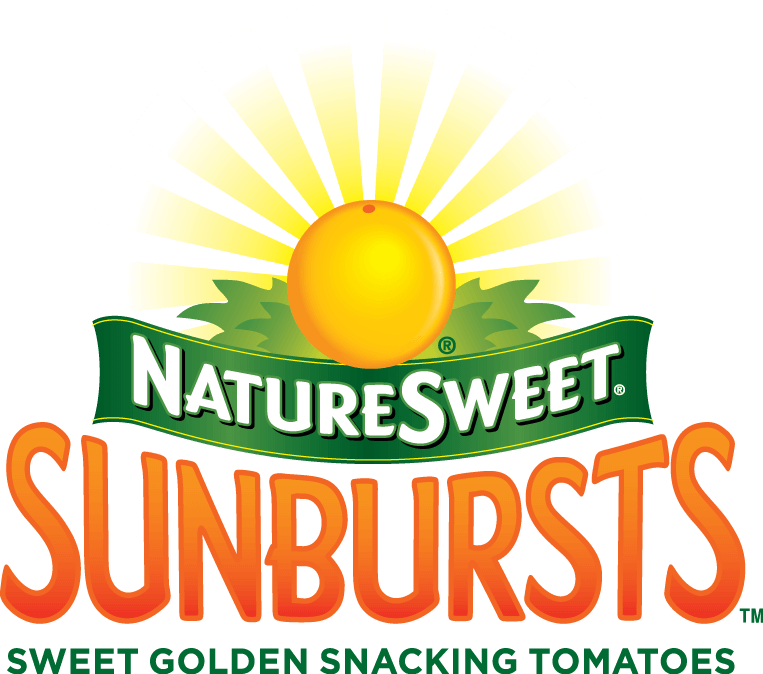 ---