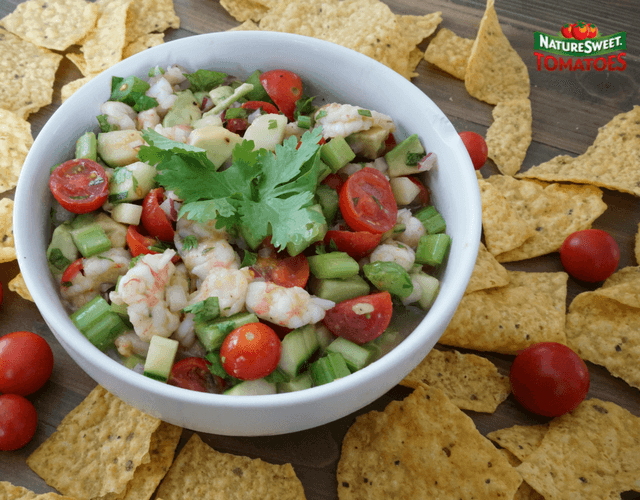 Ceviche [suh-VEE-chey] is one of those dishes that reminds us of warm weather, sandy beaches, and maybe even a margarita or two. If you've never tried ceviche, it has a super fresh and mild flavor (think homemade salsa, with a citrus-y kick), and it's super healthy! Ceviche is typically made of fruits, vegetables, herbs, and raw seafood marinated in citrus juice - the citrus juice is so acidic, that it actually cooks the fish!
For this recipe, we chose to go with shrimp for it's mild flavor, but try it out with another type of shellfish or fish that you enjoy. For the main veggie, we went for a pop of color and flavor with Glorys® tomatoes from NatureSweet®. These tomatoes are just perfect for this recipe as they have a slightly thicker skin, so they'll stay plump and fresh when marinating in the citrus juice. Glorys® provide tons of good-for-you nutrients and at only 45 calories per serving, we enjoyed the left-over tomatoes as a healthy snack while waiting for the ceviche to marinate.
Check out this video for step-by-step instructions: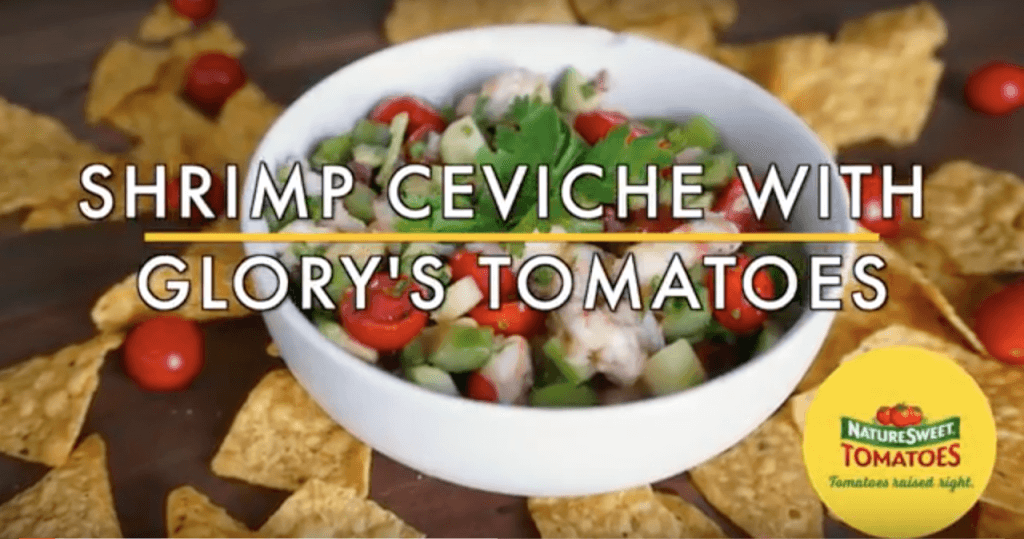 TIP: If you like it hot, add a jalapeno pepper!
Ingredients:
4 cups NatureSweet® Glorys® tomatoes, cut into 1/8
3 pounds medium-size raw shrimp, peeled and deveined, rough chop
8 limes, juiced
4 lemons, juiced
1 cup cilantro, chopped
2 serrano peppers, seeded and finely minced
1 cucumber, peeled and diced
1 small red onion, diced
1/2 cup celery, diced
3 tbsp. tomato sauce
2 large avocados, diced
Salt and pepper to taste
Instructions:
Place chopped shrimp on bottom of shallow glass baking dish. Pour lemon and lime juice over the shrimp, cover and refrigerate for 3 hours. The citrus juice will cook the shrimp.
Toss gently with remaining ingredients and refrigerate one more hour or longer.
Enjoy with tortilla chips or as a topper for grilled fish!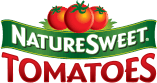 ---