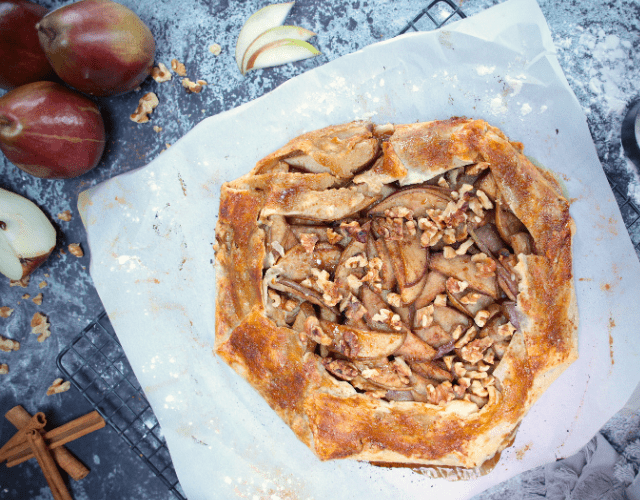 Eating healthy doesn't mean sacrificing your sweet tooth. At Farm Star Living, we love bringing you delectable recipes that are good for your health! So have both - sweetness and nutrition - with this Red Anjou Pear & Walnut Galette. A Galette is a flat round pastry that can be filled with numerous foods, usually savory. It's a Norman word that literally means "flat cake," and it's literally as easy as pie!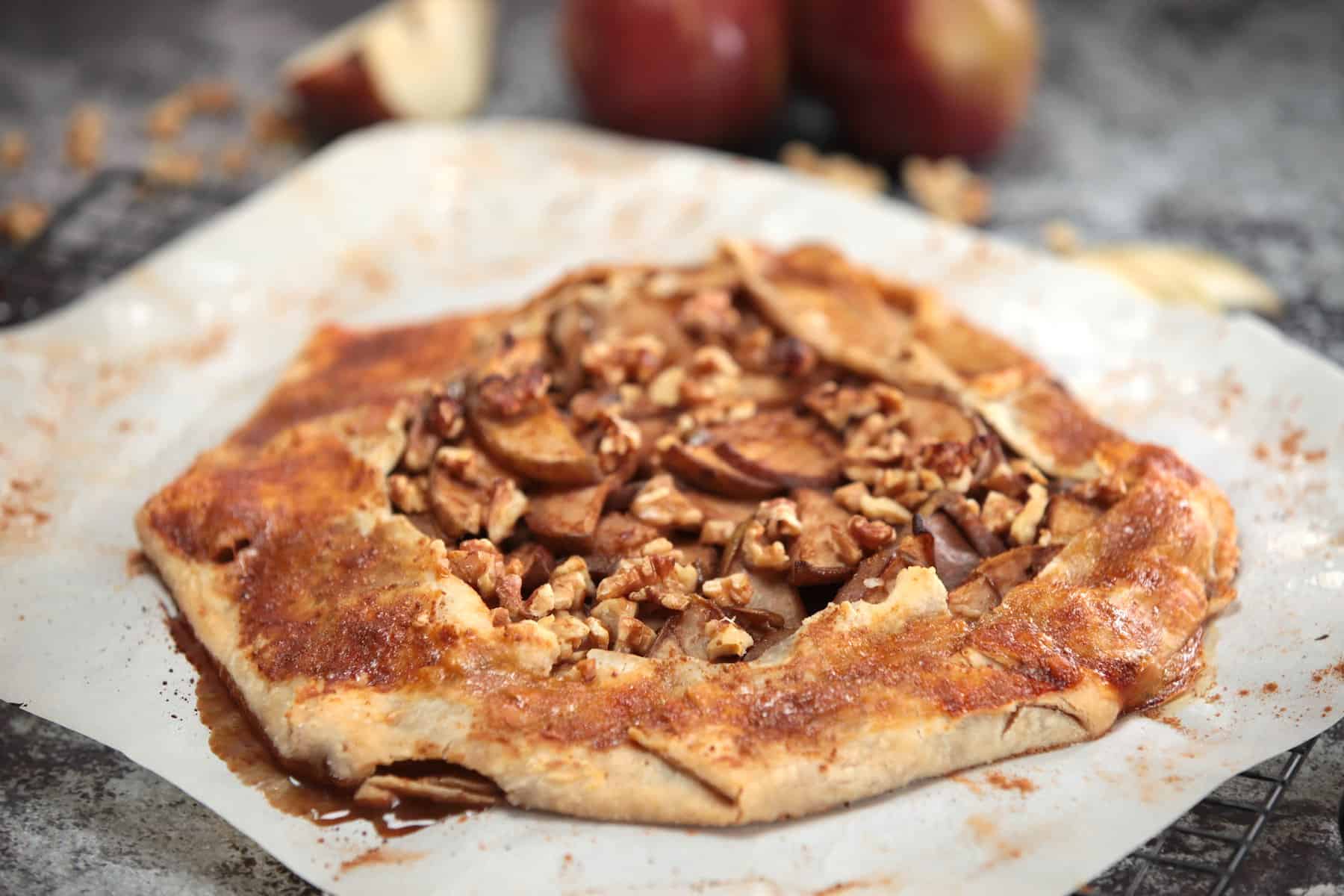 For this recipe, the filling will consist of Red Anjou Pears. These dark maroon pears are dense, juicy, and mildly sweet, not overbearing at all. They're perfect for all types of cooking, especially baking - but we recommend picking up some extra and experiment with grilling them with your dinner! After all, they're great for snacks, dinners, and here, dessert.
Anjou Pears are dense with nutrition, which are great for optimal health. They have dietary fiber, antioxidants, vitamins, and minerals. Plus, they're in season right now, from September to May.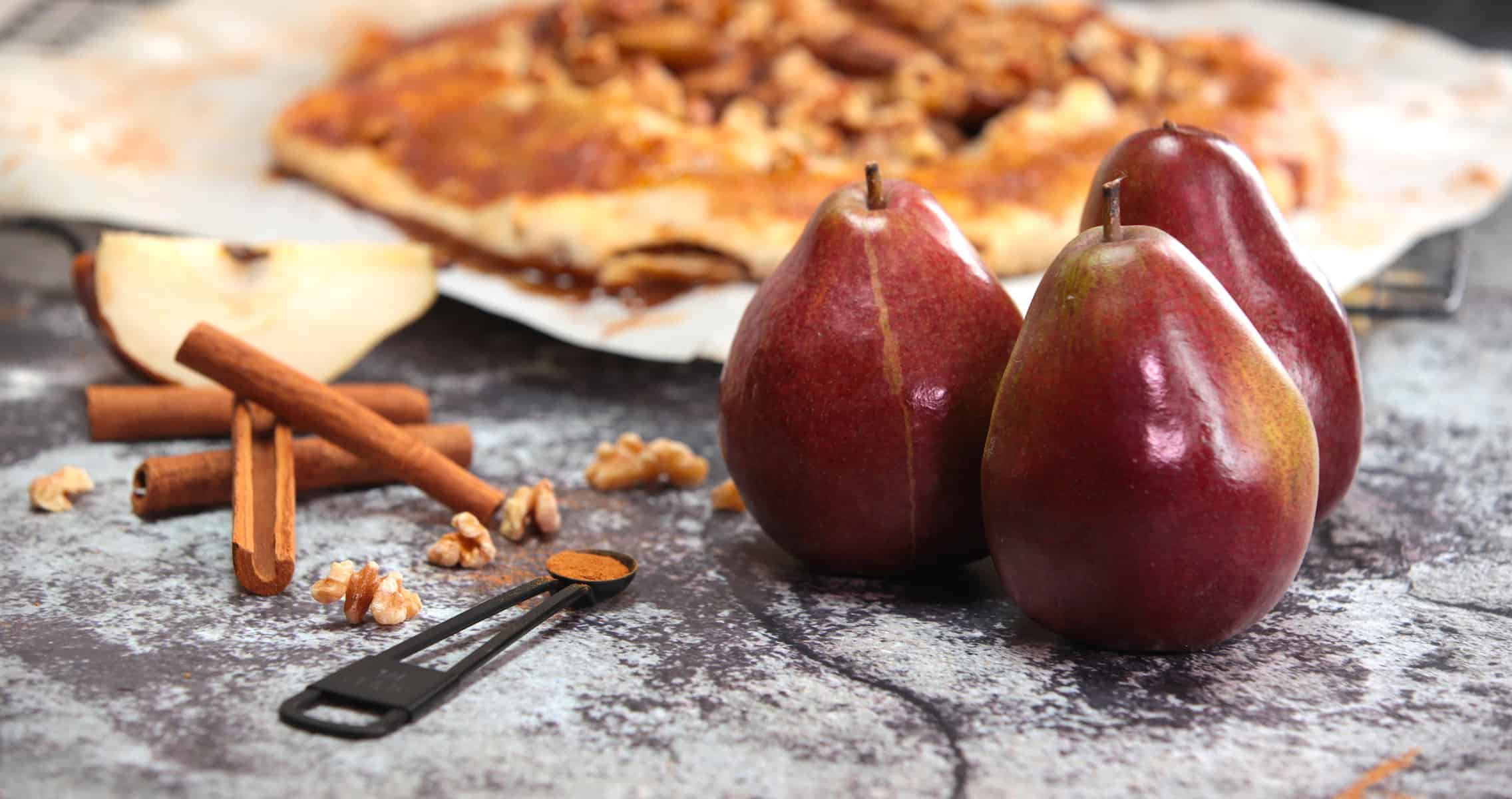 So why Starr Ranch® for your Red Anjou Pears? Well, they're partnered with Diamond Fruit, one of the country's oldest cooperatives. There's more than one hundred pear and cherry orchardists, meaning you're receiving and supporting pears from family-owned businesses. They have over 6,000 acres on the Hood River Valley, which is rich, fertile, and cast.
These lush lands use glacial snowmelt as a natural water source for their products. Growers combine age old traditions with cutting edge innovation, resulting in exceptional pears that are recognized worldwide. Furthermore, the entire company is farm to table, focus not on profit, but on healthy and well-rounded products. Their goal is to give back to the land that gives so much for all of us, so they want to leave the earth better than when they first found it. This is accomplished through non invasive farming practices for sustainable farming, like eco friendly pest management and state of the art irrigation systems.
They also use green packaging and focus on recycling. You're fruit won't be tainted by unnecessary fertilizers or chemicals. It's the best nature has to offer, because they're bettering nature around them. They want to leave the earth and the farms for generations to come! So it's not just a trusted company but a support network for families, farmers, communities, and the earth.
But back to why Red Anjou Pears are beneficial for your health all while tasting so, so good:
That dietary fiber reduces the risk of heart and diabetes. So, yes, enjoy this dessert without guilt!
Fiber also fills you up - it's not empty calories like a boxed pie or packaged candy. It's satisfying.
It aids in digestion for the daily expulsion of toxins.
And of course, the antioxidants you're consuming are great for fighting free radicals, by using vitamin c and k and copper. These nutrients protect your cells from damage!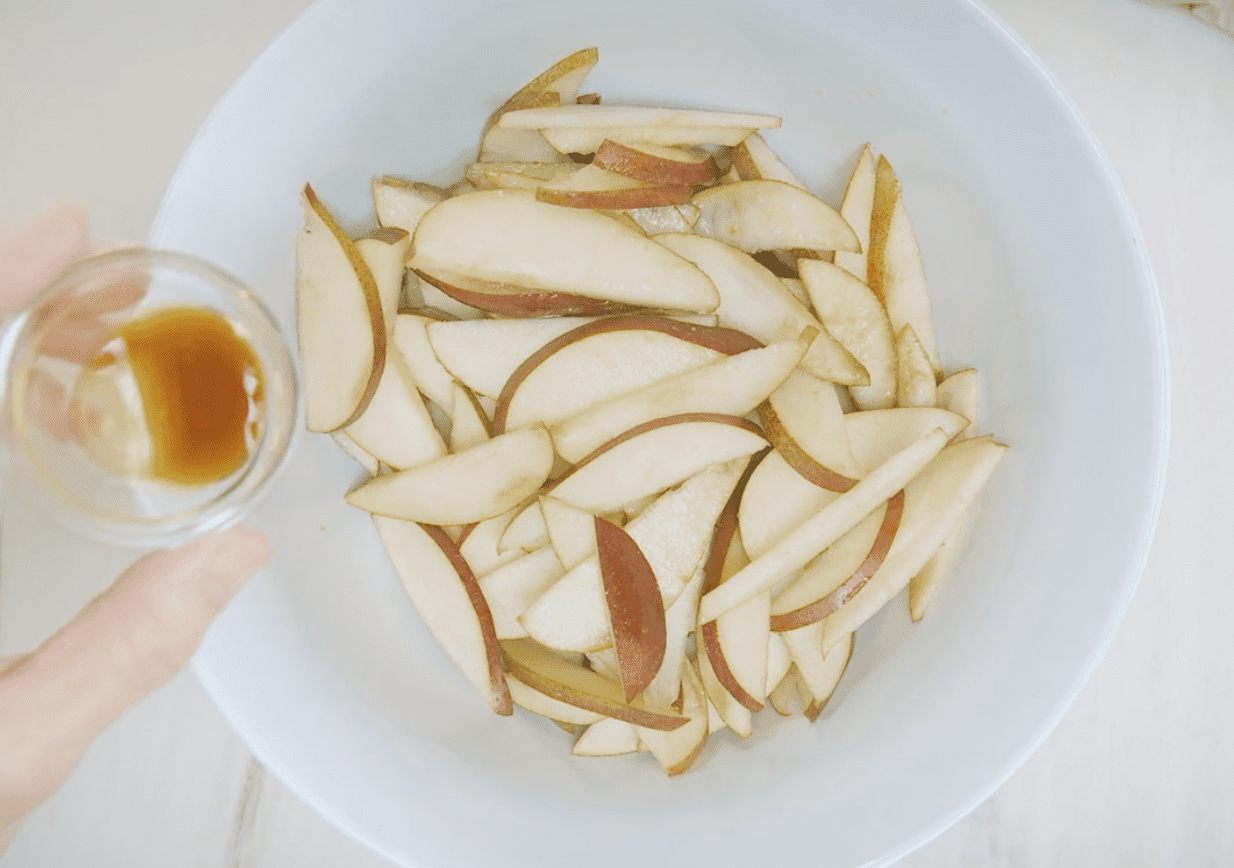 First, you'll combine the pears with vanilla, an essential to many desserts. Vanilla extract reduces the amount of sugar needed for sweetening while enhancing other flavors. On top of all that, it also helps stop tooth decay!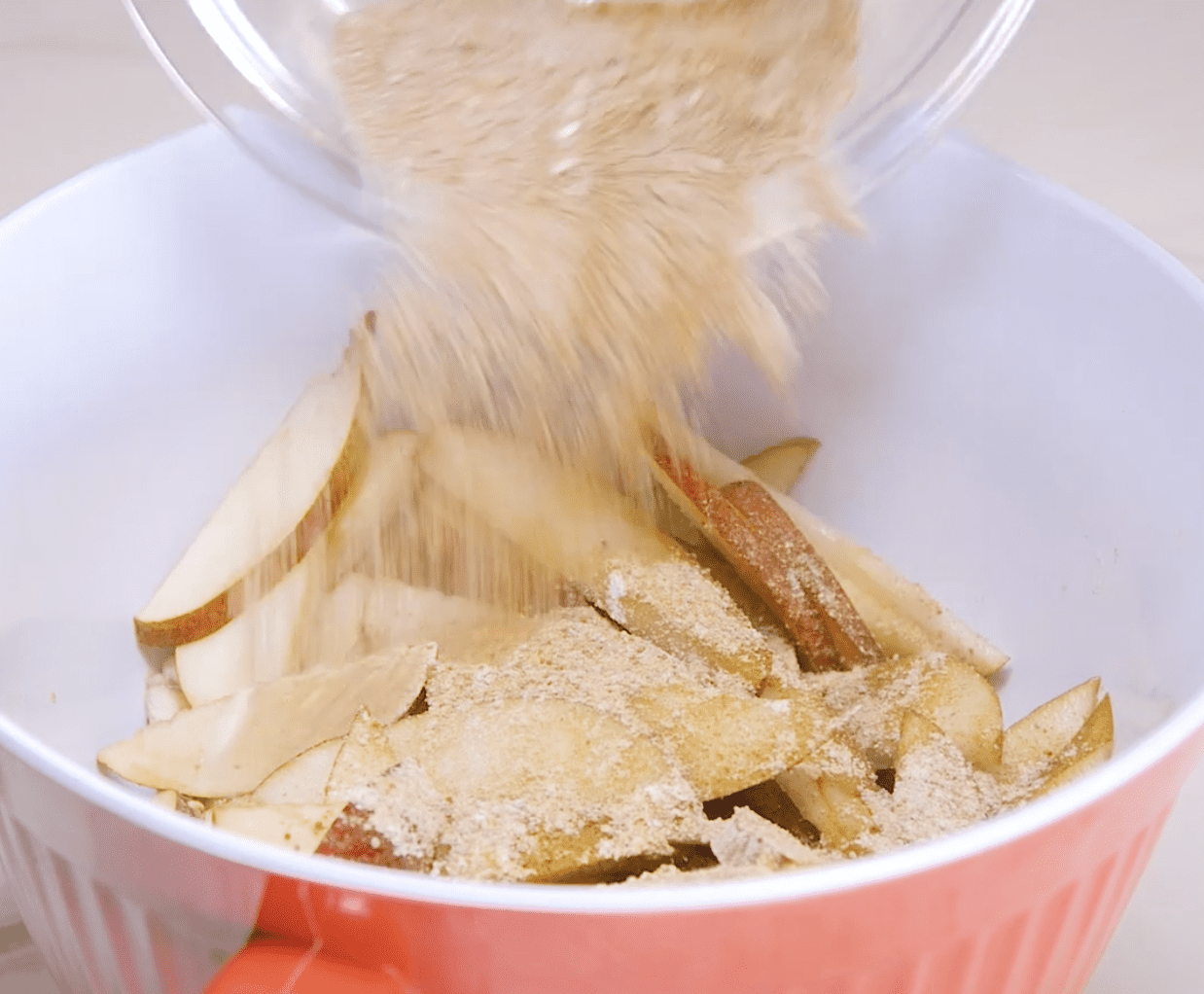 Next is the coconut sugar, arrowroot, cinnamon, and ginger. Coconut sugar is similar to brown sugar, but lighter in flavor and lower on the glycemic index, which means it won't spike your glucose or sugar levels like other sweeteners. Arrowroot thickens and replaces any gluten, so if you're aiming for gluten-free, just substitute the pie pastry for a gluten-free one, and you're good to go!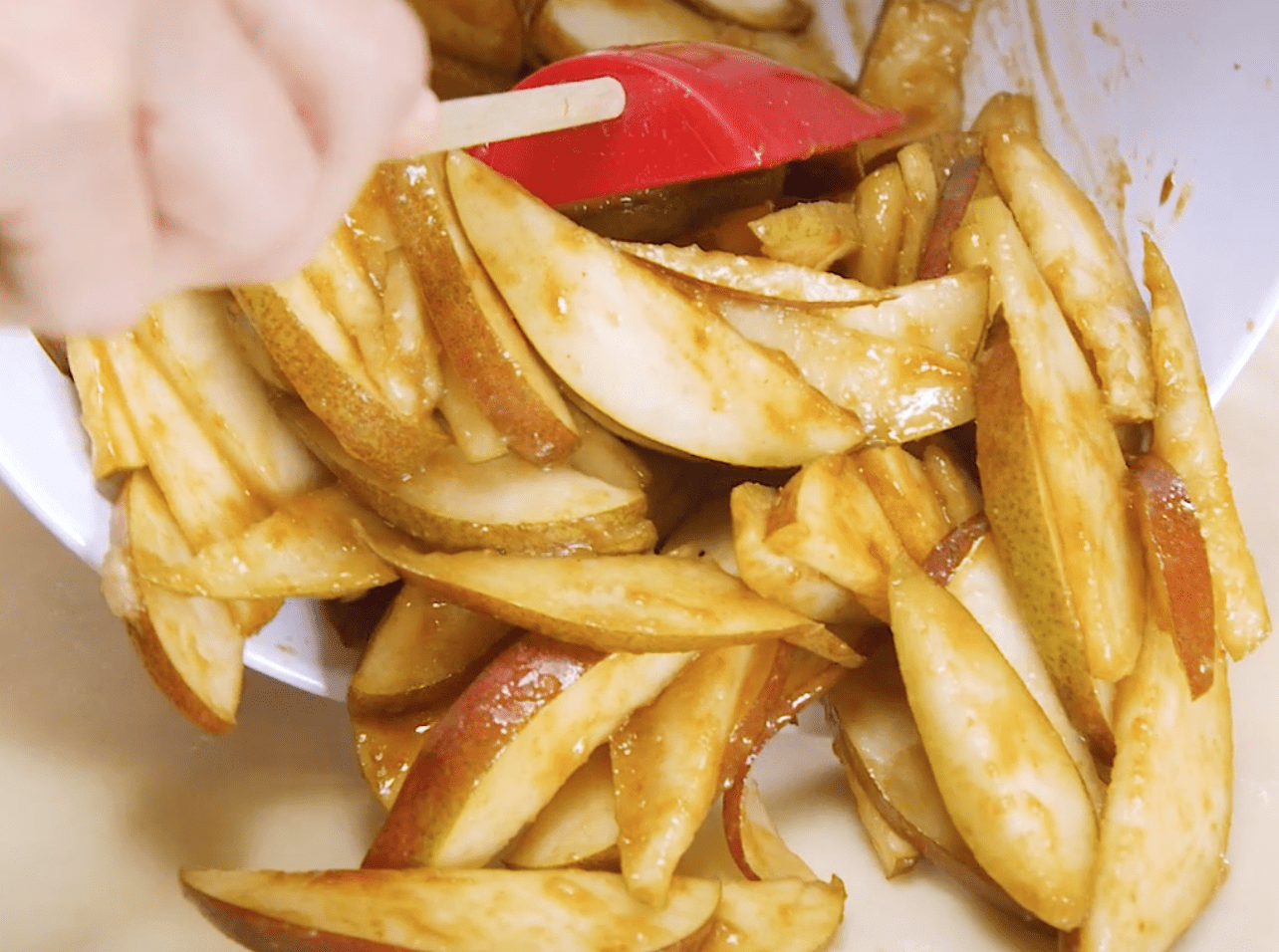 Then, the cinnamon gives the galette an irresistible aroma while introducing its sweet and savory flavor. Ginger is the perfect complement to tie these additions in with its unique spicy addition that also woody and sweet.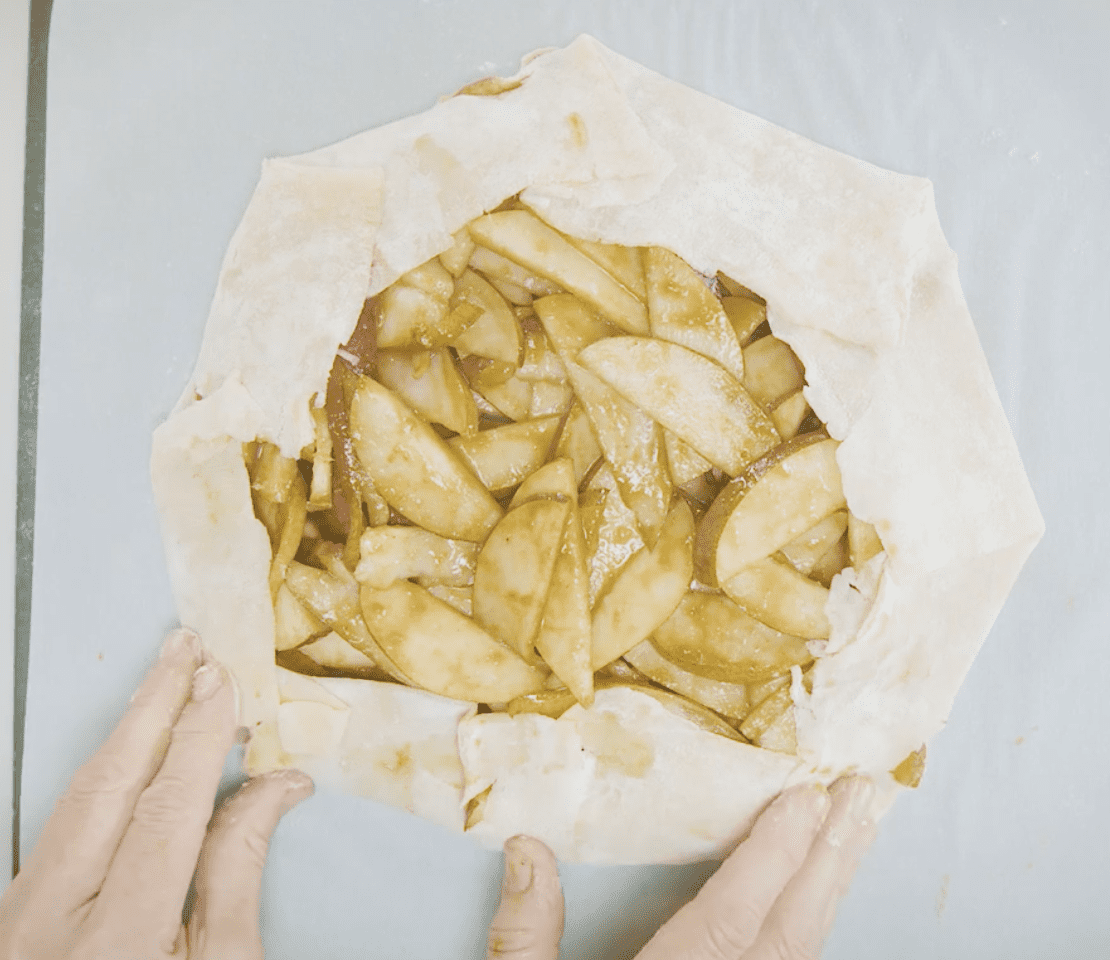 We can't forget the walnuts right on top of the filling! Their addition adds a flavor that's a bit earthy, fruity, and tart, bringing together that tangy sweetness. Walnuts are also amazing for your health - a great partner to the pear!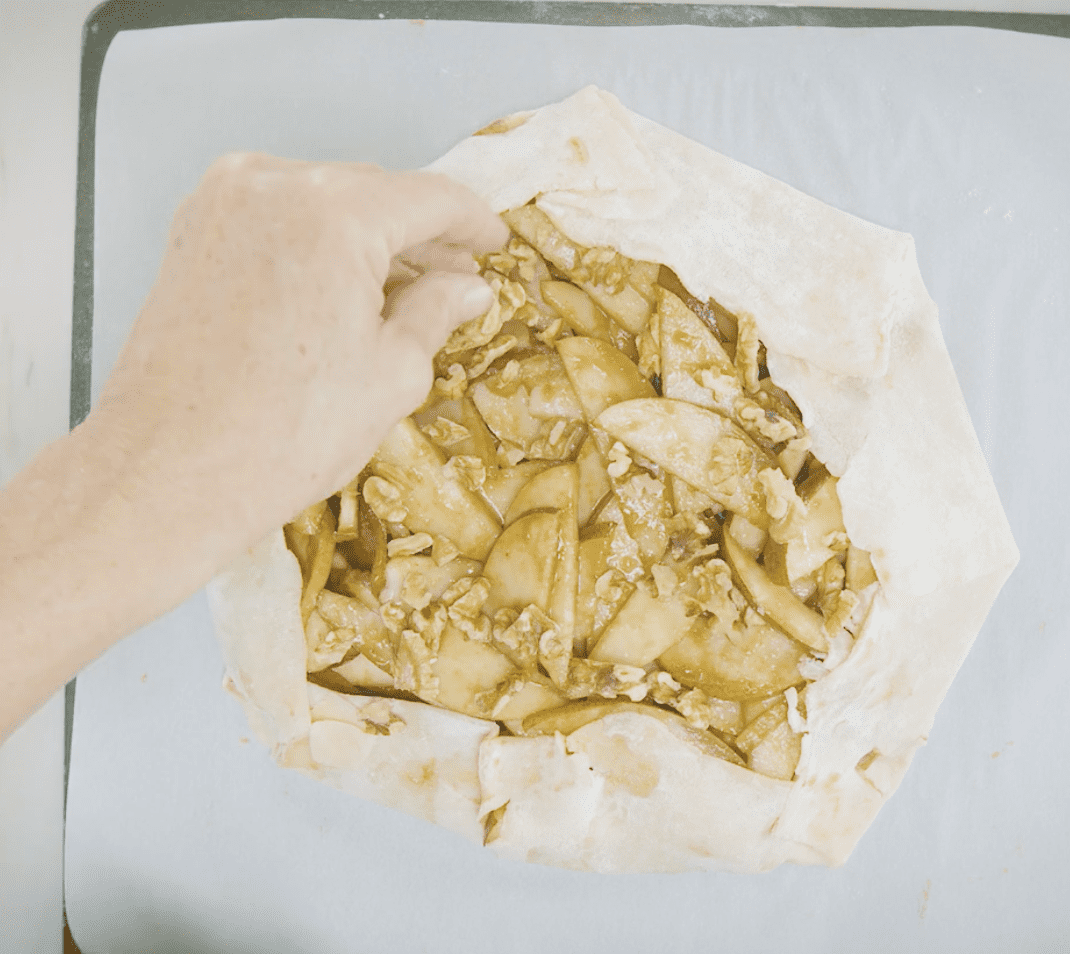 Walnuts also have antioxidants, and they also bring vitamin E, melatonin, and polyphenols - the "good" cholesterol. Omega-3 is an essential diet that you must have in your diet, which walnuts provide. Eating them can decrease inflammation, easing symptoms of diabetes, alzheimer's, cancer, and general stress. A study by PubMed Central shows that they're also good for brain function, improving learning skills, memory, anxiety, faster processing speed, mental flexibility, and even better memory.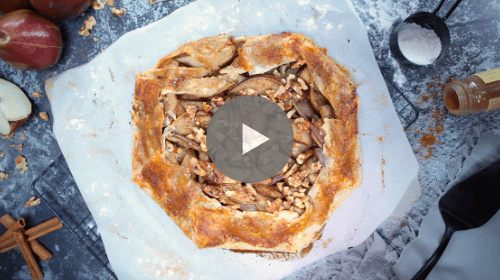 You can have your sweet tooth and your health. It's all in the recipe and the ingredients! That's why we are dedicated to finding the top quality products, so you can get the most for your tastebuds and you body and mind. Find the recipe below!
Ingredients:
1 sheet refrigerated pie pastry
6 fresh Starr Ranch® Growers Red Anjou Pears, sliced thin
1 teaspoon vanilla extract
4 tablespoons coconut sugar, divided
1 tablespoon arrowroot
1 teaspoon ground cinnamon
1/2 teaspoon ground ginger
1/4 cup chopped walnuts
1 large egg white
Directions:
On a lightly floured surface, roll out pastry into a 14-in. circle. Transfer to a parchment paper-lined baking sheet and set aside.
In a large bowl, combine the pears and vanilla.
Combine 3 tablespoons coconut sugar, arrowroot, cinnamon and ginger and sprinkle over pear mixture and gently fold to combine.
Spoon pear mixture over pastry leaving 2 inches of the pastry edge. Add walnuts. Fold edges of pastry over filling, leaving center uncovered.
Beat egg white and brush over folded pastry. Sprinkle with remaining sugar.
Bake at 375° for 40 minutes or until crust is golden and the filling is bubbly. Let cool.

Calories 238 | 8 servings | Total Fat 9g 14% | Saturated Fat 3g 14% | Monounsaturated Fat 3g | Polyunsaturated Fat 3g | Cholesterol 5 mg | Sodium 147 mg | Potassium 24 mg | Total Carbohydrate 40g | Dietary Fiber 5g | Protein 3g 6% | Vitamin A 0% | Vitamin C 8% | Calcium 5% | Iron 2%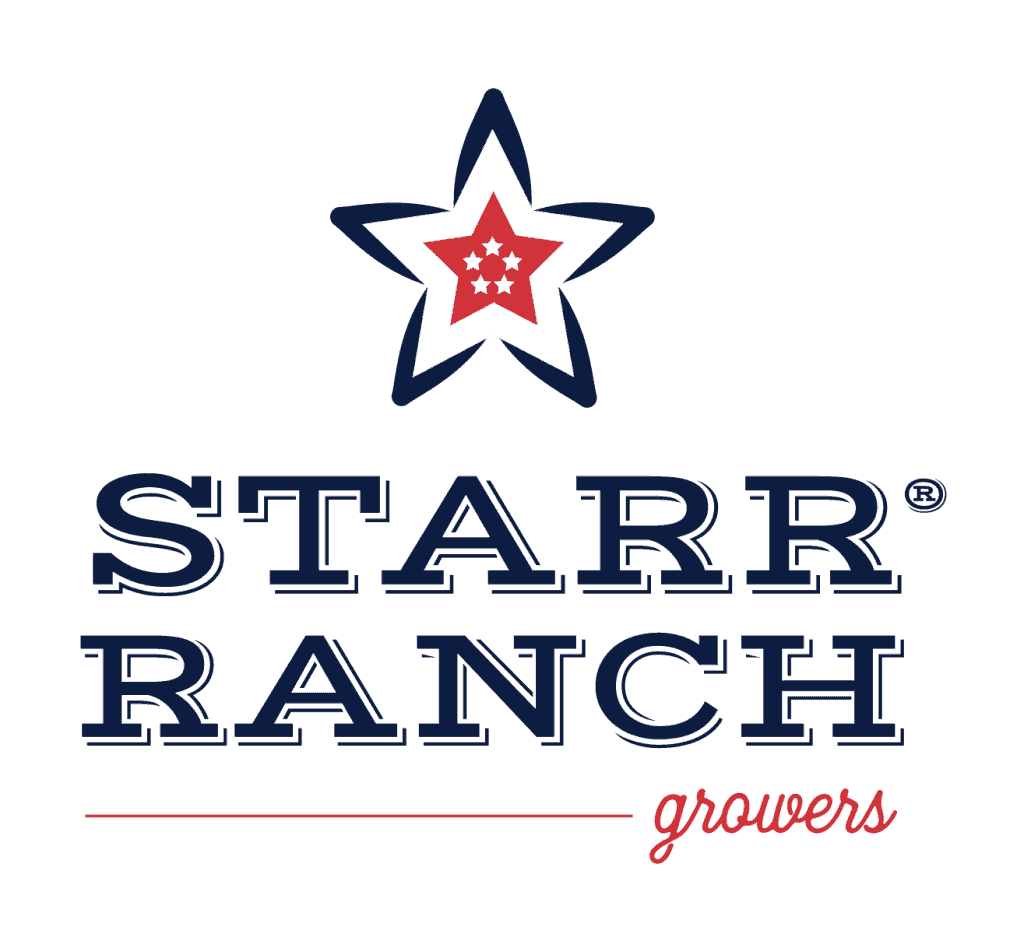 ---