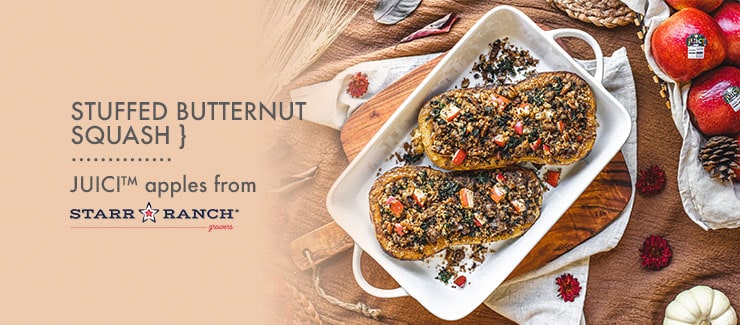 Sweet and savory is the name of the game in this mouth-watering recipe! This dish combines sweet JUICIā"¢ apples with savory sausage, crunchy pecans, and creamy baked butternut squash for a recipe that's perfect for your fall and winter gatherings. Impress your guests with this amazing recipe ā€" Stuffed Butternut Squash with JUICIā"¢ Apple!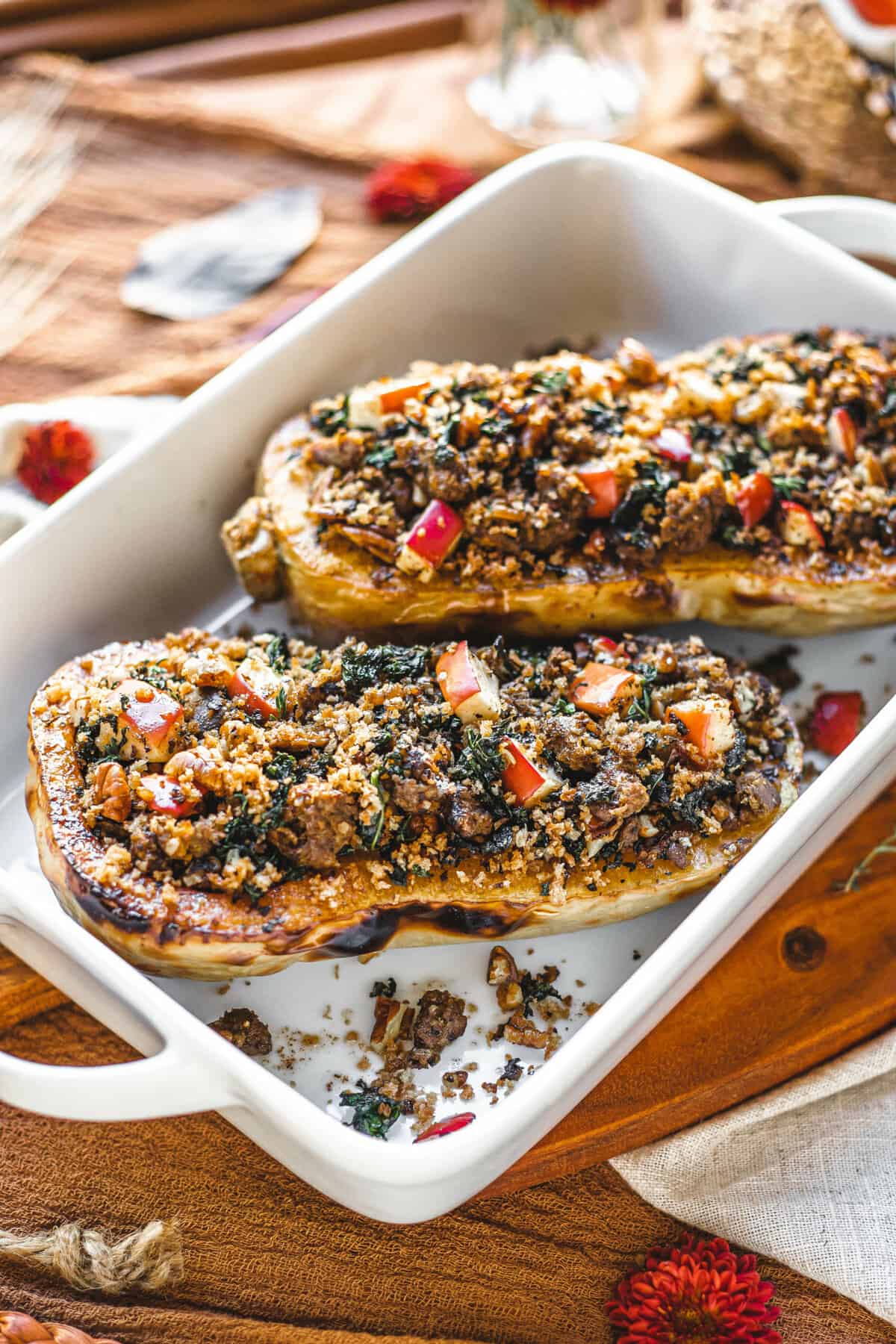 If you've tried our apple recipes before, you know we are huge fans of JUICIā"¢ apples from our pals at Starr RanchĀ® Growers. Their flavor is the perfect balance of sweet and tart, so not only do they pair well with other foods (like nuts and cheese), but they're also great to use as a sweet element in many of your favorite dishes. Unlike some other apples at the grocery store, JUICIā"¢ apples offer a strong crunch so they're perfect for eating as a snack and keep their shape when cooked.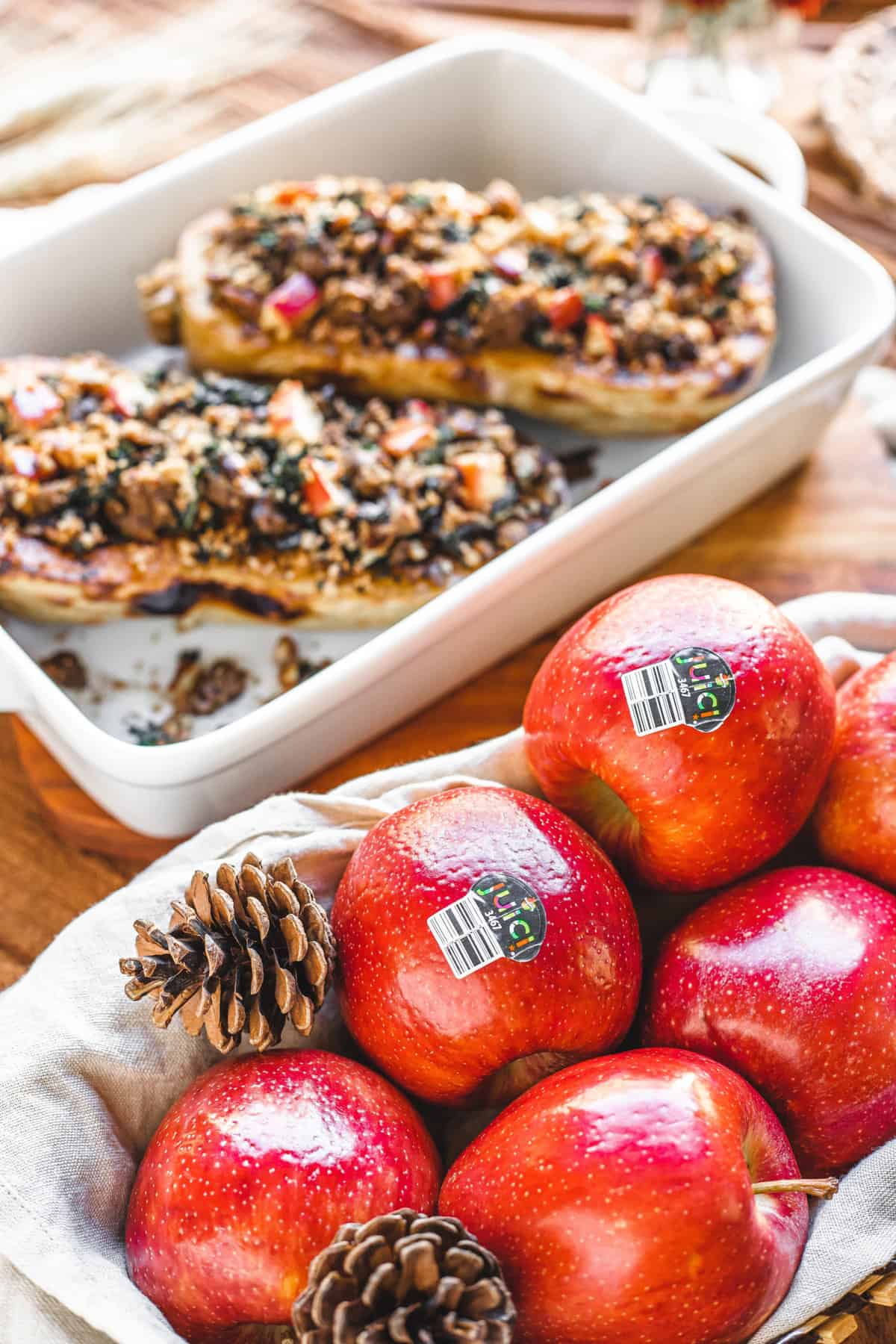 You can also customize this recipe a bit to cater to your flavors and guests:
Squash: try this recipe using smaller squash like delicata squash or acorn squash for individual servings!
Spice It Up: if you like spicy foods, choose a spicy sausage or season your squash with cayenne, crushed red pepper, or a dash of chili powder. You can also try adding a pinch of cinnamon if you want to play up the sweet flavor of the apple and squash.
Plant-Based: serving vegans or vegetarians? Simply swamp the meat for plant-based breakfast sausage! Add a little extra oil when cooking plant-based sausage as they have less fat content than meat sausage.
Pass the Butter: after baking, add a light drizzle of melted butter or try our sage brown butter recipe as an extra layer of flavor.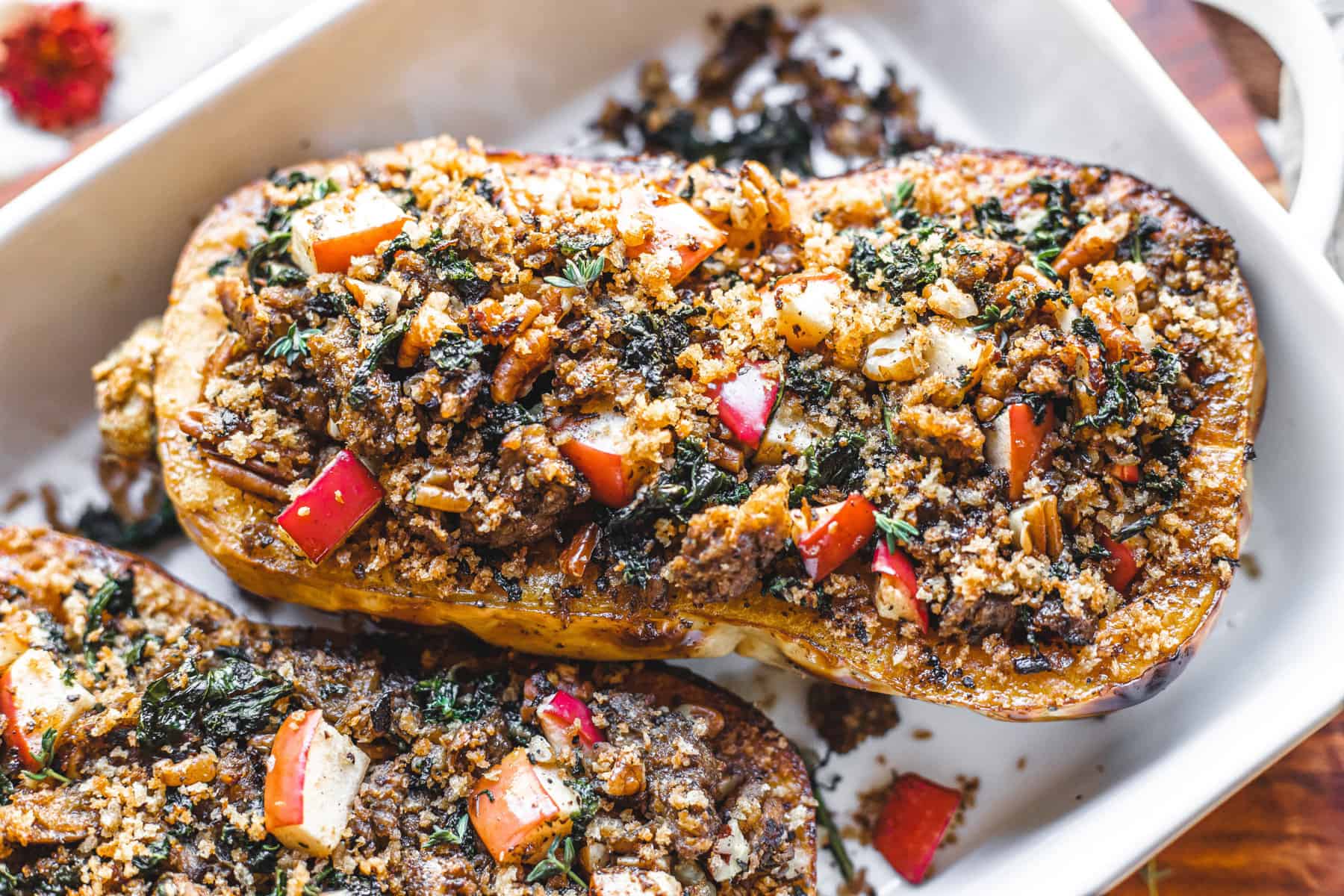 Ingredients:
JUICIā"¢ Apples, diced

1 tbsp Olive oil

1 tsp garlic powder

Butternut Squash, halved lengthwise, seeds removed

16 oz Ground Sausage Roll

3 cups Kale, torn from ribs

3 tbsp shallot, diced

3/4 cup Pecans, chopped

1/2 tsp dried thyme

1/4 tsp ground sage

2 tbsp Panko Bread Crumbs

2 tbsp Butter
Directions:
Preheat oven to 425F.

Brush cut side of butternut squash with olive oil and dust with garlic powder, salt, and pepper. Add butternut squash to a baking sheet lined with parchment paper and bake cut side down, for 25 minutes. Flip and bake 20 more minutes or until fork tender. Note: cook-time will depend on the size of the squash.

In a large skillet, brown sausage. Add shallot, apples, and kale then cook for five minutes. Remove from heat mix in pecans.

Melt butter in a skillet over medium heat then add ground sage, bread crumbs, and mix. Continue to mix and cook until bread crumbs are golden brown.

Remove baked butternut squash from oven then fill and top squash with apple mixture. Top with bread crumbs and return to the oven for 5-10 more minutes. Note: bread crumbs should be browned but not burnt. Enjoy!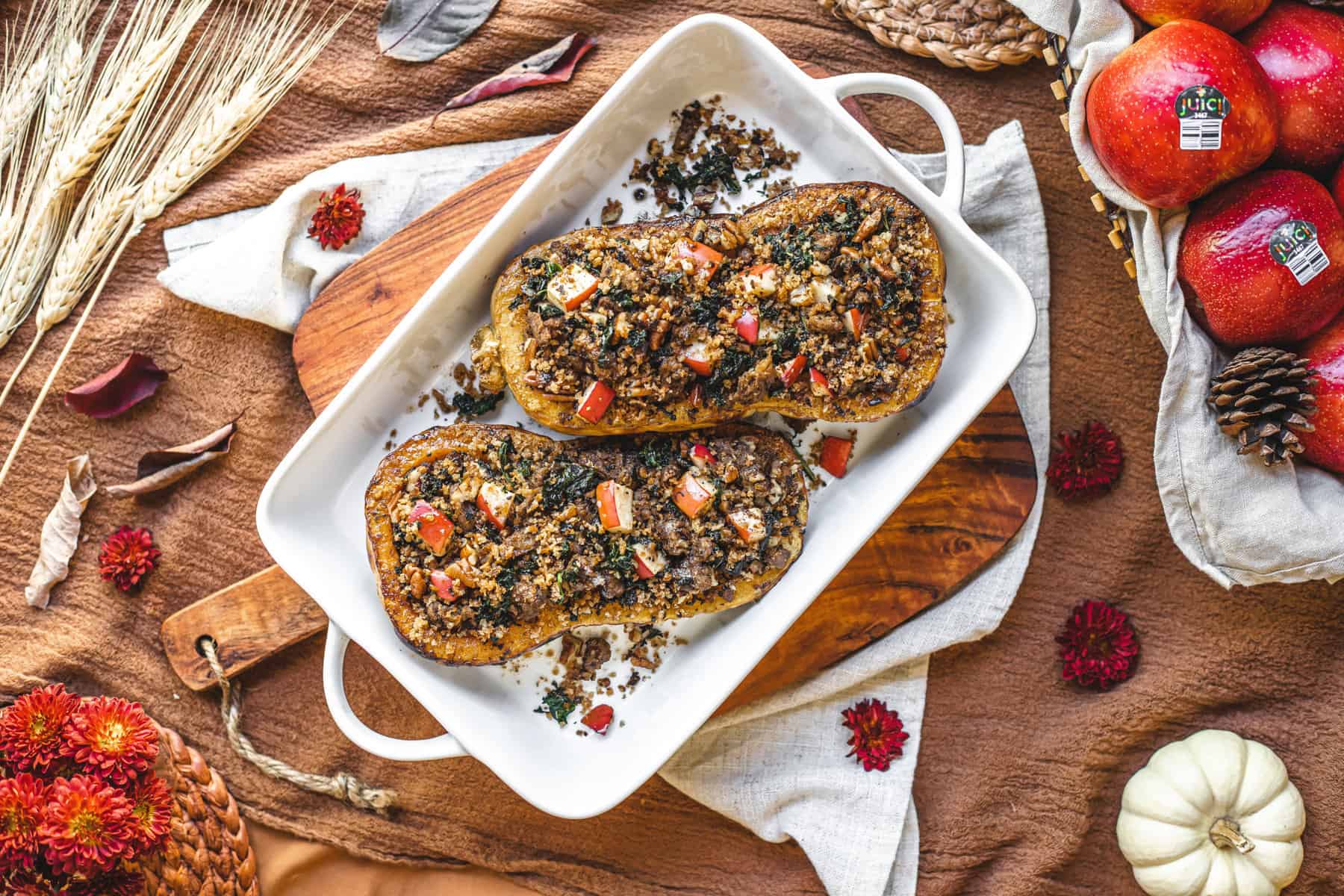 Calories 302 | Servings 8 | Total Fat 23g | Saturated Fat 2g | Monounsaturated Fat 2g | Cholesterol 48 mg | Sodium 463 mg | Potassium 226 mg | Total Carbohydrate 12g | Dietary Fiber 2g | Protein 12g | Vitamin A 204% | Vitamin C 40% | Calcium 41% | Iron 1%

---