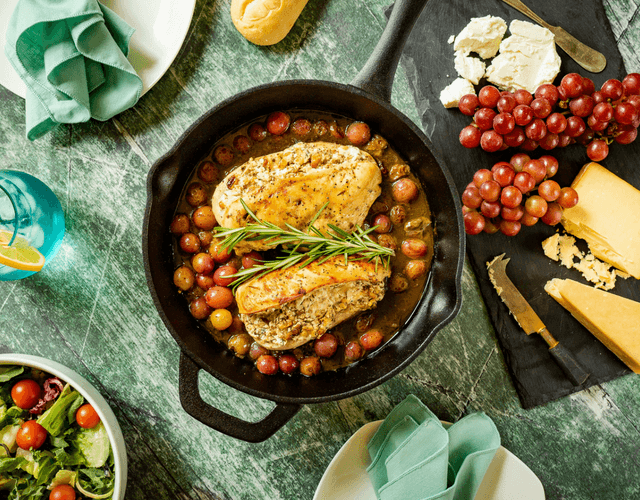 We know you're busy, busy, busy and making a home-cooked meal can sometimes be a more of a chore than something to look forward to. That's why we are big fans of easy and convenient one-pan meals. This recipe isn't your typical casserole or crockpot meal, you're going to break out that skillet and create a delicious and upscale meal that is really easy to achieve.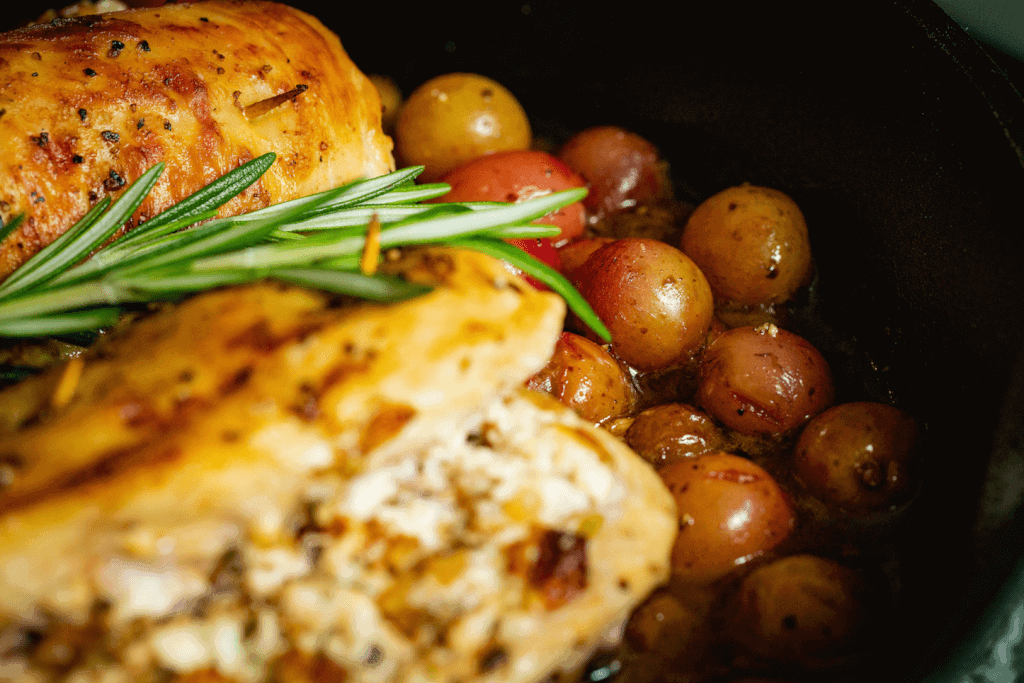 The star ingredient of this yummy recipe is definitely the red seedless grapes from Welch's® Fresh Fruit. Did you know that Welch's Fresh is a farmer family owned company? That's right! The heart and soul of Welch's® Fresh Fruit are their growers who take great pride in producing high quality, delicious fruit. That's why we're proud to support the generations of family farmers who grow their delicious fruit under the Welch's Fresh Fruit name.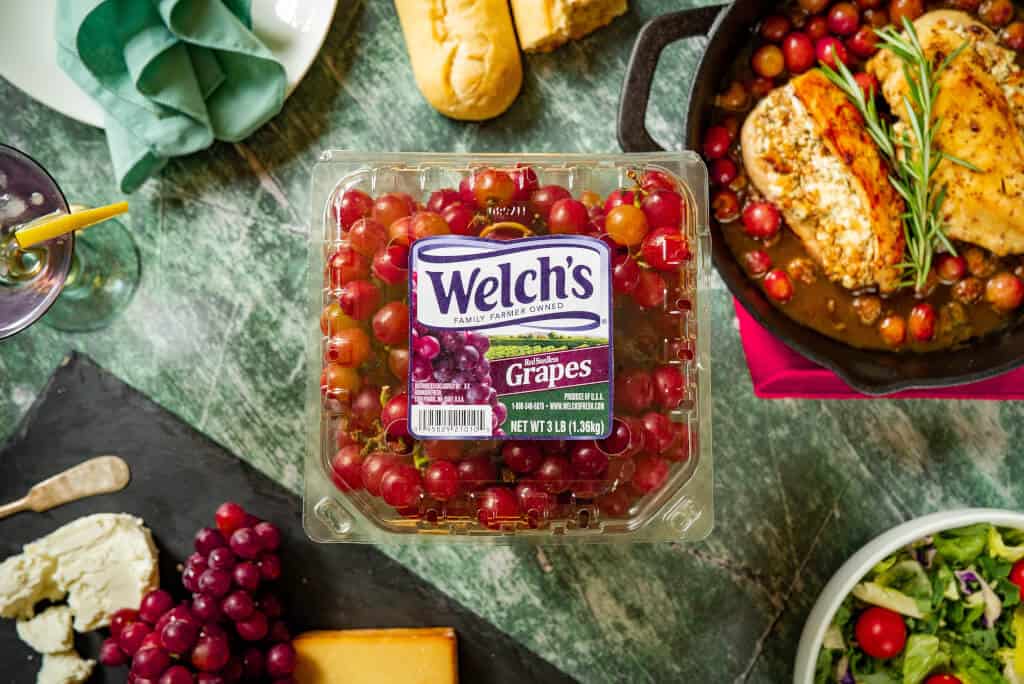 Thanks to the hard work of these farmers, we're able to enjoy healthy red seedless grapes all year round! Grapes are not only tasty, but they're also really good for you. Grapes are naturally high in vitamins A, C, B6, folate, calcium, potassium, manganese, zinc, copper, and iron! They're a great addition to many recipes like salads, desserts, and entrees like this one. Have you ever tried a frozen grape? It's a nutritious way to enjoy a healthy snack that's like a bite-size frozen popsicle without all of the added sugars and unnecessary ingredients.
Although the recipe makes two servings, you can use a larger skillet and double the recipe so you can feed the whole family! See how we made it: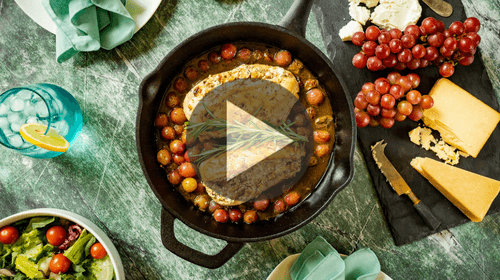 Stuffed Chicken Breast with Red Seedless Grapes, Goat Cheese, and Walnuts
TIP: If you're feeding more than two people, simply double this recipe to feed up to four! Don't forget that your chicken should reach an internal temperature of 165F to avoid undercooking.
Recipe provided by Welch's® Fresh
INGREDIENTS:
4 ounces goat cheese

4 rosemary sprigs; 3 chopped, 1 set aside for garnish

1 teaspoon honey

1 teaspoon garlic, minced

1/2 cup chopped walnuts, toasted (toast at 350?F for 7-8 minutes)

2 boneless, skinless chicken breasts

Salt & pepper

2 cups Welch's® Fresh Red Seedless Grapes

2 tablespoons olive oil, divided

1 tablespoon balsamic vinegar
PREPARATION:
Preheat oven to 400°F.

Mix goat cheese, rosemary, honey, garlic, and toasted walnuts in small bowl until well blended. Divide mixture into 2 equal portions.

Carefully cut a deep slit along the meatiest side of the chicken breast to create a pocket. Be careful not to cut all the way through. Stuff the divided goat cheese mixture into each chicken breast. Stick two or three toothpicks through the open edges of the chicken to keep the stuffing from falling out. Season both sides of the chicken with salt and pepper.

Heat 1 teaspoon of olive oil in a cast iron skillet. Add stuffed chicken and brown each side (about 2 minutes per side).

While the chicken is browning, toss grapes in remaining 1 teaspoon olive oil and salt and pepper. Add 1 cup to the skillet once the chicken is browned. Place the chicken in the oven and bake for 15 minutes.

Add balsamic vinegar to the remaining grape mixture. Remove the chicken from the oven and add the balsamic grape mixture. Bake for 5 minutes or until the chicken's internal temperature reaches 165?F. Garnish with rosemary.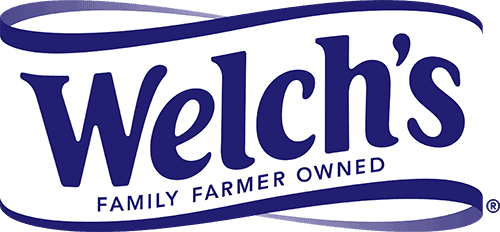 Servings 4.0 | Amount Per Serving | Calories 381 | % Daily Value * | Total Fat 25 g | Saturated Fat 7 g | Monounsaturated Fat 8 g | Polyunsaturated Fat 8 g | Trans Fat 0 g | Cholesterol 81 mg | Sodium 215 mg | Potassium 423 mg | Total Carbohydrate 14 g | Dietary Fiber 1 g | Sugars 12 g | Protein 28 g | Vitamin A 9 % | Vitamin C 6 % | Calcium 6 % | Iron 9%
---