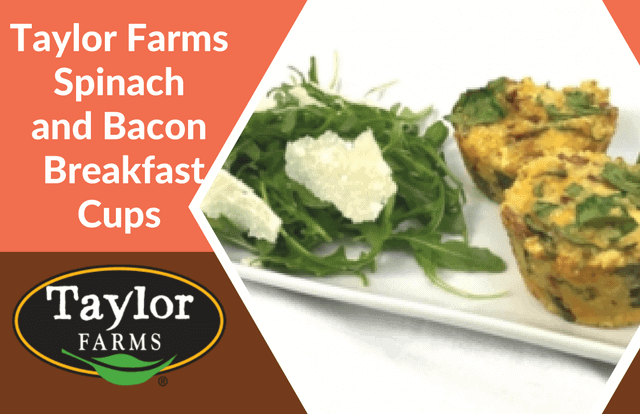 Cock-a-doodle-doo! It's breakfast time in the Farm Star Living kitchen, and we've got a yummy new breakfast recipe for you. In our opinion, you can never go wrong with bacon and spinach, and these Taylor Farms spinach and bacon breakfast cups are a perfect way to start your morning. The spinach is low in cholesterol and fat, and the bacon is rich in those necessary omega-3s and is also good for your heart. We know – we were surprised to learn that, too! Want to add some extra greens? Pile up some fresh Taylor Farms Arugula Salad on the side.
This meal is really something special – it's great for you, really easy to make, and super delicious. Plus, Taylor Farms only uses renewable energy to produce food. So, not only are they helping us get healthy (and in a tasty way, we might add!), but they're helping the environment, too.
Well, what are you waiting for? Get cooking!
Ingredients
1 cup Taylor Farms Organic Spinach, chopped
1 cup quinoa, cooked
3 eggs
1 cup cheddar cheese, shredded
2 green onions, chopped
1 cup chopped bacon, cooked
Salt and pepper
Directions
Preheat oven to 350 degrees F.
Prepare a muffin tin by spraying with non-stick cooking spray.
In a large bowl combine spinach, quinoa, eggs, cheese, onion, bacon and desired amount of salt and pepper; whisk to mix well.
Spoon mixture into muffin tins, filling to the top of each.
Bake for 15-20 minute, until edges turn golden brown.
Remove from oven and let stand for 3 minutes before removing from the tin. Serve warm and enjoy!
Taylor Farms Arugula Side Salad
Ingredients
2 handfuls of Taylor Farms Arugula
1/2 of a Lemon
Salt & Pepper
Directions
Place Arugula in a small bowl.
Squeeze 1/2 of the lemon over the Arugula.
Add Salt & Pepper to taste.
---