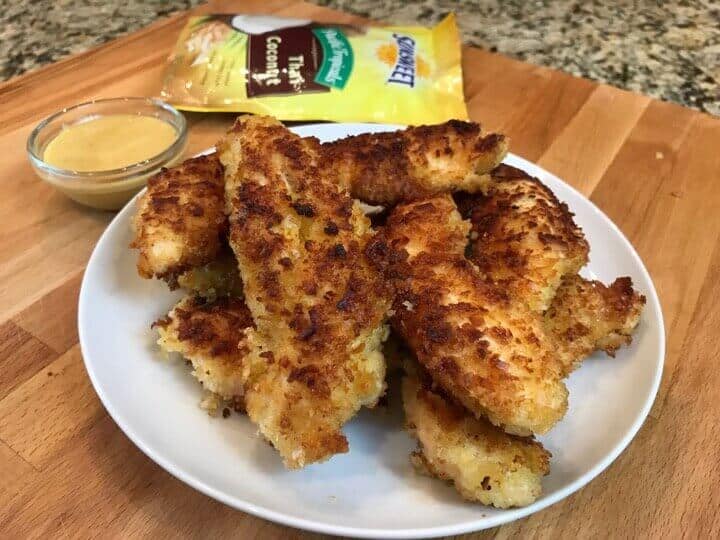 Mmmmm .... coconut! This fantastic new product has a flavor of vanilla and coconut, plus a crunch that will satisfy a sweet yearning for something crunchy. Obviously, this is a treat that you can just munch by the mouthfuls, but we thought we'd experiment with a bit of a twist on Southern fried chicken strips!
We've all heard of coconut shrimp, but this was a new twist on a classic southern dish for us to try – appealing to our roots (we're based in the South!) as well as our desire for something with a crunch and taste of sweetness.
TIP: If you do not have cornstarch, you can use AP Flour instead.
TIP: For a spicier kick, add some Sriracha to your sauce and extra cayenne to your cornstarch mixture!
Check out the video for step-by-step instructions: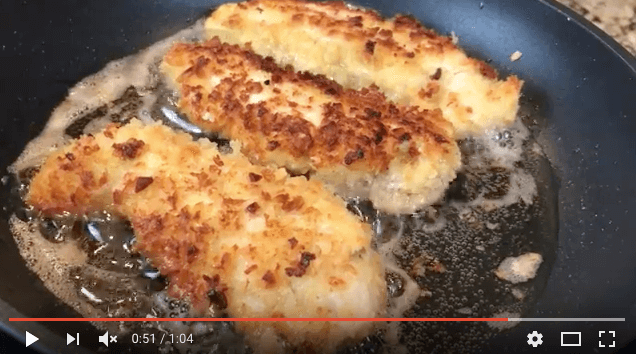 Ingredients:
1/2 c cornstarch
3/4 teaspoon salt
1 teaspoon Durkee cayenne pepper
1/2 teaspoon Durkee fine grind black pepper
3 large egg whites
2 cup Sunsweet shredded sweetened coconut
1 1/2 lbs chicken tenders
Directions:
Mix cornstarch, salt, Durkee Cayenne Pepper and Durkee Black Pepper in a shallow bowl; set aside.
Beat egg whites in medium sized mixing bowl until frothy.
Place coconut in a shallow bowl.
Dredge chicken tenders in cornstarch mixture; shake off excess.
Dip chicken in egg whites, then press chicken into coconut.
Turn over and press into coconut again to coat both sides.
Heat oil in a heavy skillet (oil should be about 2 inches deep - add more oil if needed) or deep fat fryer to 350 degrees F.
Add chicken to the hot oil in batches.
Deep fry until cooked through, about 2 to 3 minutes.
Dipping Sauce
Ingredients:
3/4 cup real mayo
1 tablespoon yellow mustard
1 1/2 teaspoons lemon juice
3 tablespoons honey
2 tablespoons honey BBQ sauce*
salt and pepper
*Use GF BBQ sauce for GF version
Directions:
Whisk all ingredients together. Add a pinch of salt and pepper, taste and adjust any of the ingredients to personal preference.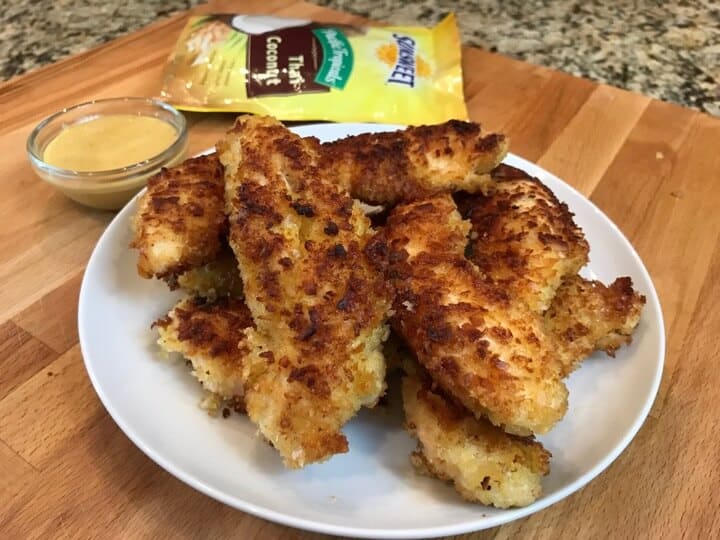 ---