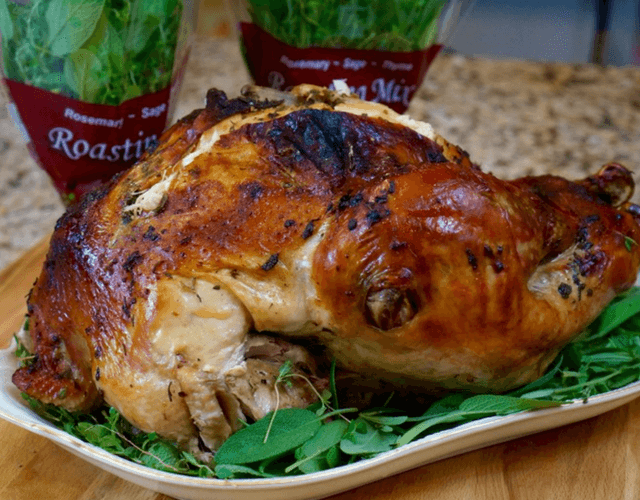 One of the best things about Thanksgiving is the anticipation of the big festive holiday meal. Awaiting the smell of a turkey roasting, gravy being prepared, and all of the side dishes that come along with it.
But now, thanks to NorthShore Living Herbs, we can create an aroma-filled kitchen that will have your mouth-watering, even leading up to the big day!
Through their living herbs, found at the grocery stores and with their roots intact within its own little container, you'll find some of the most aromatic and delicious herbs around. They are greenhouse-grown with care and the utmost supervision from seed to store, and every herb they produce are filled with flavor, and healthful benefits, of course.
Now, just for Thanksgiving, they've come out with their Roasting Mix, a special blend of sage, thyme and rosemary, which are simply perfect for that beautiful turkey that you'll be serving!
Making it all easy, and delicious, these potted, living herbs are the way to really bring out the best of this year's star entree. See how we prepared ours, and with their herbs, of course!
TIP: If the turkey looks like it is getting too dark on top, cover with tin foil so the inside can continue to cook without burning the outside. Rub as much of the herb butter as you can UNDER the skin. It really makes a huge difference in flavor and juiciness!
Check out the video for step-by-step instructions:
Ingredients:
1 whole turkey
1/2 c butter, melted
2 cups dry white wine
2 cups chicken or turkey stock
1 cup butter, softened
5 tablespoons North Shore® Roasting Mix, Chopped
1 half lemon & orange, zested
4 cloves garlic, minced
3 teaspoons sea salt
Directions:
Preheat oven to 300 degrees.
Use paper towels to dry turkey well. Place turkey into roasting pan.
Combine melted butter, white wine and stock in a medium sized saucepan. Set aside.
Combine softened butter, olive oil, North Shore Roasting Mix, lemon/orange zest, garlic and sea salt. Mix util well combined.
Rub 2/3 of the softened butter and herb mixture under skin, over the turkey breast and drumsticks. Spread remaining butter over the top of the turkey skin. NOTE: If stuffing turkey, stuff at this time and tie legs together and secure skin flap in back.
Place butter/white wine mixture on low over the stove to warm and use for basting. NOTE: When the mixture runs low use pan juices.
Place turkey in oven and baste over 2o minutes until thigh meat registers 180-185 degrees F and if stuffed, stuffing needs to register at 165 degrees F.
Allow anywhere from 15 to 20 minutes per pound if stuffed, a little bit less for unstuffed. About 7-7 1/2 hours for 29 pound turkey.
Allow turkey to rest 15 minutes before slicing to allow juices to sock back into meat, make gravy during this time with remaining pan juices.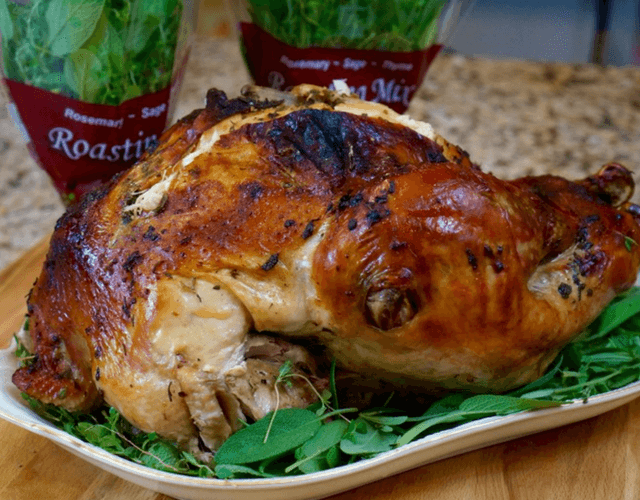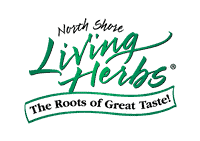 ---