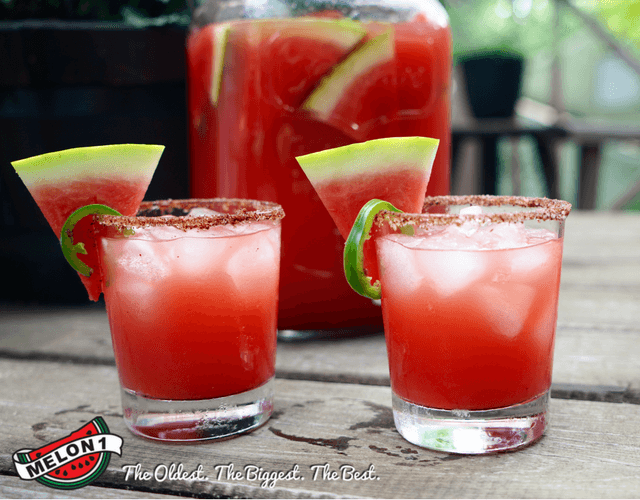 CHEERS TO SUMMER – AND CHEERS TO MELON 1 WATERMELONS!
If this recipe doesn't get you in the mood for summer, you'll just have to make it again! It's so refreshing, naturally sweetened, and full of delicious Melon 1 Watermelon! Melon 1 has been growing and shipping watermelons for over 80 years from over 25 different farms located right here in the USA. Melon 1 boasts that their strength begins with farmers – and that's something we can dig!
Watermelons are really healthy - full of water, natural sugars, and vitamins:
For this recipe, we combined traditional Margarita ingredients and added a little farm-freshness to this summertime drink. The most important step is choosing a nice, ripe watermelon to ensure the best watermelon flavor.
Melon 1 tells us how to pick the best watermelon: Choose firm, symmetrical watermelons that are free of cracks, soft spots, bruises, or mold. Ripe watermelons will have a healthy sheen, a dull rind, dried stem, and a buttery yellow underside where they touched the ground. There should be a melon like smell or fragrance. Thump if you prefer, you should hear a sound that appears dull and hollow. Avoid watermelons that are very hard, white or very pale green in color on the underside. This indicates immature picking. An immature watermelon will not be as sweet.
Check out the video for step-by-step instructions: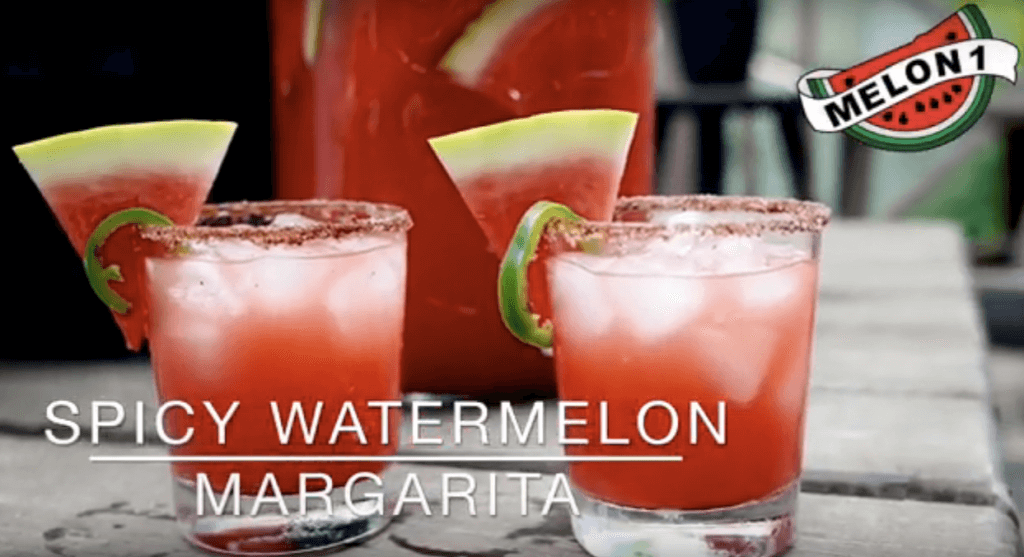 Ingredients:
1 jalapeno
3/4 cup white tequila
8-10 cups Melon 1 Watermelon chunks, large dice
1/2 cup fresh lime juice
1/3 cup Triple Sec
1/4 cup Agave
salt, chili powder, and lime juice for salting rims of glasses
Directions:
Place tequila and about 4 slices of jalapeno in a glass measuring cup and place in the refrigerator for 1-4 hours depending on how spicy your jalapenos are / how spicy you prefer your tequila to be. Take a taste-test after 1 hour and decide if the spice level is to your liking.
Place watermelon (you may need to do this in batches) in a blender and blend until liquified.
Pour watermelon through a fine meshed strainer, pressing on it with the back of a spoon to release all of the liquid. Measure out 3 cups of watermelon juice.
In a large pitcher, stir to combine the 3 cups of watermelon juice, tequila, lime juice, triple sec, and agave.
Place salt with a little chili power mixed together on a plate. Coat the rims of 4 glasses with lime juice and dip into salt mixture.
Fill the glasses with ice and pour Margaritas into glasses. Garnish with lime slices, jalapeno, and watermelon slices if desired.

---