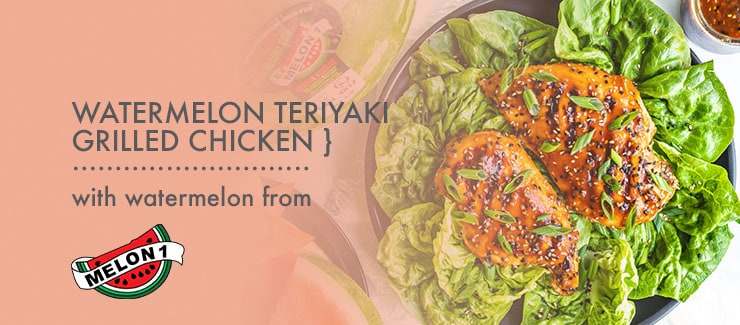 Watermelon just might be the ultimate summertime fruit! We can't picture a picnic, potluck, or barbecue without this flavorful melon. Don't you agree? Watermelon is often eaten fresh, but this summertime favorite is more than just a fruity snack. We used fresh watermelon juice to create a sweet Watermelon Teriyaki Sauce that pairs perfectly with grilled chicken which results in this amazing Watermelon Teriyaki Grilled Chicken recipe.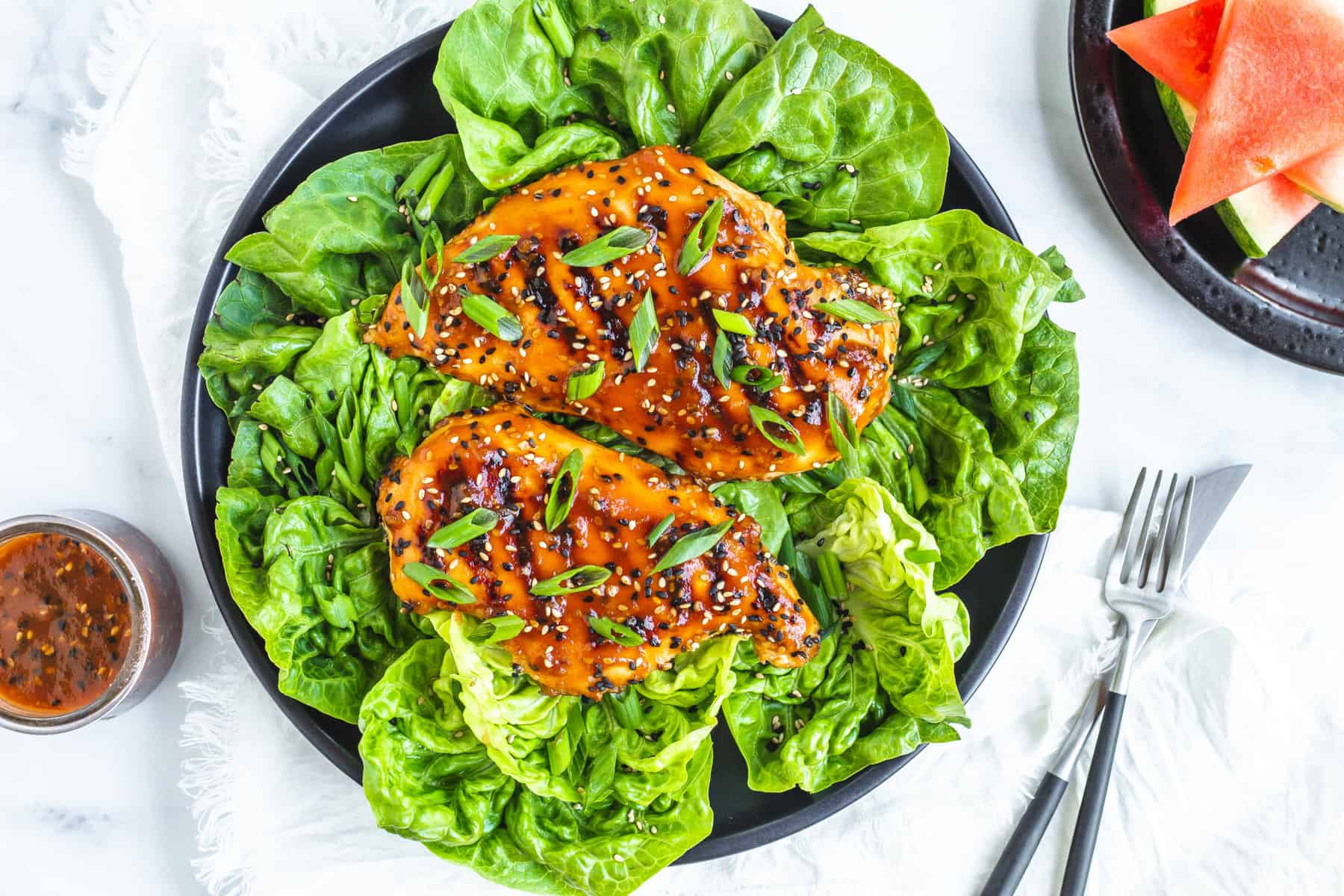 When we reach for watermelon, we opt for those grown by one of the oldest and largest watermelon shippers in the United States - Melon 1! Melon 1's watermelons are shipped nationwide from one of their many packing sheds or points of distribution along the East coast. They implement the most cutting edge electronic sizing, grading and labeling equipment to provide their customers with the highest quality product possible. Learn more about how their delicious watermelons make it from the farm to the store in Mary's Blog.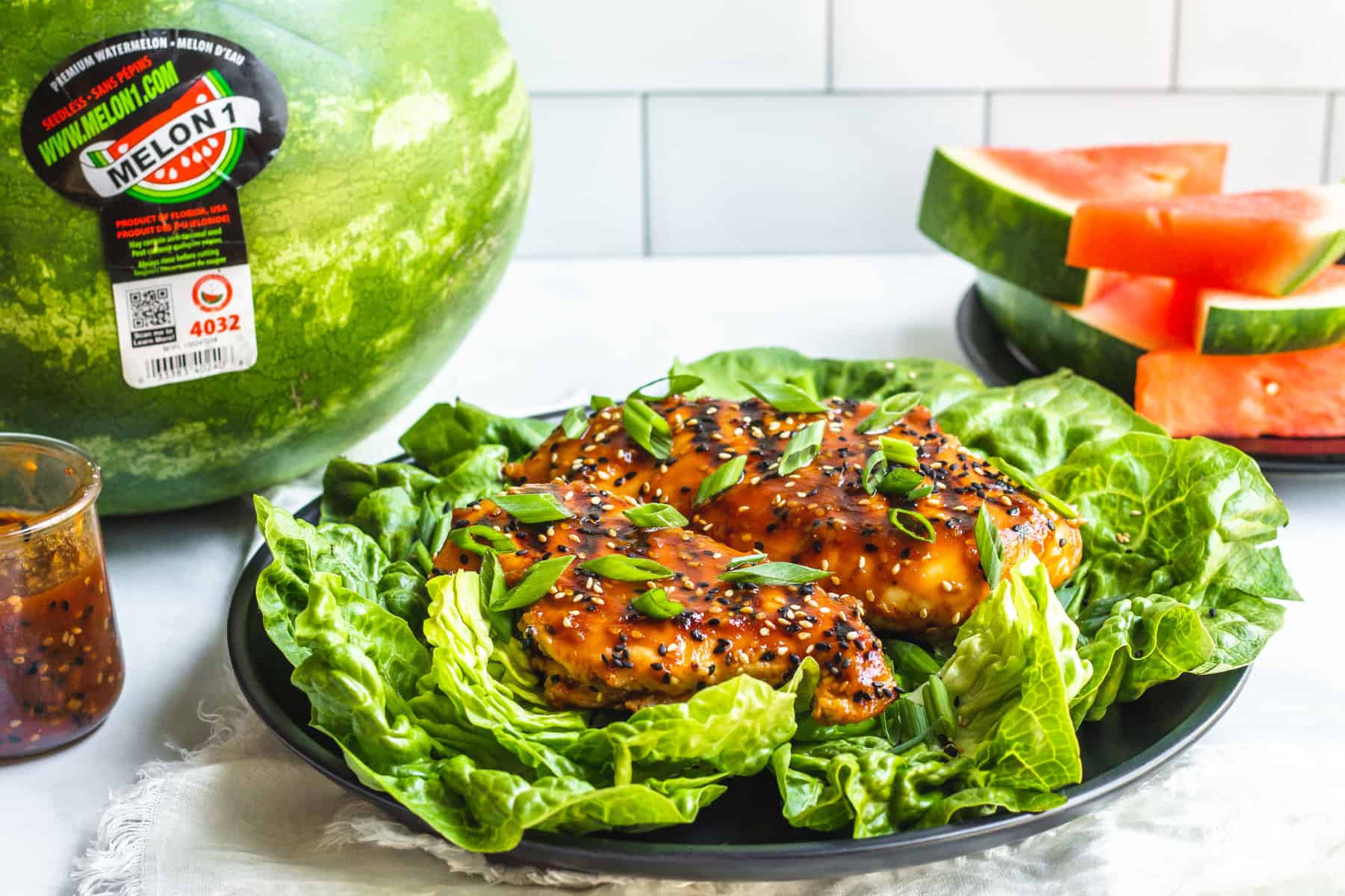 The juiciest, ripest melons feel heavy in your hands, have a yellow belly, and sound hollow when you thump them. Find the best in the bunch with these tips from Melon 1:
Choose firm, symmetrical watermelons

No soft spots or bruises

No cracks or mold

Dull rind (not shiny)

Dried stem

Buttery yellow underside

Has a "melon" scent

Sounds dull and hollow when thumped
Here are a few tips, tricks, and suggestions so you can make the tastiest
Watermelon Teriyaki Sauce
:
Watermelon: Look for the Melon 1 sticker! You know you'll be purchasing the best US-grown seedless watermelons available.
Spice: Like to spice things up? Add a tablespoon of sriracha to your sauce pot for a kick!
Sweet: Like things on the sweeter side? Add a tablespoon or more of honey for a sweeter sauce.
Marinate: We suggest marinating your protein of choice overnight for the best flavor.
Protein: Speaking of protein, this sauce would be a wonderful addition to many different proteins and recipes! Try it on shrimp, fish tacos, veggie burgers, chicken wings, steak, or tofu for a vegetarian or vegan version.
Simmer: The longer the sauce simmers, the thicker it will become.
Gluten-Free: Substitute the soy sauce for coconut aminos or tamari for a gluten-free sauce. Check the label on the bottles of mirin for a gluten-free version.
Please let us know in the comments if you try this recipe! If you do, we'd love to see your photos on social media...send our way or tag us on
Instagram
and
Facebook
. Happy sweet summertime!

Ingredients:
3/4 cup Blended or Juiced Melon 1 Watermelon

1 tsp Olive Oil, Coconut Oil, or Ghee

1 tbsp Minced Ginger

1 tbsp Minced Garlic

1/4 cup Mirin

1/4 cup Soy Sauce

1 tbsp Cornstarch mixed with

1 tbsp warm water

1 tbsp white Sesame Seeds

1 tbsp black sesame seeds

2-4 Boneless Skinless Chicken Breasts
Directions:
To a bowl add blended or juiced Melon 1 watermelon, mirin, soy sauce and mix to combine.

Add Olive Oil (or Coconut Oil or Ghee) to a pot over medium heat. Add minced ginger and minced garlic, stir and fry for about 2 minutes. Be careful not to burn the garlic or ginger.

While the ginger and garlic cooks, mix equal parts corn starch and warm water to create a slurry. TIP: this slurry is used to thicken sauces.

Add the watermelon mixture to the pot and simmer for about 5 minutes, then add your cornstarch slurry. Continue to cook for another couple of minutes until your Watermelon Teriyaki Sauce has thickened. Remove from heat and stir in sesame seeds.

Add chicken to a plastic zip top bag or container with a tightly fitting lid and pour 3/4 of the Watermelon Teriyaki Sauce over the chicken. Shake to coat chicken and marinate in the fridge for 2-4 hours or overnight. Refrigerate the rest of the sauce and save for basting.

Fire up the grill and cook chicken until it reaches an internal temperature of 165F. Use leftover Watermelon Teriyaki Sauce to baste the chicken a few with a brush while grilling. Serve hot and with your favorites sides. Enjoy!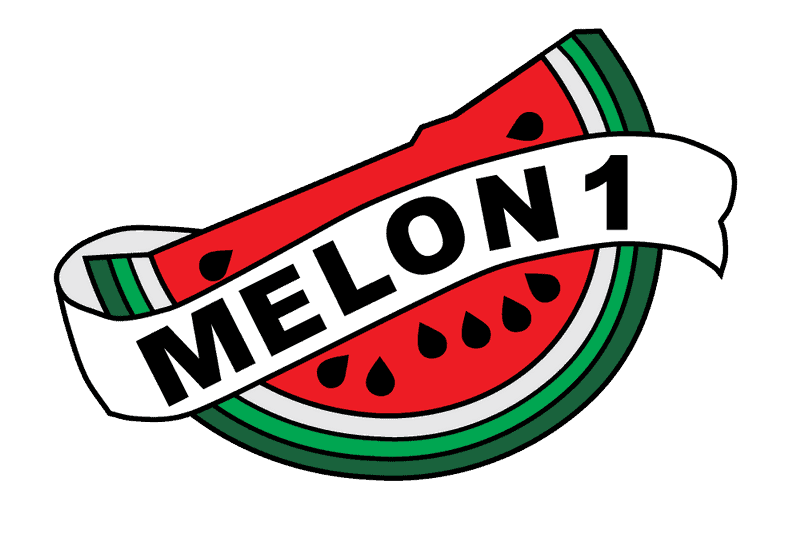 ---