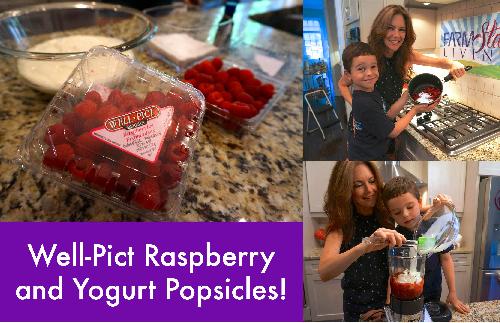 This month we are in the Demo Kitchen cooking with RASPBERRIES, but not just any ole raspberries, we used Well-Pict raspberries of course! We made their delicious and nutritious Raspberry and Yogurt popsickles! They are sweet, creamy, and just a little bit tart. With only FOUR ingredients, these could not be easier to make, in fact they are so easy that even the little ones can help and we encourage it!
It's never too early to get the kids in the kitchen! Not only is it a great way to spend some quality time together, but it's also the perfect way to teach them about the benefits of eating healthy in a fun and interactive way. We were lucky enough to have the help of this budding young chef, Colin. He loved being able to stir, blend, and of course TASTE! It was very entertaining to watch him taste the ingredients throughout the stages and then devour the final product!
We hope you and your little ones enjoy making (and eating) these yummy popsciles as much as we did! Let us know on Facebook what you think!
Raspberry and Yogurt Popsicles
Ingredients:
8 ounces Well-Pict raspberries
1/2 cup sugar
2 cups plain yogurt
1/2 teaspoon vanilla extract
8 ounces diced Well-Pict raspberries
Directions:
1) In sauce pan, heat whole raspberries with 1/2 cup sugar until sugar is dissolved.
2) Puree in blender with yogurt and 1/2 teaspoon vanilla.
3) Pour into bowl and mix in the 8 ounces of diced raspberries.
4) Freeze in popsicle forms or you can use Dixie cups.
5) Put in freezer and when partially set, put in popsicle sticks and return to freezer.
* Tip for removing from cups when mixture is frozen: set in a bowl of warm water for 30 seconds.
---